Michelin Awards Three Stars to Five More Restaurants in Japan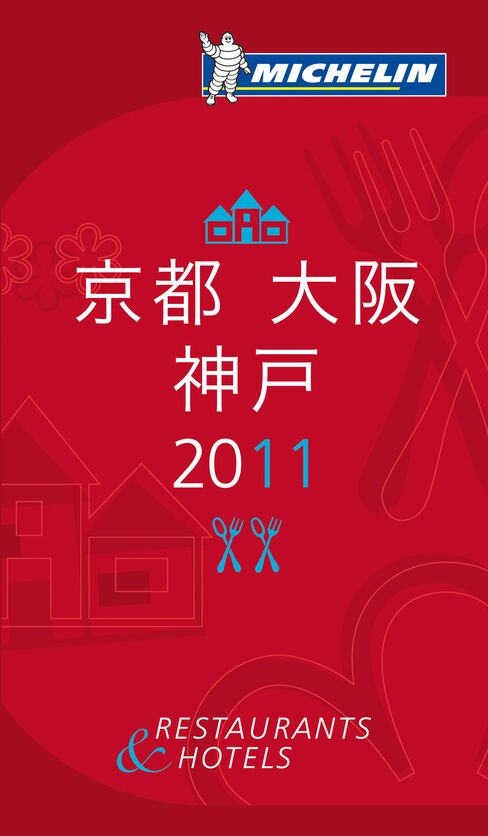 Five more restaurants in Japan gain three Michelin stars today as the French guide gives top billing to two establishments in Kobe, one in Kyoto and two in Osaka.
The winners are Ca Sento and Komago in Kobe, Nakamura in Kyoto, and Kashiwaya and Taian in Osaka. That brings the total for the cities to 12. Another 44 restaurants and two ryokans (or inns) win two stars as Michelin adds Kobe to the guide for the first time.
Japan is challenging France in terms of three-star restaurants. Factor in the 11 such awards in Tokyo last year and the current total for Japan is 23, compared with 26 in France. The next Tokyo guide is scheduled for Nov. 24, and the addition of the cities of Yokohama and Kamakura suggests further gains.
"It's always difficult to compare countries in terms of gastronomy and I'm not even going to go there," Jean-Luc Naret, director of the Michelin guides, said last night in a telephone interview from Tokyo. "But in Japan, the quality and consistency of the produce is absolutely incredible. And the chefs transmit their skills from one generation to the next.
"Some of the restaurants are centuries old and in others there are younger chefs who are using the skills they have inherited to try something new," he said. "To anyone who questioned that Japan could be that good, I'd say just take a plane and come experience these restaurants. They deserve to be recognized."
Two Stars
The 44 two-star restaurants include 22 in Kyoto, 12 in Osaka and 10 in Kobe. Two ryokans in Kyoto also gain two stars. In the single-star category, there are 183 restaurants: 71 in Kyoto, 75 in Osaka and 37 in Kobe. One ryokan each in Kyoto and Kobe is awarded a star.
Five criteria are used for awarding stars, whatever the country or the city: product quality, preparation and flavors, the chef's personality as revealed through his cuisine, value for money and consistency over time and across the entire menu, Michelin said. The criteria are adapted to each type of cuisine, notably Japanese cooking styles.
Three stars mean exceptional cuisine, worth a special journey; two stars are for excellent cooking, worth a detour; one star denotes a very good restaurant in its category.
Michelin announcements scheduled for coming weeks include San Francisco (Oct. 26), Germany (Nov. 10), Switzerland (Nov. 16), Chicago (Nov. 17) Belgium & Luxembourg (Nov. 22) and Italy (Nov. 24), the same day as Tokyo. The U.K. guide is published in January and the French one in March.
Here are the three-star restaurants announced today:
Chihana (Kyoto)
Hyo-tei (Kyoto)
Kikunoi Honten (Kyoto)
Kitcho Arashiyama Honten (Kyoto)
Mizai (Kyoto)
Nakamura (Kyoto)
Tsuruya (Kyoto)
Hajime (Osaka)
Kashiwaya (Osaka)
Taian (Osaka)
Ca Sento (Kobe)
Komago (Kobe)
"Michelin Kyoto, Osaka, Kobe 2011" goes on sale in Japan on Oct. 22, and on Feb. 1 in France for the English version.
Michelin & Cie. is the world's second-biggest tiremaker. It produced its first so-called Red Guide at the turn of the 20th century to encourage motoring. The guides are expanding internationally under Naret and now cover 23 countries. Three stars mean "Exceptional cuisine, worth a special journey."
(Richard Vines is the chief food critic for Muse, the arts and leisure section of Bloomberg News. Opinions expressed are his own.)
Before it's here, it's on the Bloomberg Terminal.
LEARN MORE