Inflation-Bond Spreads Rise as Central Bank Acts: Canada Credit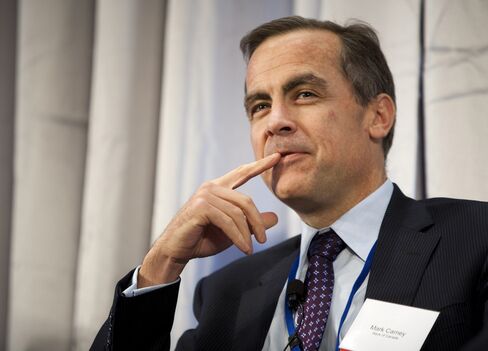 Canada's real-return bonds are signaling faster inflation as the nation's central bank keeps its target interest rate unchanged amid concern that the global economic recovery is faltering.
The breakeven rate on 10-year inflation-protected bonds, a measure of what investors predict for average consumer price inflation during that period, touched 2.132 percent yesterday, the highest level since June 3. Canada's inflation rate will climb toward the central bank's 2 percent target on rising agricultural prices and tuitions, as well as fewer discounts for clothing, Bank of America Merrill Lynch said in a report.
Both 10-year and 30-year breakeven rates rose the most last week since December after Federal Reserve Chairman Ben S. Bernanke signaled more so-called quantitative easing was likely as the U.S. unemployment rate refuses to budge from near the highest in 2 1/2 decades. Bank of Canada Governor Mark Carney left the overnight target rate at 1 percent today, after three successive increases since June, matching the forecast of all 18 economists in a Bloomberg survey.
"The Bank of Canada on hold could mean the inflation premium, in the long-term, goes up," Suvrat Prakash, an interest-rate strategist in New York at BNP Paribas SA, wrote via e-mail. "QE2 is stoking some fear about long-term inflation risks."
Touching Parity
Canada's dollar last week touched parity with its U.S. counterpart for the first time since April on the prospect of another round of easing in the U.S., adding to pressure on exporters and giving Carney another reason to stay on hold, Prakash said. The Fed contemplating QE "adds to the currency risk," he said.
The spread of U.S. breakevens over the Canadian touched 9 basis points on Oct. 14, the most since November, and ended yesterday 4 basis points below. The U.S. 10-year rate surpassed Canada's last week for the first time since February.
Elsewhere in credit markets, the extra yield investors demand to hold the debt of corporate rather than federal debt held steady yesterday at 142 basis points, or 1.42 percentage points. Spreads were as wide this year as 154 basis points in June. Relative corporate yields in the U.S. stood at 182 basis points, and at 168 basis points for a broad index of global corporate bonds, the Merrill Lynch data as of Oct. 15 showed.
Corporate Returns
Corporate bonds in Canada have made investors 0.2 percent this month, according to the Merrill Lynch data, compared with 0.16 percent for U.S. corporate bonds and a loss of less than 0.1 percent for global corporates. Canadian corporate yields ended yesterday at 3.61 percent, compared with U.S. corporate yields at 3.62 percent and 3.43 percent on Oct. 15 for global corporates.
Canada's provincial bond market, with about C$458 billion ($450 billion) outstanding, yielded 54 basis points over federal benchmarks, unchanged from last week. Spreads were as wide as 71 basis points in May. Merrill's index of Canadian provincial bonds is up 0.2 percent this month, compared with the 0.1 percent decline in its index of Canadian government bonds. Yields on the provincial index rose to 2.95 percent yesterday. The Standard & Poor's TSX Composite, the nation's primary stock gauge, is up 2.4 percent in October.
Ontario paid 72 basis points over similar maturity government bonds to sell C$750 million of 4.2 percent bonds maturing in June 2020, bringing to total outstanding to C$7.35 billion.
Real Returns
The Canadian 30-year breakeven rate, which ended yesterday at 2.28 percent, was 30 basis points lower than the U.S. rate on Oct. 14, the most since June 2009.
Given the historic average level of 2.3 percent for Canadian 30-year breakevens, declines to 2.15 percent "represent buying opportunities," Mohammed Ahmed, a rates strategist with the Canadian Imperial Bank of Commerce, wrote via e-mail. Declines in the 10-year rate to last week's level of 1.85 "offer significant value. We see limited cause to question the bank's ability to achieve its 2 percent target."
Breakeven rates measure the difference in yield between inflation-linked and nominal bonds. Canada's real-return bond market has about C$36 billion outstanding.
Bank of Canada policy makers said today any further tightening would be "carefully considered" as the economy will take an extra year to reach its full potential. Canada's currency fell as China's central bank unexpectedly raised interest rates, damping demand for growth-related assets.
Prices Rise
Canada's annual inflation rate accelerated to 1.9 percent in September, from 1.7 percent the previous month, according to the median of 14 estimates compiled by Bloomberg News before the data is released on Oct. 22. Bank of America expects the rate to reach 3.5 percent by the middle of next year.
Canada's real return bonds, which pay interest on principal that's tied to the consumer price index, have gained 2.5 percent during the past month, according to Bank of America Merrill Lynch data. That's less than the 4.1 percent that U.S. inflation-linked bonds have returned. A global index of inflation-linked bonds returned 2.3 percent, according to the Merrill Lynch data.
Canadian breakevens "are too narrow, given the dovish and accommodative Bank of Canada stance," said Sheryl King, head of Canada economics at Bank of America Merrill Lynch in Toronto. "We see some limited upside to breakevens over the next couple of months, to a more normal 2.3 percent to 2.35 percent."
Underlying Yields
The Canadian 4.25 percent real-return bond due in December 2021 yielded 0.77 percent yesterday as the price of the benchmark 10-year inflation-linked bonds rose 63 cents to C$137.04. The yield on the underlying, or nominal, government 10-year bonds, which mature in June 2020, was 2.76 percent. The breakeven, which measures the difference between the two yields and adjusted for the different maturity dates, stood at 2.11 percent yesterday.
Expectations that the Fed will announce more monetary stimulus, rather than the rising cost of raw materials, are driving inflation expectations higher, according to Eric Lascelles, chief economics and rates strategist at Toronto-Dominion Bank's TD Securities unit.
"The market's interest seems to be on monetary policy, not metals," Lascelles, based in Toronto, wrote in an e-mail. "The impact of commodity prices is taking a backseat to expectations that the U.S. will shortly begin to crank the printing press."
Gold reached a record $1,388.10 an ounce on Oct. 14 as the U.S. dollar headed to the lowest level since January after Bernanke said additional monetary stimulus may be warranted.
Before it's here, it's on the Bloomberg Terminal.
LEARN MORE