Chechen Parliament Attack Pressures Putin Loyalists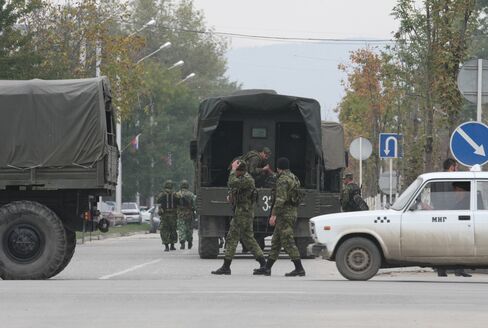 Gunmen killed at least three people during an attack on the Chechen capital Grozny, as rebels in the southern Russian region step up pressure against local authorities loyal to the Kremlin.
Three armed men infiltrated the regional parliament today, killing three people and wounding 17, the Investigative Committee of the Russian Prosecutor General's Office said on its website. One attacker blew himself up outside the building. The other two entered parliament and blew themselves up when confronted by law-enforcement officers, the committee said.
Chechen rebels fought two wars against the federal government between 1994 and 2000. The separatist movement grew into an Islamist insurgency that took its fight to neighboring provinces in Russia's mostly Muslim North Caucasus region. Chechnya is now ruled by Ramzan Kadyrov, an ally of Prime Minister Vladimir Putin.
"This is a blow to Putin and the image of Kadyrov he's been promoting," Alexei Malashenko, an expert on Islam at the Carnegie Moscow Center, said by phone today. "If you can take the parliament in Grozny, you can attack anywhere."
Putin last month defended his government's policy in Chechnya, saying the province was leading the fight against extremists in the region. He said the successful defense against an attack on Kadyrov's ancestral village of Tsentoroi in August showed "the situation is in good hands."
U.S. Reaction
The U.S. offered Russia its "deepest condolences" and solidarity "in the struggle against terrorism," said the State Department's acting spokesman, Mark Toner. He said the U.S. was closely following the situation in the Caucasus region.
"We're concerned about continued violence in Russia's North Caucasus which contributes to instability and personal insecurity in the region," Toner said. "Several independent non-governmental reports confirm that the level of violence has increased in 2010 in several North Caucasus regions, and we've been following these events closely."
The federal government is redoubling efforts to calm the impoverished region with a program to stimulate investment in tourism, agriculture and infrastructure. The 2014 Winter Olympics will take place in the Black Sea resort of Sochi, on the western edge of the Caucasus mountain range.
Minister's Visit
Today's attack coincided with a visit to Chechnya by the federal interior minister, Rashid Nurgaliyev, who later praised the police operation as "professional."
Islamist fighters in the North Caucasus frequently target police stations and government officials with suicide attacks and assassinations. Violence has centered on the republics of Ingushetia and Dagestan, which border Chechnya, as Kadyrov proclaimed victory over "bandits" in the mountains.
"He's losing. There are forces that he can't control," said Malashenko. "His strength is limited."
Kadyrov, 34, was installed by the Kremlin in 2007. His father Akhmad Kadyrov, a former separatist leader who switched sides to become Chechnya's Moscow-loyal president, was assassinated in Grozny in 2004. The federal government ended a decade-long "counterterrorism" operation in Chechnya last year, leaving regional authorities to maintain order.
'Unpunished Violence'
"The policy of 'Chechenization' has its limits," said Alexander Cherkasov, a spokesman for the Moscow-based Memorial human rights group. "There's still a lot of unpunished violence that fills the ranks of terrorists with new members seeking revenge."
There have been more than 3,000 disappearances in Chechnya since 1999, Cherkasov said. The 2009 killing of Natalya Estemirova, an activist who worked in the group's Grozny office, has still not been solved.
Today's attack was not unexpected, according to Malashenko. It's possible that Chechen separatists are experiencing a revival after being pushed aside by Islamist fighters calling for a holy war across the region, he said.
No group has claimed responsibility for today's attack.
Before it's here, it's on the Bloomberg Terminal.
LEARN MORE