Giants Beat Phillies 3-0 Behind Cain, Lead NLCS 2-1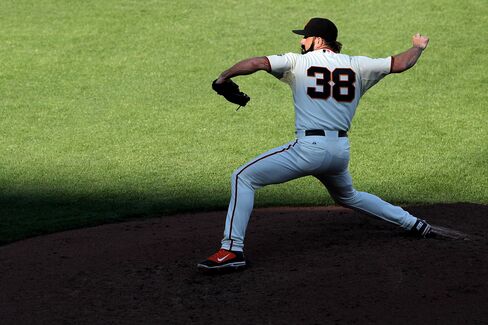 The smallest player in the Giants' lineup again had the biggest hit as Cody Ross singled in the first run in San Francisco's 3-0 win against the Philadelphia Phillies in the National League Championship Series.
The 5-foot-10 (1.78 meter) Ross, who hit three solo home runs as the Giants split the first two games of the series in Philadelphia, snapped a scoreless tie today as San Francisco took a 2-1 lead in the best-of-seven series.
Ross, a midseason castoff of the Florida Marlins, now finds himself being serenaded by chants of "Co-dy, Co-dy" from San Francisco fans.
"It's an easy name to chant, that's probably why," Ross explained. "The Giants were awesome to bring me over here and it's just been a great ride so far."
San Francisco's Matt Cain allowed two hits in seven scoreless innings to outpitch Cole Hamels, who had won all four of his previous postseason road starts. Hamels had a perfect game through three innings, then allowed two-out scoring singles by Ross and Aubrey Huff in the fourth.
"He was lights out," Ross said about Cain in a televised interview. "Every time he steps out there he's a bulldog. He's fearless. He goes right at guys."
'Definitely Hot'
Ross, acquired by the Giants after being waived by the Marlins in mid-August, hit two home runs off Roy Halladay in San Francisco's 4-3 win in the series opener. He hit another off Roy Oswalt in the Phillies' 6-1 win in Game 2.
"He's definitely hot," Hamels said of Ross. "He's been battling and hitting pitches that most normal people can't hit at this time. When guys are hot, they can hit anything."
Game 4 is set for tomorrow night in San Francisco, with Joe Blanton scheduled to start for the Phillies against 21-year-old Giants rookie Madison Bumgarner.
"I would say tomorrow is the biggest game we played so far," Phillies manager Charlie Manuel said in a news conference. "Today was the biggest game, but tomorrow becomes bigger."
The host New York Yankees will try tonight to even up the American League Championship Series, which the Texas Rangers lead 2-1. The Rangers won 8-0 last night, with Cliff Lee and Neftali Feliz combining for 15 strikeouts in a two-hitter.
Burnett for Yankees
A.J. Burnett, who was dropped from the Yankees' rotation for the AL Division Series, is the starting pitcher for the defending World Series champions. Tommy Hunter is the Game 4 starter for the Rangers.
In San Francisco, the Phillies had two men on base in the third, fourth and seventh innings. None of those baserunners reached third base. Giants reliever Javier Lopez got three straight outs in the eighth and Brian Wilson got the save, allowing one hit in the ninth before getting Raul Ibanez to hit into a game-ending double play.
The Phillies were shut out in a postseason game for the first time since losing 5-0 to the Baltimore Orioles in Game 5 of the 1983 World Series.
"Look, when you don't score no runs, you don't get no hits, it's hard to win the game," Manuel said.
Giants' Offense
After Hamels breezed once through the San Francisco lineup, Edgar Renteria got the Giants' first hit leading off the fourth inning and moved to second base on a sacrifice bunt by Freddy Sanchez. A strikeout and a walk preceded the run-scoring hits by Ross and Huff.
The Giants made it 3-0 in the fifth as Aaron Rowand doubled and scored on a two-out infield single by Sanchez that Phillies second baseman Chase Utley couldn't handle.
The home team has won Game 3 of the NLCS the past seven years. Since the seven-game NLCS format was introduced in 1985, the Game 3 winner has gone on to win the series 15 of 25 times.
Cain, who had an 11-0 record this regular season when the Giants scored him three or more runs, had five strikeouts. He walked three and hit two batters with pitches. Hamels allowed three runs on five hits in six innings and struck out eight.
Before it's here, it's on the Bloomberg Terminal.
LEARN MORE