Former Prime Minister Thatcher Admitted to Hospital for Tests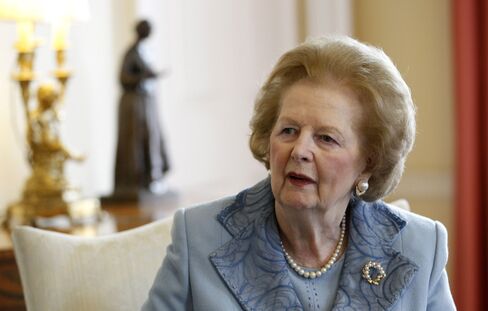 Oct. 19 (Bloomberg) -- Margaret Thatcher, the former U.K. prime minister, has been admitted to hospital for tests following a recent flu infection.
The tests are understood to be "precautionary," and Prime Minister David Cameron wishes Thatcher a "speedy recovery," a Downing Street spokesman said today.
Thatcher who was prime minister between 1979 and 1990, missed a party on Oct. 14 held in honor of her 85th birthday, after being taken ill with flu. The party, hosted by Cameron, took place at No. 10 Downing Street, the official residence of British prime ministers.
Thatcher helped end the Cold War and was known as "the Iron Lady" for her dominance of British politics during the 1980s. She promoted free-market economics by curbing public spending, selling state-owned companies and cutting the top tax rate to 40 percent from 83 percent when she took office in 1979.
To contact the editor responsible for this story: Ben Livesey at blivesey@bloomberg.net