China Rate Move May Lure Capital, Complicating Policy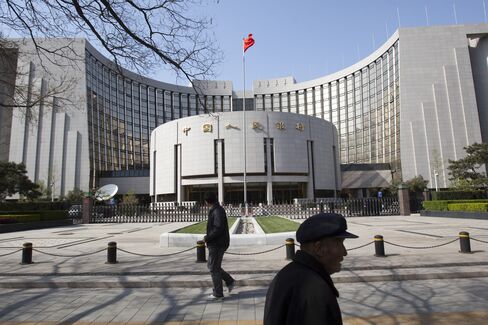 China's decision to raise interest rates to combat inflation may have the opposite effect by luring more capital into the world's fastest-growing major economy.
The central bank yesterday unexpectedly raised borrowing costs for the first time since 2007, lifting the benchmark one-year lending rate to 5.56 percent from 5.31 percent. The deposit rate was increased to 2.5 percent from 2.25 percent.
China's policy makers are trying to curb lending and prevent an asset-price bubble in a country that surpassed Japan in the second quarter as the world's second-largest economy. The danger is that higher rates will funnel speculative money from abroad into China, pushing property and consumer prices higher. The move comes days before Group of 20 officials gather in South Korea to discuss the global economy amid disagreements on whether the yuan is undervalued.
"There is a risk the hike does exacerbate capital inflows and will complicate inflation matters," said Ben Simpfendorfer, an economist at Royal Bank of Scotland Group Plc. in Hong Kong. "But the property sector was the greater risk and demanded strong action."
The Shanghai Composite Index rose 0.7 percent as of the 11:30 a.m. local time break in trading after earlier falling as much as 2 percent. The yuan pared a decline against the dollar to 0.1 percent, trading at 6.6541 as of 11:56 a.m. after earlier tumbling 0.3 percent.
Unexpected Move
Crude oil tumbled the most in eight months on concern higher Chinese rates will crimp demand in the world's biggest energy user, before recouping part of that loss today. The MSCI gauge of equities in developed nations declined 0.2 percent, extending yesterday's 1.6 percent drop.
Thirteen of the 19 economists surveyed by Bloomberg News last month forecast that lending rates would stay unchanged this year. Central bank Governor Zhou Xiaochuan on Oct. 8 signaled that bank reserve requirements and bill sales were sufficient tools to control inflation.
Currency analysts were split on the implications for the yuan, which is at the heart of international arguments about rebalancing the global economy.
Morgan Stanley said the yuan's appreciation will continue, leaving unchanged a forecast for the currency to be at 6.6 per dollar by year end. In contrast, Dariusz Kowalczyk, a Hong Kong-based economist and strategist for Credit Agricole CIB, said policy makers will be under less pressure to strengthen the yuan "given that inflation is now tackled through rates."
Yuan Forwards
The central bank set the yuan's daily reference rate 0.3 percent weaker at 6.6754 per dollar today, the biggest decline since August, reflecting a rally in the greenback. The 12-month non-deliverable forwards fell 0.22 percent to 6.4500 per dollar in Hong Kong, reflecting bets the currency will strengthen about 3.2 percent in one year's time.
Officials acted before data tomorrow that may show inflation accelerated to the fastest pace in almost two years in September. Consumer prices probably climbed 3.6 percent from a year earlier and the economy grew 9.5 percent in the third quarter, according to median forecasts in a Bloomberg News survey.
China is trying to mop up some of the liquidity unleashed by last year's record 9.59 trillion yuan ($1.4 trillion) credit boom that formed its main response to the global recession.
Property Speculation
The Shanghai Composite Index has jumped about 27 percent from a low in July, and the government is clamping down on real- estate speculation after record price gains this year.
Inflows of capital contributed to an unprecedented $194 billion increase in the nation's foreign-exchange reserves last quarter, highlighting the risk of excess liquidity fueling more price gains.
The Chinese government is almost certain to impose more capital controls to curb "hot money" inflows after yesterday's move, said Lu Ting, a Bank of America-Merrill Lynch economist. Tao Dong, a Credit Suisse Group AG economist, had a similar view, adding that capital inflows may be a "lesser evil" than inflation.
"The rate rise suggests that officials think that currency inflows are manageable," said Mark Williams, a London-based economist at Capital Economics Ltd., who worked at the U.K. Treasury as an advisor on China from 2005 to 2007. "The People's Bank successfully mopped up much bigger inflows in the past than we have seen recently."
Capital Inflows
Countries from South Korea to Brazil are seeking to control capital flows to limit gains in their currencies, a topic that will feature at this week's Group of 20 nations meetings in South Korea. Brazilian Finance Minister Guido Mantega, the official who said that the world is in a "currency war," welcomed China's move yesterday as a step "in the right direction" that may help strengthen the yuan against the dollar.
The interest-rate increase came after the central bank separately drained money from the financial system. Officials raised the reserve requirements for six banks for a two-month period, three people with knowledge of the matter said last week.
The size of the increase -- 25 basis points, rather than 27 -- may suggest that the central bank is shifting towards following the conventions of international counterparts, Australia and New Zealand Banking Group Ltd. said in an e-mail.
Negative Rates
Peter Redward, an analyst at Barclays Plc in Singapore, said the increase may reflect growing concern that negative real interest rates, where inflation outstrips returns on savings, will push more money into asset markets.
China's property prices in 70 cities rose 9.1 percent in September from a year earlier, according to the statistics bureau. Officials have extended curbs on property purchases, including tougher down-payment requirements and more restrictions on home loans.
China will speed up the introduction of a trial property tax in some cities and then expand the levy to the whole country, the government said Sept. 29. The state also told commercial banks to stop offering loans to buyers of third homes and extended a 30 percent down-payment requirement to all first-home buyers.
China could continue its efforts to tame inflation by lifting interest rates in tandem with other economic policies, John Lipsky, the International Monetary Fund's first deputy managing director, said in an interview in Tokyo today.
"This move is consistent with their broader policies," Lipsky said. "I don't believe they look to monetary policy or interest rate policy alone as a way of moderating growth in inflation pressures. But it's perfectly possible that they'll, if needed, continue to use interest rates as well as other policies."
Before it's here, it's on the Bloomberg Terminal.
LEARN MORE