Brazil Real Posts Longest Losing Streak in 8 Weeks After Tax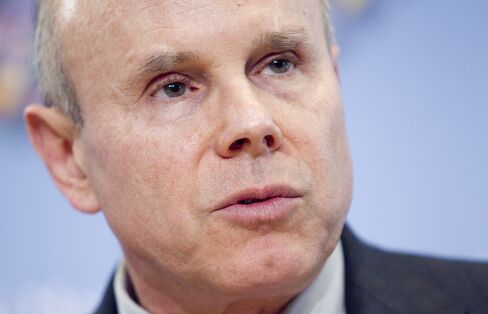 Brazil's real posted its longest losing streak in eight weeks after Finance Minister Guido Mantega raised taxes on foreign inflows for the second time this month to prevent appreciation and protect exports from what he called a global "currency war."
The currency fell 0.5 percent, declining for a fourth straight day, to 1.6827 per U.S. dollar at 4:21 p.m. New York time, from 1.6740 yesterday. The currency last declined for four straight days in the period ended Aug. 24. In the overnight interest-rate futures market, the yield on the contract due in January 2012 rose four basis points, or 0.04 percentage point, to 11.32 percent.
Brazil, Latin America's largest economy, raised the so-called IOF tax on foreigners' investments in fixed-income securities to 6 percent from 4 percent. It also boosted the levy on money brought into the country to make margin deposits for futures market trades to 6 percent from 0.38 percent. Countries worldwide including China and Turkey are seeking to stem appreciation in their currencies to gain a trade advantage.
"We can expect more if the Brazilian real doesn't depreciate," said Diego Donadio, a Latin America strategist at BNP Paribas in Sao Paulo, in a telephone interview. "Regulatory risk is going up regarding an expectation that an increase in taxes can come if the real doesn't depreciate."
The moves announced yesterday aim to erode foreigners' demand for short-term investments and slow the dollar inflows that have helped push the real up 37 percent since the start of 2009, the biggest advance among Latin American currencies. Brazil, which has the highest real interest rates in the G-20, is seeking to restrain its currency as investors seek higher-yielding assets in emerging markets amid near-zero interest rates in the U.S., Japan and the euro region.
China Raises Rates
China, Brazil's biggest trading partner, unexpectedly raised its benchmark lending and deposit rates for the first time since 2007 ahead of data that may show inflation accelerated to the fastest pace in almost two years.
The one-year lending rate will increase to 5.56 percent from 5.31 percent, effective tomorrow, the People's Bank of China said on its website today. The deposit rate will increase to 2.5 percent from 2.25 percent.
The real's decline today "is explained by the new measure that raised the IOF tax," said Silvio Campos Neto, chief economist at Banco Schahin SA, in a telephone interview from Sao Paulo. "Beyond this, China raised interest rates, so these two generated this movement in the exchange rate this morning."
'Currency War'
"This currency war needs to be deactivated," Mantega told reporters late yesterday. "We have to reach some kind of currency agreement."
Mantega will likely stay in Brazil to oversee the implementation of the new measures rather than attend a meeting of Group of 20 finance ministers in South Korea this week, according to a spokesperson who declined to be identified citing the ministry's communications policy.
South Korea said today it is preparing further measures to counter capital inflows triggered by low interest rates overseas. Indonesia's central bank said it plans to offer term deposits with longer maturities of three months, six months and nine months as it seeks to reduce volatility in the rupiah.
Plaza Accord
Mantega cited the Plaza Accord of 1985, when governments agreed to intervene to devalue the U.S. dollar against the yen and the German deutsche mark, as the kind of agreement that might be required. International policy makers failed to narrow their differences on intervention in currency markets during the International Monetary Fund's annual meeting this month.
The higher inflow tax applies to fixed-income investments, local equity funds, hedge funds and pension funds, the Finance Ministry said. The measures will go into effect once they're published in the country's official gazette, as soon as today. Mantega said new efforts to slow the real's gains may be implemented if needed, or current measures may be expanded.
The move may not deter the growth of Japanese mutual funds investing in emerging markets including Brazil, Russia, India and China, said Susumu Kato, chief economist in Tokyo for Japan at Credit Agricole CIB and CLSA.
"Though the higher tax rate could weigh on investment in Brazilian securities to some extent, I don't think it will spur cancellations or lead to a decrease in the number of new funds being launched because yields are still high," Kato said.
The Brazilian tax increase announced yesterday was the second in a month. The currency, which weakened 0.5 percent yesterday, has gained 0.8 percent since Oct. 4, when Mantega doubled the IOF tax on foreign investment in fixed-income securities to 4 percent.
First Attempt
Mantega's first attempt this month to stem the currency's gains via a tax on inflows was thwarted by an announcement from the Bank of Japan reducing the overnight call rate target to a range of zero to 0.1 percent, the lowest since 2006.
The taxation on foreign purchases in Brazil "may provide a temporary relief, but won't do the job," said Arminio Fraga, a former central bank president and the founder of hedge fund Gavea Investimentos.
Barclays Capital said the latest tax increase may succeed where the first one failed. The higher levy will only affect new flows of money into the country, not deposits already in Brazil.
'Whatever It Takes'
"We believe this time will be different," Barclays Capital said in a report. "With this new IOF tax hike, the government is signaling that it will do whatever it takes to prevent the Brazilian real from appreciating."
The market may price in a higher risk premium on some Brazilian assets to reflect fears of further increases in the tax, the report said.
Barclays said the measure may spark a rally in global real-denominated bonds as the tax shifts demand for Brazilian assets outside the country.
The government's international real-linked bonds due in 2016 have risen faster than its local bonds with similar maturity since the tariff change on Oct. 4, driving the yield difference to a seven-month high of 372 basis points, or 3.72 percentage points, yesterday. The gap was 214 points on July 13, according to data compiled by Bloomberg.
Federal Reserve Chairman Ben S. Bernanke said last week additional monetary stimulus may be warranted to boost the world's biggest economy. That fueled speculation the Fed will embark on a second round of quantitative easing next month, even as officials including Brazil's central bank President Henrique Meirelles complain that low U.S. rates are flooding emerging markets with liquidity.
European Central Bank President Jean-Claude Trichet said Oct. 17 that volatility in foreign-exchange markets is "counterproductive."
Brazil's central bank increased the benchmark interest rate to 10.75 percent from a record low 8.75 percent this year to contain inflation.
"There is nothing the Brazilian government can do to fight against the record low yield levels in developed economies," Bank of America Corp. said in a note to investors. "The government has engaged in an impossible war."