Oil Supply Gains in Survey on Refinery Slowdown: Energy Markets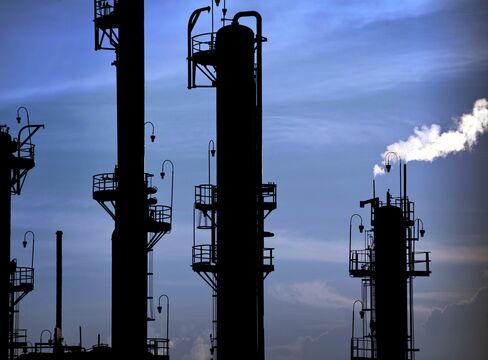 Oct. 19 (Bloomberg) -- U.S. crude-oil inventories probably rose to the highest level in more than three months as refineries idled units to perform seasonal maintenance, a Bloomberg News survey showed.
Stockpiles climbed 1.5 million barrels, or 0.4 percent, in the seven days ended Oct. 15 from 360.5 million a week earlier, according to the median of 15 analyst estimates before an Energy Department report tomorrow. That would leave supplies at the most since the week ended June 25. Thirteen respondents forecast a gain and two a decline.
The glut threatens to end a rally that's pushed futures to a five-month high of $84.43 a barrel in New York on Oct. 7. The U.S. dollar tumbled to the lowest level since January against the euro on Oct. 15, bolstering the appeal of commodities as an alternative investment.
"Refineries don't need the crude because they are using less capacity," said Addison Armstrong, director of market research at Tradition Energy, a Stamford, Connecticut-based procurement adviser. "This adds to the bearish fundamental picture for oil and raises questions about the continued strength of a rally that has had more to do with the weakness of the dollar than with supply and demand."
Crude oil for November delivery slid $3.59, or 4.3 percent, to the settle at $79.49 a barrel on the New York Mercantile Exchange, the biggest drop since Feb. 4. It closed at $83.08 yesterday, the highest level since Oct. 6.
Refinery Programs
Refineries operated at 81.9 percent of capacity in the week ended Oct. 8, the lowest level since March, last week's report showed. Refinery runs, or the amount of crude oil input to processing units, dropped 1.6 percent to 13.9 million barrels a day during the period, the lowest level since February. Companies shut units for maintenance in autumn, when gasoline use falls and winter heating-oil demand has yet to increase.
Exxon Mobil Corp. started planned work at its Baytown, Texas, plant, which accounts for 27 percent of the company's U.S. refining capacity, on Aug. 25. The refinery can process 584,000 barrels of oil a day, the most in the U.S., according to data compiled by Bloomberg.
Refineries probably operated at 82.2 percent of capacity last week, up 0.3 percentage point from the previous week, according to the Bloomberg survey.
"The drop in crude demand looks like it's coming to an end," said Antoine Halff, head of energy research at Newedge USA LLC in New York. "Refinery activity may have bottomed out, or be close to doing so, but remains remarkably low."
Gasoline Inventories
Gasoline stockpiles slipped 1.5 million barrels, or 0.7 percent, from 218.2 million, the survey showed. The drop would leave supplies at the lowest level since December. All of the analysts projected a decline. Sixteen respondents gave product-supply estimates.
Refiners produced 8.73 million barrels of the motor fuel in the week ended Oct. 8, the lowest level since February. Consumption dropped 2 percent to 8.81 million barrels a day during the period, also the least since February.
Stockpiles of distillate fuel, a category that includes heating oil and diesel, probably declined 1 million barrels, or 0.6 percent, from 172.2 million, the survey showed. Thirteen analysts anticipated a fall, one said there was a gain and two forecast that supplies were unchanged. Inventories in the week ended Aug. 20 were the most since 1983.
Falling fuel supplies aren't "too much of a concern given that inventories remain at exceptionally high levels and demand remains subdued, so the safety cushion is as tall as the Empire State Building," Halff said.
Fuel Demand
Total fuel consumption slipped 0.7 percent to 18.3 million barrels a day in the week ended Oct. 8, the lowest level since November.
U.S. stockpiles of oil and fuel climbed 3.3 million barrels to 1.14 billion in the week ended Sept. 17, the highest level since at least 1990, when the Energy Department began to collect weekly data.
Total fuel exports have averaged a record 2.16 million barrels a day since Sept. 10, according to the department.
Demand for U.S. fuel may climb as French truckers block highways and officials said they will use police to prevent strikers from cutting fuel supplies as the standoff hardens over President Nicolas Sarkozy's plans to raise the retirement age to 62.
The department is scheduled to release its weekly report at 10:30 a.m. tomorrow in Washington.
To contact the reporter on this story: Mark Shenk in New York at mshenk1@bloomberg.net
To contact the editor responsible for this story: Dan Stets at dstets@bloomberg.net.