Hasbro Gains as Profit Rises on Games, Preschool Toys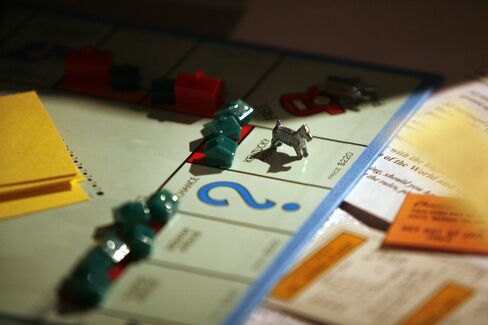 Hasbro Inc., the world's second-largest toymaker, rose the most since June in New York trading after its third-quarter profit gain surpassed analysts' estimates, helped by sales of preschool products and games.
Hasbro advanced 3.8 percent after saying net income rose to $155.2 million, or $1.09 a share, in the quarter ended Sept. 26. Analysts on average projected $1.04, according to a Bloomberg survey.
The toymaker's sales climbed this year without movie tie-ins after films based on its Transformers and G.I. Joe brands boosted revenue a year ago. A third "Transformers" movie will debut next year and films based on the Battleship, Monopoly and Clue games are being developed as Hasbro bolsters its revenue from entertainment content.
"That's where a lot of the value can be created," said Edward Woo, an analyst for Wedbush Securities Inc. in Los Angeles who rates the shares outperform. "Things are going well and their outlook is for things to get even better."
Hasbro, based in Pawtucket, Rhode Island, advanced $1.73 to $46.81 at 4:01 p.m. in New York Stock Exchange composite trading, the largest gain since June 24. The shares have climbed 46 percent this year.
Hasbro denied on June 24 that it was in discussions regarding a possible takeover and said the board spurned an approach from a private-equity firm. Providence Equity Partners Inc. had been in talks with Hasbro as recently as the previous week, a person familiar with the matter said at the time.
'Robust' Holiday
During the quarter, Hasbro has made up for the absence of "Transformer" tie-ins with gains in games such as Monopoly and preschool toys such as the Mr. Potato Head brand, featured in "Toy Story 3," the highest grossing film in the U.S. this year.
Sales climbed 2.7 percent to $1.31 billion, also surpassing projections. Last year, Hasbro's third-quarter profit was $150.4 million, or 99 cents a share.
Hasbro expects a "robust" holiday shopping season, with inventories rising from last year so the toymaker can meet demand, Chief Executive Officer Brian Goldner said on a conference call.
The Hub, Hasbro's joint venture children's television network with Discovery Communications Inc., began broadcasting on Oct. 10 and has been well received by consumers, said Goldner, 47. The network airs programming with shows based on Hasbro toy lines such as G.I. Joe and My Little Pony.
Mattel Inc., the world's largest toymaker, reported last week that third-quarter profit rose 23 percent to $283.3 million, or 77 cents a share. Profit excluding a tax benefit was 72 cents a share. Analysts estimated 75 cents.