France's Pension Protests Crimp Fuel, Transport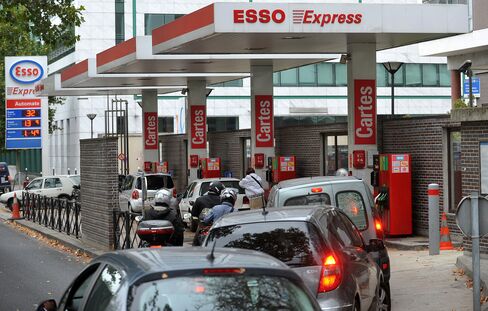 French refineries remained shut, trains were on half service, schools closed and gas stations ran dry as unions held their fourth strike in two months against President Nicolas Sarkozy's plan to raise the retirement age.
Sarkozy has refused to retreat from a proposal to increase the retirement age for a full pension to 67 from 65. His plan would bring France closer to Germany and the U.S., which are moving toward setting 67 as the full-retirement age, according to the Organization for Economic Cooperation and Development.
The French Senate is set to vote on the pension measure this week, giving final parliamentary approval to a plan to eliminate the retirement-system deficit by 2018.
"This reform had been postponed for too long and the deadline couldn't be pushed further anymore," Sarkozy said at a press conference in Deauville, France. "I hope that everyone stays calm so that things don't go beyond certain limits. We cannot live without gasoline. I will see to it with the security forces that public order is guaranteed."
Some protests turned violent, with youths today fighting police in the Paris suburb of Nanterre. In Lyon, some demonstrators broke shop windows and pillaged stores, L'Express magazine said on its website. Television reports showed snaking lines of drivers waiting to fill up on gas as about a quarter of the country's 12,000 service stations carried signs saying they'd run out of fuel.
Government ministers said France has enough fuel to last several weeks and that they'll continue to use police to break up barricades at oil depots.
'Precautionary Buying'
French oil companies plan to share supplies and transport in order to combat shortages, Jean-Louis Schilansky, head of refiners' group Union Francaise des Industries Petroliers, said today, after a meeting with Prime Minister Francois Fillon.
"We have the products in the depots but we can't get them to where they're needed," Schilansky said. "We will work on a coordination of all operators."
France's 12 refineries have been on strike for a week, and no crude is arriving at the ports of Marseille, Le Havre and Nantes. The government has blamed motorists rushing to fill up for shortages at service stations.
"There is no shortage in the country, but there are problems with excessive precautionary buying and with getting the fuel to some places," Transport Minister Dominique Bussereau said in an interview with LCI television yesterday.
Exxon Mobil Corp. declared "force majeure," in France, saying it will be unable to meet some of its oil supply obligations and that it has begun shutting down its Gravenchon refinery, the larger of its two oil-processors in the country.
'Can't Deliver'
"A complete shutdown of the refinery is now under way," Catherine Brun, an Exxon spokeswoman in Paris, said by phone today. "We cannot deliver products out of tanks."
Total SA, the country's biggest oil company, said a quarter of the 4,000 service stations it operates in France face shortages of one or more fuel products because of the strike.
Workers at the Frontignan depot in southern France returned to work today, allowing 133 tankers to load up with fuel for deliveries to service stations in the Herault region, where about a quarter of fuel outlets have run dry, according to Florian Jenny, spokesman for the prefecture in Montpellier.
Police yesterday dismantled a barricade set up by strikers that had blocked access to the depot, he said. The CGT unions said it is allowing some refineries to supply hospitals.
Bond Spreads
Since the unions' first protest strike on Sept. 7, investors have demanded higher relative yields to own French bonds. Yields on 10-year French bonds are 39 basis points more than similar-maturity German securities, up from 30 basis points, or 0.3 percentage point, on Sept. 6. The disruptions are unlikely to have an economic impact, according to Dominique Barbet, an economist at BNP Paribas SA.
The lower National Assembly has already passed the pension legislation, which raises the minimum retirement age to 62 from 60, and the age for a full pension to 67 from 65.
It's now in the Senate, which still has 400 amendments to consider, Senator Jean-Claude Gaudin said on LCI television today. The final vote is planned for the evening of Oct. 21, though the debate could last through the weekend, he said.
The government says it's still open to some small changes in the bill, and has already made concessions that will allow people in difficult jobs as well as working mothers with three children to retire earlier. It says it won't budge on the retirement ages.
Planes, Trains
France's eight major unions will meet on Oct. 21 to decide how to continue their action.
France's civil-aviation authority has told airlines to cancel half their flights today from Paris's Orly Airport and 30 percent at Roissy-Charles de Gaulle, the country's largest. Air France SA said long-haul flights won't be affected.
About half of all high-speed trains and Paris commuter trains are running today, the national railroad said in a statement. The Paris metro is running almost normally.
This morning, truckers slowed down the main highway coming into Paris from the south. Yesterday, they temporarily blocked the main north-south A6 highway between Lyon and Paris, as well as near Lille in the north of the country.
The Labor Ministry said in a statement that 7.4 percent of government workers, excluding education, were on strike, down from 18.6 percent on Oct. 12.
Student Participation
A total of 277 protests and marches were planned throughout the country today. Police said about 825,000 people took part in the Oct. 12 protests, which was less than in previous national strike days against the pension measures. Unions put participation at between 2.5 million and 3 million.
"We must stay peaceful, we must not fall into the trap of provocation," said Francois Chereque, secretary general of the CFDT union, at the start of the Paris demonstration today.
High school students are increasingly joining the protests. The education ministry says 379 of the country's roughly 3,000 high schools are holding protests today, while students union FDIL says it's about 850.
Within the school system, 14 percent of teachers were on strike today, down from 22 percent on the last strike day on Oct. 12, the education ministry said.
"Any blockade is the consequence of the refusal of the government to open a dialogue," Socialist Party spokesman Benoit Hamon said in an interview with RTL radio. "The government thinks it will be the winner from a radicalization."
Sarkozy Proposal
Sarkozy's government says the retirement reforms are needed to balance the pension system's budget by 2018. The overhaul is part of its struggle to reduce the overall deficit. This year, the gap will stand at 7.7 percent of gross domestic product and Sarkozy plans to cut it to 6 percent next year.
Under Sarkozy's proposal, by 2018 a person would need to work 41 1/2 years to retire with a full pension at 62, and otherwise would have to wait until 67. Germany has decided to raise its retirement age to 67 from 65, though Germans can retire on a reduced pension at 63 if they've worked 35 years, according to the Organization for Economic Cooperation and Development. The retirement age in Italy is 65, though working 40 years guarantees a full pension at any age.
In the U.S., what the OECD calls the "normal" retirement age is increasing to 67 from 66, though early retirement with reduced benefits is available from the age of 62.
In France, the average retiree gets a net 65 percent of his average qualifying wage in government pension payouts, compared with 61.5 percent in Germany, 47 percent in the U.S. and 44 percent in Britain, according to the OECD.