Delta May Push Airlines to Biggest Profit Since 2007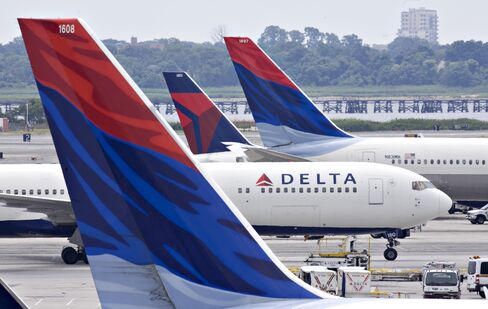 Delta Air Lines Inc. and American Airlines parent AMR Corp. may help U.S. carriers report their biggest profit in three years this week, buoyed by higher fares and fuller planes.
That would give the industry two consecutive profitable quarters for the first time since 2007, before the record-high jet fuel prices of 2008 and the recession. AMR will have net income of about $118 million, its first profit in two years, according to analysts' average estimate compiled by Bloomberg.
The eight biggest airlines will post third-quarter combined net income ranging from $2.1 billion to $2.4 billion, according to estimates by analysts Michael Linenberg of Deutsche Bank AG and Michael Derchin of CRT Capital Group LLC. Planes are flying fuller than ever as carriers maintain the cuts in seats they put in place in 2008, allowing them to charge more for tickets.
"The most important factor is that carriers have not boosted capacity and, hence, have not had to keep prices low in order to fill what would otherwise be empty seats," said David Swierenga, president of consulting firm AeroEcon in Round Rock, Texas. "This time carriers have really held the line."
Collective revenue for the eight airlines will rise 17 percent to $32.5 billion, Linenberg estimated. Their operating margin may be 11.6 percent, up 8 percentage points from a year earlier and the best in a decade, he said in an Oct. 12 report.
Business travelers are starting to return, AMR Chief Executive Officer Gerard Arpey said Oct. 6.
'Fragile' Recovery
"I'm encouraged that, increasingly, it doesn't look like we're headed for a double dip in the U.S.," Arpey said. "That is encouraging. But I would have to describe the recovery as fragile, and heavily dependent on economic activity in the U.S. and around the world."
Delta is scheduled to lead off the industry in reporting results on Oct. 20, followed the same day by AMR and US Airways Group Inc. Southwest Airlines Co., JetBlue Airways Corp., Alaska Air Group Inc. and United Continental Holdings Inc.'s United and Continental will report Oct. 21.
United and Continental closed their $3.47 billion stock- swap merger on Oct. 1, four days after Southwest's Sept. 27 announcement that it would buy AirTran Holdings Inc.
United and Continental will continue to be run separately until they receive U.S. regulatory approval to operate as one carrier, which may take as long as 18 months. Southwest's stock-and-cash purchase of AirTran still must be approved by regulators and AirTran shareholders.
Fuel, Flu
The carriers as a group in July reported their first quarterly profit after 10 straight losses stretching back to the final three months of 2007. During the three-year period, the companies faced surging fuel prices, the slump in business travel during the recession and the outbreak of the H1N1 virus.
Airlines began decreasing the amount of available seats in 2008, grounding planes to keep pace with the drop in demand. Capacity through August was down 0.12 percent from a year earlier, extending the 6.9 percent reduction in 2009 that was the biggest industrywide pullback since 1942.
Keeping curbs on capacity creates "pricing power in the face of slowly improving demand," said Jeff Straebler an RBS Securities Inc. strategist in Stamford, Connecticut.
"Now, with the recognition that it works, the expectation is that it will stay," Straebler said.
Yields, or average fare per mile excluding taxes, rose every month this year through August after falling through all of 2009, according to the Air Transport Association trade group. June's 20 percent increase over a year earlier was 2010's biggest gain.
Unit Revenue
Third-quarter revenue for each seat flown a mile, known as unit revenue, an indicator of fares and demand, probably rose 15 percent, excluding regional airline partners, Derchin estimated. Load factor, or the number of seats filled, advanced 2 points through August from a year ago to 83 percent.
"Airlines are not pricing so aggressively to gain market share anymore," said Jim Corridore, a Standard & Poor's equity analyst in New York. "They are pricing for profitability. That is a big shift for them."
The Bloomberg U.S. Airlines Index of 11 carriers rose 18 percent this year through today, topping gains of 6.2 percent for the Standard & Poor's 500 Index and 6.9 percent for the Dow Jones Industrial Average.
Capacity Discipline
Jet fuel for delivery in New York Harbor averaged $2.11 in the quarter, up 17 percent from a year ago. Prices have risen 0.14 percent since the quarter's end. They peaked at a record $4.36 a gallon on July 3, 2008. Fuel normally is the industry's second-biggest expense, following labor.
Airlines should be able to keep posting profits on industry consolidation, the mix of higher- and lower-priced fares and capacity discipline, said Derchin, who is based in Stamford, Connecticut. While revenue from each seat flown a mile probably will continue to rise, the pace will slow, he said.
For 2011, the industry's biggest threats are increasing fuel prices, the risk of another recession and the temptation to quickly add back seats, said AeroEcon's Swierenga, a former chief economist for the Air Transport Association.
"As long as they hold the line on capacity, they will be OK," Swierenga said.
Before it's here, it's on the Bloomberg Terminal.
LEARN MORE