Crop Surge Drives U.S. Exports as Obama Channels Iowa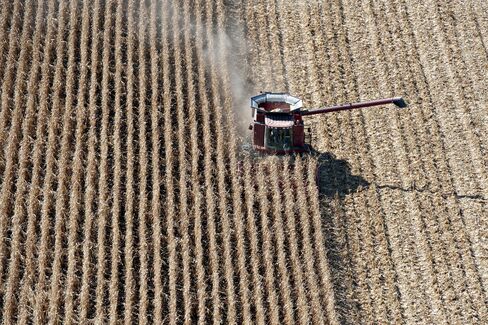 Record U.S. agricultural exports are providing an unexpected boost to President Barack Obama's target of doubling overseas sales by 2015 and driving earnings for Agco Corp., CF Industries Holdings Inc. and Cargill Inc.
The 66 percent gain in corn prices from June lows and as much as doubling in wheat are leading a jump in U.S. farm revenue that JPMorgan Chase & Co. expects will increase demand for Deere & Co.'s tractors and Mosaic Co.'s fertilizer. Farm exports from the U.S., the world's largest grain shipper, may top the 2008 record of $115.3 billion in 2011, said Joe Glauber, chief economist at the U.S. Department of Agriculture.
While agriculture accounts for just 1 percent of the $14.3 trillion U.S. economy, the actual impact of surging prices may be 10 times more once spending on equipment, seeds, grain handling and food making are added, said Jason Henderson, an economist at the Federal Reserve Bank of Kansas City. The boom may continue through 2011, with wheat predicted to average $7.28 a bushel and corn $5.83, as much as 98 percent above the 10-year average, a Bloomberg News survey of seven U.S. analysts showed.
"It's going to be the best year American farmers have had in two and a half decades," said Dennis Gartman, an economist and editor of the Gartman Letter in Suffolk, Virginia. "The next big winners are obviously the fertilizer companies and farm-equipment manufacturers. The winner no one seems to be talking about is small banks in the Midwest."
Farm Machinery
Farm income and spending contrasts with the U.S. economy, where unemployment is running at 9.6 percent and economic growth slowed to an annualized 1.7 percent in the second quarter, from 3.7 percent in the previous three months. Congressional elections take place Nov. 2 and more than four of 10 likely voters who say they once considered themselves Obama backers now are either less supportive or no longer support him, according to a Bloomberg National Poll conducted Oct. 7-Oct. 10.
Sales of farm equipment are correlated to growers' cash receipts, which should rise 24 percent to $118.4 billion for major crops in the 2010-2011 season, Ann Duignan, an analyst at JPMorgan in New York, said in an Oct. 8 report. That will bolster sales for Moline, Illinois-based Deere, the world's largest farm-equipment maker, Amsterdam-based CNH Global NV and Duluth, Georgia-based Agco, she said.
Cargill, the Minnetonka, Minnesota-based grain handler and the largest closely held company in the U.S., said Oct. 12 that farm-price volatility and its 64 percent stake in Mosaic drove a 68 percent surge in profit in the most recent quarter.
Reinvest Wealth
"Farmers historically are pretty savvy in what they do, so they would reinvest a lot of their increased wealth potentially into new tractors, new equipment," said Ralf Oberbannscheidt, a co-fund manager of agribusiness strategy at New York-based Global Thematic Partners LLC, which invests $3.5 billion in food-related equities.
Deere's per-share profit will more than double to $4.25 in the current fiscal year from $2.06 in 2009, according to the mean estimate of eight analysts surveyed by Bloomberg. At Agco, earnings may jump to $1.948 a share from $1.44 last year, and CNH's profit will reach $1.30, compared with an 80-cent loss in 2009, according to analysts surveyed by Bloomberg.
While Deerfield, Illinois-based fertilizer maker CF Industries probably will see a decline in earnings this year, profit will jump to $8.45 a share in 2011, according to five analysts surveyed, compared with an estimated $5.36 in 2010.
Droughts, Floods
Grain prices surged as drought in Russia, flooding in Canada and parched fields in Kazakhstan and Europe ruined crops. Russia, once the world's third-biggest wheat exporter, banned overseas sales in August. Ukraine, the biggest barley shipper, said Oct. 12 it would introduce grain quotas.
Corn, wheat and soybeans jumped the most allowed by the Chicago Board of Trade on Oct. 8 after the USDA predicted less supply. On Oct. 15, Goldman Sachs Group Inc. boosted its 12-month forecast for corn to $6.25 a bushel from $5.
"I am very bullish on farm commodities for the next many years," Agco Chief Executive Officer Martin Richenhagen said in an Oct. 13 interview. Demand probably will increase from the end of this year, he said.
Sales are already strengthening at Sloan Implement Co., a closely held dealer in Deere equipment with more than a dozen locations in Illinois and Wisconsin.
"Farmers are like all of us," Chief Executive Officer Tom Sloan wrote in an e-mail. The "more money we earn, we tend to spend it."
Farmers are taking advantage of low interest rates to buy land and machinery, said Tom Neher, a vice president for AgStar Financial in Rochester, Minnesota. The bank issued twice as many farm-equipment loans as expected during a recent promotion.
New Combines
"I've seen more brand-new combines bought this year than I've seen for a long, long time," said Neher, who helps manage $2.1 billion in grain-related loans and leases for AgStar. "When you can get a machinery loan for 4 percent interest, that's about as low as it ever gets."
In September, sales of four-wheel-drive tractors in the U.S. were 21 percent higher than at the same time last year, and sales of combine harvesters jumped 12 percent, the Association of Equipment Manufacturers said Oct. 13.
Brandon Hunnicutt, who farms about 3,600 acres of mostly corn and soybeans in Giltner, Nebraska, said he may spend more on fertilizer and improve equipment.
"Some of those purchases maybe you were hoping you could make we should be able to make now because you have $5 corn," said Hunnicutt, who's also the president of the Nebraska Corn Growers Association. "Five-dollar corn makes it a whole lot easier to justify some of that."
No 'Gold Rush'
While many growers are benefiting from the boom in crop and farmland prices, there are limits to how much that will trickle down to the rest of rural America, said Ernie Goss, a professor of economics at Creighton University in Omaha.
"It's not like the old gold rush days, when they'd buy up all the liquor in the local saloon," Goss said. "That's not how it works now. You have fewer and fewer farms, and fewer and fewer farm families, so it hasn't spilled into small businesses like the drug store, or the shoe store."
The rural economy contracted in September for the third straight month, as hiring and home sales slumped, according to a monthly Creighton survey of small-town banks in 10 states. The agricultural industry is "experiencing healthy growth," with land and farm-equipment sales rising, according to the survey.
Profit margins for restaurants and grocery stores may narrow because some may be unable to pass on higher commodity costs to consumers, Goss said. Farm prices have been supported by a lower dollar, which is boosting exports, and not by rising domestic demand, he said.
Greeley, Not Beijing
Small businesses "are mystified by all these reports about how wonderful the rural economy is," he said. "That's because they're selling in Greeley, Nebraska, and the farmer out there is selling in Beijing."
The number of Americans receiving food stamps rose to a record 41.8 million in July, the USDA said Oct. 5. The Standard & Poor's GSCI Agriculture Index of eight commodities gained 33 percent in the third quarter, the most since 1974, and the measure is up 45 percent since the end of June. The gauge fell 0.3 percent as of 3:21 p.m. in New York.
Agricultural output, including forestry, fishing and hunting, was $136.4 billion in 2009, according to the Bureau of Economic Analysis. Agriculture's share of the economy shrank from 8.6 percent in 1948 to about 1 percent in the past decade.
The boom in agriculture "isn't enough to give us an extra burst nationally," said David B. Oppedahl, a business economist at the Federal Reserve Bank of Chicago. "In some regions with a strong agricultural base, it should help those areas recover more quickly."
Doubling Exports
In his State of the Union address on Jan. 27, Obama said U.S. jobs will depend in part on the country's ability to boost overseas sales. Meeting his target would mean exports reaching $3.14 trillion by 2015 from $1.57 trillion in 2009, according to the White House.
"Agriculture is central to our exports," said Howard Rosen, who studies trade and labor issues as a visiting fellow at the Peterson Institute for International Economics in Washington. "We're going to need to depend on agriculture in order to meet the goal."
In the first eight months of 2010, U.S. agricultural exports climbed to $69.8 billion from $61 billion in the same period a year earlier, according to the most recent USDA data.
China will become the second-biggest U.S. agricultural trading partner in 2011 as it buys more cotton, pork, corn and soybeans, the USDA estimates. Shipments to the world's most-populous nation will total $15 billion, compared with Canada's $16.8 billion and Mexico's $14.6 billion.
Income Surge
Rising trade will contribute to a projected 24 percent gain in net farm income in the 2010 calendar year to $77.1 billion, the USDA said Aug. 31. Since that report was issued, corn futures have surged 27 percent. The department will update its forecast next month.
Lower debt and rising income this year means growers will tap just 47 percent of their loan-paying capacity, compared with 63 percent in 2009, the USDA said in August.
"It is a perfect situation for U.S. farmers, the best since the early 1970s," said Bill Adams, a trader at ACT Currency Partner AG, a currency and commodity specialist in Zurich. "There will be quite a few Cadillacs sold in the Midwest this Christmas."
Before it's here, it's on the Bloomberg Terminal.
LEARN MORE