Sol Melia Brings Upscale Hotel Brand to U.S. as Demand Recovers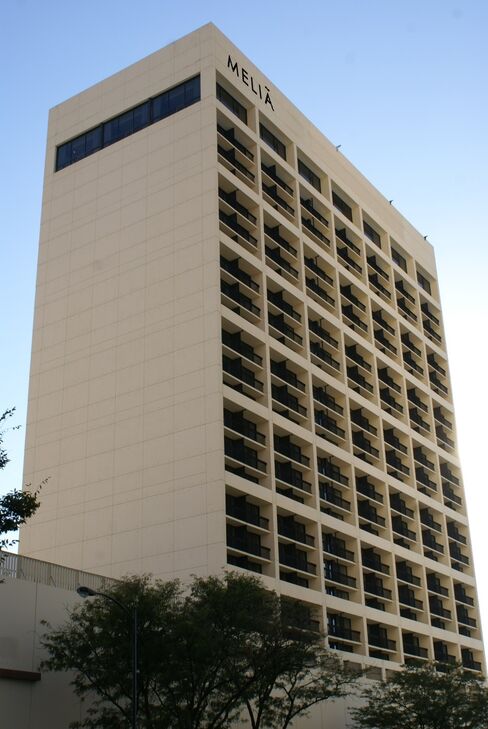 Sol Melia SA is opening its first U.S. hotel this week in Atlanta, adding to an expanding field of competition for upscale travelers as demand recovers.
The lodging chain's $35 million conversion of a former Marriott Renaissance into a Melia Atlanta will be followed over the next five years by entries into New York, Chicago, Miami and yet-to-be-determined cities in California and Texas, according to Andre Gerondeau, an executive vice president for the Palma de Mallorca, Spain-based company.
"It's been a distressed market, but we see it coming back and we see opportunity," he said in an interview at the Atlanta property. "It's never the perfect time, but it's a good time."
Upper-tier hotels, catering to business travelers and high- income individuals, are attracting new entrants after rebounding from the recession faster than other segments. London-based Virgin Group Ltd. formed a partnership in September to spend as much as $500 million on high-end hotels over the next three years, initially targeting U.S. markets such as New York and San Francisco. Pebblebrook Hotel Trust, which went public as a real estate investment trust in December, has announced acquisitions of seven upscale hotels for $564 million since June 7, including two this week in Philadelphia and Los Angeles.
Pre-Recession Occupancy
Revenue per available room for upper-tier hotels in the U.S. rose 4.9 percent this year through August, compared with a 4 percent increase for the overall industry, according to Smith Travel Research Inc. of Hendersonville, Tennessee. The segment may return to pre-recession occupancy and room-rate levels by 2013, said Atlanta-based Colliers PKF Hospitality Research.
Sol Melia plans a 12-to-18-month upgrade of the Atlanta hotel that it expects will sync with the market's upswing, Gerondeau said. The property will stay open during the renovations.
"We hope to be totally refurbished by the beginning of 2012, and we feel that's going to be a good time to position ourselves in this market," he said.
Sol Melia, founded in 1956 by Gabriel Escarrer Julia, still chairman at 75, is the third-largest hotel chain in Europe by number of properties and the 12th-biggest in the world, according to its website. It has about 300 hotels and resorts on four continents. North America wasn't one of them, until now.
Sol Melia may struggle to establish a U.S. beachhead, said Mark Woodworth, executive vice president of PKF Hospitality.
Established Brands
"It's harder for them to drive traffic through their doors than the established chains," said Woodworth, noting that competitors such as Hyatt Hotels Corp. and Starwood Hotels & Resorts Worldwide Inc. have well-known brands, customer-loyalty programs and ubiquity, particularly in a crowded hotel market like Atlanta. The city is the nation's seventh-largest lodging market, according to Smith Travel Research.
Three upscale hotels have opened within a mile of the Melia Atlanta since January 2009: a W Hotel, one of White Plains, New York-based Starwood's brands; Hotel Palomar, operated by Kimpton Hotels and Restaurant Group LLC of San Francisco; and a Lowes Hotel, operated by New York-based Lowes Corp.
Midtown Atlanta's 3,099 upscale hotel rooms comprise 80 percent of that district's total inventory. The Melia Atlanta, classified under a lower tier when it was a Marriott, will add another 502 rooms.
"All that new supply has yet to be absorbed," said Woodworth. The midtown area's hotel recovery has lagged that of the other five Atlanta submarkets, he said.
Market Underperforming
Gerondeau said some of the high-end hotels in midtown have struggled because of a lack of demand from business travelers. Atlanta's economy has been worse than the rest of the country's by a number of measures, and has the second-highest office vacancy rates among major U.S. markets, according to Cushman & Wakefield Inc.
"Some of the players have had a real hard time playing the real estate market," Gerondeau said of other hotel companies in the area.
The W Hotel, located within a mile of the Melia, went into foreclosure this month, according to an Oct. 5 statement. Tim Dahlen, its general manager, said the hotel has been profitable, including 12 sold-out nights this month. Depressed sales for the 74 luxury condominiums atop the 237-room hotel hurt the property financially, said David Haddow, president of Haddow & Co., an Atlanta real estate consulting firm.
Governor's Mansion
Sol Melia also has competitors in the Buckhead submarket to the north. The InterContinental Hotel was acquired in July for $105 million by Bethesda, Maryland-based Pebblebrook, which plans $7 million of improvements to the six-year-old property. A St. Regis Hotel opened in the area April 2009 on a street lined with multi-million-dollar homes, including the Georgia governor's mansion.
The Melia hotel is owned by Fundus Group, a Berlin-based real estate investment firm. Sol Melia reached an operating agreement with Fundus as Marriott International Inc.'s lease neared its Oct. 1 end, said Henk Habers, president of Brussels- based WingField Group NV, which found Sol Melia for Fundus.
Fundus will pay for the $35 million renovation, Habers said in an e-mail. Martin Smura, chief executive officer of Fundus America, didn't respond to e-mails seeking comment.
Atlanta was already considered a top-five priority market before the opportunity to take over the Marriott arose, said Gerondeau. As a regional corporate and aviation hub and major convention location, the city skews toward the business traveler with whom Sol Melia wants to make a name.
Corporate Focus
"It's a strong showroom to establish our brand as a corporate travel entity," said Gerondeau. About 50 percent of Sol Melia's properties are business-oriented, while the rest are resorts, he said.
While acknowledging the competition in Atlanta will be stiff, Gerondeau said the Melia Atlanta will separate itself from rivals. The property will feature a restaurant with a modern version of Spanish tapas, while contemporary European artists' work will be displayed in public spaces.
"The Melia brand brings European flair and Latin hospitality in a solid combination," Gerondeau said.
Mark Beadle, a principal with San Francisco-based lodging consultant Horwath HTL, said the Melia Atlanta may be successful with enough marketing and distinctive touches. Beadle worked at the property early in his career, when it was a Stouffer hotel. He recalls it being an Atlanta hotspot in the 1970s, with a jazz club on the top floor frequented by the city's first black mayor, Maynard Jackson.
The property's luster and occupancy has declined with age, a succession of operators, and a location off the main paths of downtown and midtown, according to Beadle.
"It might be a good match for Sol Melia," he said.