Russia to Build Venezuela's First Nuclear Power Plant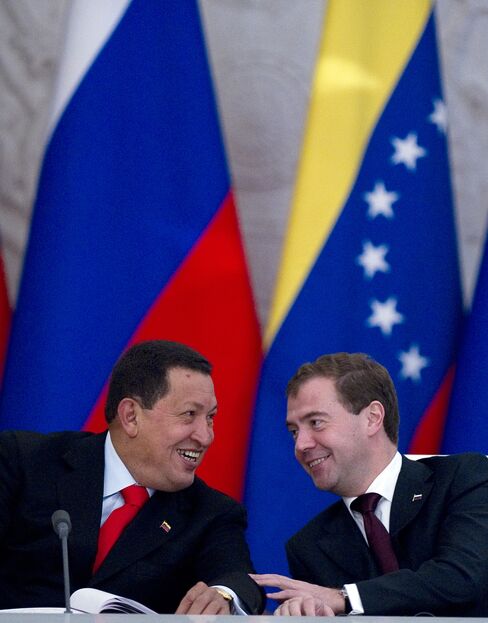 Russia agreed to build Venezuela's first nuclear power plant after talks in Moscow between the countries' presidents, Dmitry Medvedev and Hugo Chavez.
The two nations will cooperate to develop nuclear power in Venezuela, including a research reactor, according to the agreement signed today by Sergei Kiriyenko, head of Rosatom Corp., Russia's state-run nuclear holding company.
The deal comes as Chavez, who has visited Russia nine times during more than 11 years in power, strengthens ties with governments critical of U.S. foreign policy. He has bought more than $4.4 billion of weapons from Russia and promised to give the country's energy companies access to Venezuelan oil fields.
"Why shouldn't Venezuela have a plant like this," Medvedev said at a news conference with Chavez. "Venezuela is our close partner, and it would provide a certain independence in case of falling prices on certain types of fuel."
Venezuela, the largest oil producer in South America, saw output drop 17 percent to 2.44 million barrels a day in the four years ended Dec. 31, according to data compiled by BP Plc.
Russian Prime Minister Vladimir Putin reached an initial agreement on the nuclear plant during a trip to Venezuela in April. Chavez told Medvedev today that the agreement might trigger "various emotions" in some countries, the Russian president said.
"I don't know who'll wince at this," Medvedev said. "But I'd like to emphasize that our intentions are entirely pure and straightforward."
U.S.-Venezuela
Chavez has often sparred with the U.S. Venezuela last month rejected President Barack Obama's selection of Larry Palmer as ambassador to Caracas after the nominee said Chavez's government had "clear ties" with terrorist organizations.
"This is something that we will watch very, very closely," State Department spokesman Philip J. Crowley told reporters in Washington today. "It is certainly a right of any country to pursue civilian nuclear energy, but with that right comes responsibilities."
While the Venezuelan nuclear project is "interesting and positive," Russian officials must complete "preparatory studies" and assess issues such as the size of the market before it can move forward, Medvedev said.
"The power station is in the future," Kiriyenko said. "Let's start with the research reactor."