Manufacturing Growth in New York Area Tops Forecasts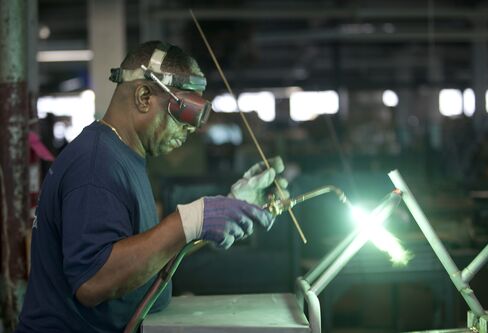 Manufacturing in the New York region expanded in October at a faster pace than anticipated, signaling factories will keep driving the recovery in the world's largest economy.
The Federal Reserve Bank of New York's general economic index rose to 15.7, the highest level in four months and more than twice the median forecast of economists surveyed by Bloomberg News. Readings greater than zero signal gains in the so-called Empire State Index covering New York, northern New Jersey and southern Connecticut.
Overseas demand is spurring sales at manufacturers including Alcoa Inc., bolstering the economy and laying the ground for more hiring. At the same time, unemployment is restraining household spending, indicating a sustained economic revival will take time to develop.
"Manufacturing is the strongest pillar of the recovery right now," said John Herrmann, senior fixed-income strategist at State Street Global Markets LLC in Boston. "Businesses are really focused on improving operational performance and spending on capital equipment. This is a catalyst for sustained growth at factories and in the economy."
Retail sales climbed more than forecast in September, a separate report showed today, easing concern consumer spending will weaken and endanger the recovery.
Purchases rose 0.6 percent following a 0.7 percent gain in August that was larger than previously estimated, the Commerce Department said in Washington. The advance was broad-based, with clothing stores the only major category to show a decline in demand last month.
Stock Futures Gain
U.S. stock-index futures rose after the reports and after Fed Chairman Ben S. Bernanke said in a speech in Boston that additional monetary stimulus may be warranted because inflation is too low and unemployment too high.
Futures on the Standard & Poor's 500 Index expiring in December rose 0.2 percent to 1,175.3 at 9:407 a.m. in New York after declining as much as 0.3 percent.
Economists forecast the New York Fed's index would increase to 6 this month, according to the median of 50 projections in a Bloomberg survey, after 4.1 in September. Estimates ranged from zero to 12.5. Manufacturers account for about 6 percent of New York's economy.
New Factory Orders
The Empire State gauge of new factory orders jumped to 12.9 this month from 4.3 in the prior month. A measure of shipments rose to 19.4 from minus 0.3. The index of inventories fell to minus 11.7, the lowest level since January, from 1.5.
The employment measure increased to 21.7, from 14.9.
Manufacturers nationally have added 136,000 workers to their payrolls since the start of the year, according to Labor Department data. In September, factory payrolls fell 6,000, the second consecutive decline, while the jobless rate held at 9.6 percent.
Today's report showed an index of prices paid climbed to 30 from 22.4, while prices received increased to 8.3 from 1.5.
Factory executives in the New York Fed's district were more optimistic about the future. The gauge measuring the outlook six months from now gained to 40 from 31.3.
Exports rose 0.2 percent in August to $153.9 billion, the highest level in two years, Commerce Department figures showed yesterday. The gain was swamped by a 2.1 percent jump in imports that caused the trade deficit to widen 8.8 percent.
New York-based Alcoa, the largest U.S. aluminum producer, reported profit that beat analysts' estimates and said rising demand abroad will help boost consumption of the metal.
China, Brazil
"In countries such as China, Brazil, India and Russia, more and more people are moving into the middle class, driving demand," Chief Executive Officer Klaus Kleinfeld said in a statement on Oct. 7.
The Federal Reserve on Sept. 21 said it's prepared to ease monetary policy further to support growth and support prices. "Business spending on equipment and software is rising, though less rapidly than earlier in the year," the Federal Open Market Committee said in its statement.
Economists surveyed by Bloomberg News project the Philadelphia Fed's general economic index, due Oct. 21, was unchanged this month from minus 0.7 in September. Readings less than zero signal a contraction.
Economists monitor the New York and Philadelphia Fed factory reports for clues about the Institute for Supply Management figures on U.S. manufacturing during the month. The ISM data for October will be released Nov. 1. Manufacturing makes up 11 percent of the U.S. economy.
Before it's here, it's on the Bloomberg Terminal.
LEARN MORE