Lula Rival Surge Sparks Rally as Election Nears: Brazil Credit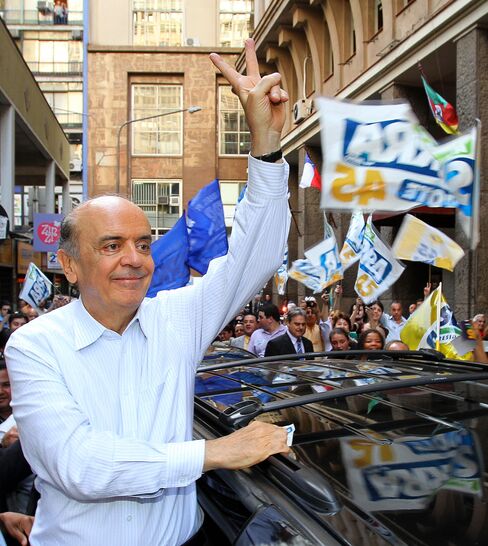 A surge by opposition candidate Jose Serra in presidential election polls is sparking the biggest rally in Brazilian bonds in two months.
Yields on real-denominated government bonds due in 2014 tumbled 26 basis points, or 0.26 percentage point, since yesterday, the most since August, after a Sensus poll showed Serra cut into a 14-percentage point gap with Dilma Rousseff ahead of an Oct. 31 runoff vote. Yields fell 34 basis points this week to 11.57 percent, the biggest weekly rally in almost two months.
Serra's advance is buoying bonds because he has pledged to be fiscally "responsible" while Rousseff, President Luiz Inacio Lula da Silva's handpicked successor, said in August that promoting spending cuts was a "crime," according to Jerry Brewin, who manages $2 billion of emerging-market assets at Aviva Investors in London. Brewin said he began betting yesterday on a drop in interest-rate future yields because Serra, 68, may win.
"Serra is expected to be fiscally conservative," said Brewin. He predicts yields on rate futures contracts due in 2017 will decline 50 basis points if Serra wins. "That's the benefit you get being a fiscal hawk -- to deliver lower yields. The market is beginning to react to that."
Yields on Brazil's 10 percent bonds due in 2014 fell to 11.57 percent today, the lowest level since Aug. 25, according to data compiled by Bloomberg. Yields on similar-maturity interest-rate futures contract sank 25 basis points in the past two days and are down 32 basis points this week to 11.43 percent.
Cardoso Government
Rousseff, a former energy minister and cabinet chief under Lula, won 47 percent in a first-round vote on Oct. 3 while Serra took 33 percent, setting up the runoff election.
Serra has closed the gap by targeting religious voters and criticizing Rousseff's flip-flop on abortion policy, according to Rafael Cortez, a political scientist at Tendencias Consultoria Integrada.
Serra served both as planning and health minister under ex-president Fernando Henrique Cardoso, who cut annual inflation from 631 percent when he took office in 1995 to 14 percent when he was succeeded by Lula in January 2003. Inflation has slowed further to 4.7 percent under Lula, who defeated Serra in the 2002 election.
While investors have confidence in Rousseff, who has pledged to continue Lula's economic programs, they are more optimistic about Serra's ability to contain spending, according to Roberto Melzi, a Latin America local-markets strategist at Barclays Plc in New York.
'Fine Tuning'
Lula's government boosted spending 18.2 percent in July from a year earlier, helping push the budget deficit to 3.4 percent of gross domestic product from 1.2 percent in October 2008. Brazil's gross debt equaled 60 percent of GDP last year, compared with 38 percent in Mexico and 46 percent in Colombia.
"I don't think it's about liking or disliking" the two candidates, Melzi said in a telephone interview. "I would call it a fine tuning. In the market, Dilma was perceived as being willing to spend a bit more and Serra was perceived to be a bit more responsible."
Alessandro Teixeira, one of Rousseff's campaign coordinators, said yesterday the candidate won't change her platform in reaction to the bond market.
"We wouldn't change what we're doing because of that," Teixeira said in a telephone interview from Brasilia. "To have a vision that Serra would bring more stability is wrong. We want continuity of the current government."
Poll Ascent
Serra had 47.7 percent support, trailing Rousseff by 4.6 percentage points, in the Sensus poll of 2,000 people published yesterday. The Oct. 11-13 poll had a margin of error of 2.2 percentage points.
Rousseff, who would be Brazil's first female president, has vowed to maintain the social programs and the economic growth that has lifted 21 million people out of poverty since 2003.
"Defending spending cuts, as was practiced in Brazil, is a crime nowadays," Rousseff, 62, said in an interview with TV Globo network on Aug. 31. "We are in a phase of investment, of planning and controlling public spending."
Investors may be overreacting to the poll as Rousseff, a member of the Workers' Party, or PT, would also hold down the deficit, said Pablo Cisilino, who helps manage $14 billion in emerging-market debt at Stone Harbor Investment Partners in New York.
"The PT over the last how many years in government has been fiscally responsible," Cisilino said. "I don't see a reason why policy is going to change now. We don't understand this talk that it's going to be so radically different."
Payrolls, Pensions
The extra yield investors demand to own Brazilian dollar bonds instead of U.S. Treasuries fell nine basis points today to 168, the lowest level since April, according to JPMorgan Chase & Co.
The cost of protecting Brazilian bonds against default for five years rose to 97 basis points from a two-year low of 89 on Oct. 13, according to CMA DataVision prices. Credit-default swaps pay the buyer face value in exchange for the underlying securities or the cash equivalent should a government or company fail to adhere to its debt agreements.
Yields on Brazil's interbank rate futures contract due in January 2012 fell three basis points today to 11.22 percent, adding the decline this week to 21 basis points.
The real was little changed this week at 1.6651 per dollar. It touched 1.6442 yesterday, the strongest level since September 2008.
'Responsible Administrator'
Serra carried out spending cuts when he was governor of Sao Paulo, Brazil's wealthiest and biggest state. He has pledged to cut government payrolls and renegotiate prices on public contracts, helping offset plans to boost the minimum wage and payouts to pensioners.
"I've always been a responsible administrator," Serra said in a speech to party members and allies in Brasilia on Oct. 6. "In the fiscal matter, we are conservatives. Many know of my responsible performance as a lawmaker, as planning minister, as governor."
Latin America's biggest economy expanded at the fastest pace in more than two decades in the first half of the year, leading central bank policy makers to increase the benchmark interest rate to 10.75 percent from a record low of 8.75 percent in March.
"The market is correct by analyzing that Serra has greater possibility to improve fiscal accounts, which will certainly affect long-term interest rates," said Marcelo Saddi Castro, who oversees 18 billion reais ($10.8 billion) as chief investment officer at SulAmerica Investimentos in Sao Paulo. "The market is pricing in the real possibility that he can win the election, a possibility that two weeks ago was almost nonexistent."
Before it's here, it's on the Bloomberg Terminal.
LEARN MORE