Iceland Pension Funds to Block $2 Billion Debt Relief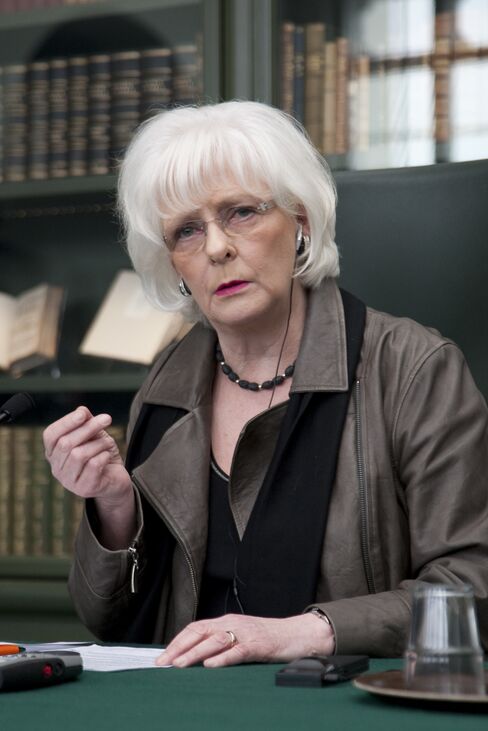 Iceland's pension funds, which hold the bonds behind most of the country's mortgage debt, will try to block proposals to forgive as much as $2 billion in bad loans that the government says it is considering.
A group that represents households demanding debt relief says lenders should write off up to 220 billion kronur ($1.99 billion) in mortgage loans to help the 39 percent of homeowners who are technically insolvent. The government this week said it may back the proposal as it responds to protests that drew bigger crowds than in the weeks before former Prime Minister Geir H. Haarde's administration was ousted in January 2009.
"We don't support the ideas of the Interest Group of the Homes on general write-offs on loans," said Hrafn Magnusson, managing director of the Icelandic Pension Funds Association, which has assets of about $16 billion, in an interview yesterday. "The measure would mean that members will see their pensions cut."
Prime Minister Johanna Sigurdardottir's assurances after the Oct. 4 protests that home owners will get swift debt relief may leave the state more indebted and breach a clause in the island's loan agreement with the International Monetary Fund. The government has yet to discuss the proposals with the IMF, Finance Minister Steingrimur J. Sigfusson said in an interview.
A 'Perfect Mess'
Failure to secure backing from the country's pension funds would jeopardize any government plans to grant a general write-down of mortgage debt, Morgunbladid cited Sigurdardottir as saying today. Any agreement would require losses to be divided between the pension funds, the banks and the Treasury, she said, according to the newspaper.
The government's vacillation on the subject of debt relief may disappoint voters who had expected a quick response after last week's protests, said Eirikur Bergmann, a professor of political science at Bifrost University in Reykjavik.
"The idea to give a flat reduction of mortgage debt is some kind of a panic reflex to the protests," Bergmann said in an interview. "Then it turns out there's nothing behind this idea and they've given people false hopes, which the government now has to wind down. This is, of course, a perfect mess."
Iceland, which is ranked "junk" at Fitch Ratings, also risks putting its credit grade under further pressure if it agrees to measures that add to Treasury debt.
Ratings 'Downsides'
"I think the government is very aware that its option to pick up the bill again is limited," said Moody's Investors Service analyst Kathrin Muehlbronner, in an interview. "Iceland's current position has more downsides than upsides."
Moody's ranks Iceland's foreign debt Baa3, the lowest investment grade. The rating carries a negative outlook. Standard & Poor's also ranks the island one level above junk at BBB-.
"Fitch continually monitors Iceland's sovereign ratings and they could be subject to change at any time," Fitch Senior Director Paul Rawkins said in an e-mailed response to questions.
Sigurdardottir has already extended by five months a moratorium on foreclosures due to expire in October, a measure that may breach the terms of her government's agreement with the IMF. The fund won't be "allowed" to hinder Iceland's efforts to reduce household debts, she said on Oct. 8.
The country's banks are state-controlled successors to the failed lenders that brought down the economy two years ago. The resolution committees of Kaupthing Bank hf and Glitnir Bank hf agreed on behalf of creditors to take stakes in the new lenders, Arion hf and Islandsbanki hf, to cover part of their claims. Creditors of Kaupthing, Glitnir and Landsbanki Islands hf are owed as much as $86 billion in total.
'Very Harmful'
Though most of the country's non-performing loans stem from Arion, Islandsbanki and Landsbanki successor NBI, according to the IMF, the biggest provider of home loans is the state-backed Housing Financing Fund. The HFF accounted for 64 percent of Iceland's 1.23 trillion kronur in outstanding mortgage debt at the end of June, according to the Financial Supervisory Authority.
HFF Director Asta H. Bragadottir said the mortgage lender isn't able to withstand a flat reduction of all its home loans, in an Oct. 13 interview. If it is forced to write down the debt, the government will need to cover the loss or the country's pension funds would need to agree to the write-down, she said.
Sigurdardottir's administration has already agreed to recapitalize the HFF before the end of the year to make up for existing losses on bad loans. That agreement doesn't take the impact of the current debt relief proposals into account.
The government plans to present a bill this week allowing debtors to walk away from obligations that exceed asset values and to nullify personal bankruptcies after four years, Internal Affairs Minister Ogmundur Jonasson said in an Oct. 11 interview.
"We have to clarify very quickly what it is that people are willing to do and how we can execute that, as uncertainty and delays are very harmful," Sigfusson said.