Brooklyn Luxury Home Prices Climb 25% on Million-Dollar Sales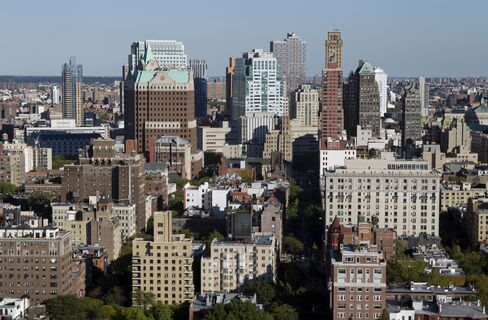 Luxury home prices in New York's Brooklyn borough climbed 25 percent in the third quarter from a year earlier as buyers for properties priced higher than $1 million returned to the market.
The median price of a Brooklyn luxury property climbed to $1.31 million from $1.04 million, New York-based appraiser Miller Samuel Inc. and broker Prudential Douglas Elliman Real Estate said in a report today. They define luxury as the top 10 percent of all sales. In the third quarter, properties in that category sold for $980,000 or more.
"With the high-end market, when it comes back, it tends to go all in as opposed to a trickle," Jonathan Miller, president of Miller Samuel, said in an interview.
New York's financial industry employed 433,200 people in August, a net gain of 500 jobs from a year earlier and the first such increase in 2010. The city's overall unemployment rate was 9.4 percent in August, unchanged from July, the state Department of Labor said Sept. 16
Brooklyn transactions of $1 million or more increased 60 percent, with 162 deals completed, and accounted for 8.6 percent of the borough's third-quarter sales, Miller said. A year ago, 5.5 percent of deals were in that price range.
Sales of Brooklyn apartments, co-ops and other homes across all price points climbed 1.7 percent from a year earlier, to 1,879 transactions, according to the report by Miller Samuel and Prudential. The median price for residential properties in the borough rose 2 percent to $485,504.
Down From Peak
Prices peaked three years ago at a median $540,000 in Brooklyn, giving homeowners seeking to trade-up after the decline "a higher comfort level," Miller said.
Properties spent an average of 109 days on the market, 34 percent less time than a year earlier. The number of homes on the market in Brooklyn surged 18 percent, with 6,630 properties listed for sale.
"That is a concern but it's not an alarm," Miller said. "That would be something we need to keep our eye on."
At the current sales pace, it would take 10.6 months to deplete the supply of homes now listed for sale in Brooklyn, Miller said.
Brooklyn's Williamsburg neighborhood led the borough in the number of homes sold in the third quarter, with 214 properties trading hands, according to a separate report released by the Real Estate Board of New York on Oct. 12. The median sales price in Williamsburg, home to such new projects as Toll Brothers Inc.'s two-tower development Northside Piers, fell 17 percent to $500,000, the group said.
'Stable Neighborhood'
"There has been a lot of new development and I have seen a lot more aggressive pricing on some of the products" in Williamsburg, Michael Slattery, the board's senior vice president, said in an interview. "It was always an up-and-coming neighborhood and it's become a stable neighborhood."
The board is a trade group that represents property owners, brokers, builders and managers.
Cobble Hill was the most expensive Brooklyn neighborhood in the third quarter, with the median price rising 59 percent to $1.23 million, according to the board. The median rose to $733,000 in Park Slope and $700,000 in Brooklyn Heights, an increase of 15 percent in both neighborhoods.
"Brooklyn is stabilizing," Slattery said.