U.S. Stocks Retreat as Banks Tumble on Foreclosure Concerns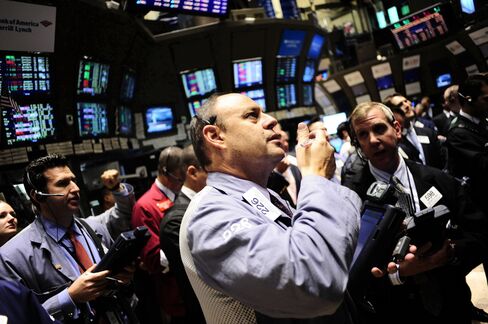 U.S. stocks declined, dragging benchmark indexes down from five-month highs, as financial companies slumped amid concern over growing legal scrutiny of home foreclosure practices.
Bank of America Corp., Citigroup Inc. and Wells Fargo & Co. slid more than 4 percent to lead financial stocks in the Standard & Poor's 500 Index to a 1.8 percent drop, the biggest among 10 industry groups. Apollo Group Inc. sparked a plunge in education stocks after withdrawing its forecast for fiscal 2011. Yahoo! Inc. gained 4.5 percent and EMC Corp. rose 4.5 percent on reports they may be takeover targets.
The S&P 500 fell 0.4 percent to 1,173.81 at 4 p.m. in New York, paring its rebound from this year's low on July 2 to 15 percent. The Dow Jones Industrial Average dropped 1.51 points, or less than 0.1 percent, to 11,094.57.
"Investors are afraid of how much mortgage debt could actually come back onto banks' balance sheets," said Anton Schutz, who manages $250 million of financial stocks at Mendon Capital Advisors Corp. in Rochester. "People are really questioning the way these banks underwrote mortgages, their entire process."
Stocks extended losses and the S&P's 500 Financials Index fell the most in two months as home seizures reached a record in September. Lenders took over 102,134 properties last month, RealtyTrac Inc. said in a report today, the highest since the company began tracking the data in 2005. Foreclosure filings, including default and auction notices, rose 3 percent from the prior month. One out of every 371 households received a notice.
Foreclosure Probe
The National Association of Attorneys General said yesterday it will conduct a coordinated inquiry among all 50 states into whether banks and loan servicers used false documents and signatures to justify hundreds of thousands of foreclosures.
Bank of America, the largest U.S. lender, fell 5.2 percent to $12.60 for the biggest drop in the Dow average. Wells Fargo, the top U.S. home lender, retreated 4.2 percent to $24.72. Citigroup Inc., the third-biggest U.S. bank, declined 4.5 percent to $4.06.
The S&P 500 rose for a fourth day yesterday, buoyed by indications the Federal Reserve may announce plans to resume buying Treasury securities next month to bolster the recovery and better-than-estimated third-quarter earnings.
JPMorgan, Apollo
JPMorgan Chase & Co., the second-largest U.S. bank by assets, fell 2.8 percent to $38.72. The bank set aside $1.3 billion of additional litigation reserves during the third quarter, including expenses for mortgage-related matters, and may have to pay penalties in the foreclosure investigation, its chief executive officer said yesterday. JPMorgan's reserves "set off a 'how much do other banks have to set aside?' scramble," Schutz said.
Bond insurers MBIA Inc. and Ambac Financial Group Inc., and mortgage-insurance companies including Radian Group Inc., PMI Group Inc. and MTG Investment Corp. all advanced. The Association of Financial Guaranty Insurers said in a letter last month to Bank of America that it should repurchase as much as $20 billion in home loans that were based on wrong or missing information.
"Any questions about fraud at the originators could lead to a higher level of claim denials" by the mortgage insurers, Douglas Harter, an analyst at Credit Suisse Group AG in New York, said in an e-mailed response to a question.
H&R Block Inc. slid 10 percent to $12.31, the third-biggest drop in the S&P 500. The biggest U.S. tax preparer originated mortgages through January 2008.
Education Slump
Apollo Group, the biggest education company by enrollment, plunged 23 percent to $38 for the biggest drop in the S&P 500. The operator of the University of Phoenix withdrew its 2011 forecast citing regulatory scrutiny and a possible 40 percent decline in new students.
Education companies were the six-biggest decliners in the Russell l000 Index. Education Management Corp., DeVry Inc., Career Education Corp., ITT Educational Services Inc. and Strayer Education Inc. each fell at least 14 percent.
EMC, the world's biggest maker of storage computers, added
4.5 percent to $21.21 for the biggest gain in the S&P 500. The London-based Evening Standard reported that Oracle Corp., which has said it's in the market for semiconductor companies and makers of industry-specific software, might pay $40 a share for EMC.
Yahoo! rose 4.5 percent to $15.93. The owner of the second- most popular U.S. Internet search engine is working with Goldman Sachs Group Inc. to help defend against possible takeover approaches, according to three people familiar with the matter.
'Cheap Valuations'
"You continue to see technology M&A activity," said Wayne Wilbanks, chief investment officer of Wilbanks Smith & Thomas in Norfolk, Virginia. "Cheap valuations combined with easy money from the Fed and private equity gives you incredibly strong underpinnings."
Verizon Communications Inc. led telecommunications companies to the only gain among the S&P 500's 10 industry groups. Verizon Wireless, co-owned by Verizon Communications and Vodafone Group Plc, will begin competing with AT&T Inc. in selling Web access for Apple Inc.'s iPad tablet computer on Oct.
28. Verizon rose 0.7 percent to $32.44.
An unexpected increase in the Labor Department's weekly tally of new claims for jobless benefits reinforced expectations that unemployment above 9 percent will draw a monetary policy response from the Fed. Initial unemployment claims rose by 13,000 to 462,000 in the week ended Oct. 9, helping spark a drop in the dollar, which fell to a 15-year low against the yen and reached its weakest versus the euro since January.
"The market is more infatuated with these weekly and monthly numbers than ever before," said Larry Peruzzi, senior equity trader at Cabrera Capital Markets Inc. in Boston. "The bulk of the move is coming from these numbers and what you're able to infer from that about whether there's going to be continued easing from the Fed."
Before it's here, it's on the Bloomberg Terminal.
LEARN MORE