U.S. Trade Gap Probably Widened in August as Imports Stabilized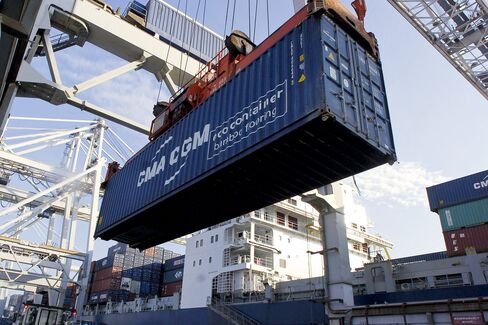 Oct. 14 (Bloomberg) -- The U.S. trade deficit probably widened in August as imports stabilized following their biggest drop in more than a year, pointing to an economy struggling to regain momentum, economists said before a report today.
The gap grew 2.8 percent to $44 billion from $42.8 billion the prior month, according to the median estimate of economists surveyed by Bloomberg News. The shortfall shrank by 14 percent in July as demand for overseas goods fell by the most since February 2009, when the U.S. was in the midst of the recession.
Imports may be slow to strengthen as unemployment hovering close to 10 percent limits consumer spending and prompts businesses to keep a lid on inventories. Companies like Intel Corp., on the other hand, are benefiting from improving sales overseas, indicating exports will remain a bright spot for American manufacturers.
"U.S. growth is relatively weak, so you are not going to see a lot of strong import demand" said Zach Pandl, an economist at Nomura Securities International Inc. in New York. "Global growth, at least in the developing world, is quite strong, so you are likely to see some growing demand for U.S. exports."
The Commerce Department's report is slated for 8:30 a.m. in Washington. Estimates in the Bloomberg survey of 75 economists ranged from $40 billion to $47.5 billion.
Claims, Prices
A report from the Labor Department at the same time may show first-time claims for unemployment benefits were little changed at 445,000 last week, according to the median estimate of economists surveyed.
Also at 8:30 a.m., Labor Department data may show wholesale prices climbed 0.1 percent last month after rising 0.4 percent in August, according to the survey.
Because the U.S. buys more goods overseas than it sells abroad, exports have to grow faster than imports just to keep the trade deficit steady. That's the most likely outcome given the differences in growth, said Pandl, indicating the size of the trade gap will be fairly steady in coming months.
"A flat trade deficit would be viewed as a very favorable outcome in a growing U.S. economy," said Pandl, since imports usually outstrip exports in recoveries.
Trade subtracted 3.5 percentage points from growth in April through June, the most since 1947, as imports surged at the fastest pace since 1984. Foreign purchases detract from growth because they signal demand is being filled by producers overseas instead of American firms.
Growing Exports
The outlook for U.S. exports is holding up as emerging economies from China to India and Brazil modernize their infrastructure and their more affluent households can afford to buy goods and services from abroad.
Intel, the world's biggest chipmaker, is among U.S. exporters profiting from growth in China. The Santa Clara, California-based company this week predicted fourth-quarter sales that beat analysts' estimates as demand in emerging economies helped weather slowing purchases among consumers in the U.S. and Europe, Intel Chief Financial Officer Stacy Smith said in an interview.
That's one reason shares of manufacturers have performed better than the broader market this year. S&P Supercomposite Machinery Index, which includes Caterpillar Inc. and Deere & Co., has climbed 29 percent this year through yesterday, compared with a 5.6 percent gain in the S&P 500.
Lower Dollar
A drop in the value of the dollar, by making U.S. goods cheaper to foreign buyers, may keep boosting exports. The U.S. dollar has weakened 7.2 percent against a trade-weighted basket of currencies since a high this year on June 7.
Growing friction over exchange-rate and trade policy dominated discussions at the International Monetary Fund's annual meeting in Washington this month.
Treasury Secretary Timothy F. Geithner and European Central Bank President Jean-Claude Trichet were among those to signal irritation that China is restraining its currency, the yuan, to aid exports even as its economy outpaces that of other members of the Group of 20. For their part, leaders of emerging economies blamed too-low U.S. interest rates for a flood of capital that is pushing up their currencies.
U.S. impatience with China boiled over on Sept. 29 when the House of Representatives passed a measure that would let American companies seek import duties to prevent Chinese manufacturers from using an artificially weak yuan as a competitive tool. The measure won't go to the Senate until after U.S. congressional elections in November.
                       Bloomberg Survey

================================================================
                             Trade      PPI     Core  Initial
                           Balance               PPI   Claims
                            $ Blns     MOM%     MOM%   ,000's
================================================================

Date of Release              10/14    10/14    10/14    10/14
Observation Period            Aug.    Sept.    Sept.    9-Oct
----------------------------------------------------------------
Median                       -44.0     0.1%     0.1%      445
Average                      -43.8     0.2%     0.1%      445
High Forecast                -40.0     1.0%     0.3%      455
Low Forecast                 -47.5    -0.4%    -0.1%      425
Number of Participants          75       74       72       46
Previous                     -42.8     0.4%     0.1%      445
----------------------------------------------------------------
4CAST Ltd.                   -47.0     0.2%     0.1%      453
ABN Amro Inc.                -43.9     0.2%     0.2%      440
Action Economics             -40.0     0.1%     0.1%      450
Aletti Gestielle SGR         -43.0     0.2%     0.2%     ---
Ameriprise Financial Inc     -43.0     0.2%     0.1%     ---
Banesto                      -43.5     ---      ---      ---
Bank of Tokyo- Mitsubishi    -40.1     0.1%     0.2%      447
Bantleon Bank AG              ---      0.3%     ---      ---
Barclays Capital             -45.5     0.1%     0.1%      445
Bayerische Landesbank        -42.6     ---      ---      ---
BBVA                         -42.9     0.2%     0.1%      450
BMO Capital Markets          -45.0     0.2%     0.1%      440
BNP Paribas                  -41.5     0.1%     0.1%      440
BofA Merrill Lynch Resear    -43.0    -0.1%     0.1%      440
Briefing.com                 -40.0     0.1%     0.1%      450
Capital Economics            -45.0     0.4%     0.1%     ---
CIBC World Markets           -44.0     1.0%     0.0%     ---
Citi                         -44.5     0.1%     0.2%      445
ClearView Economics          -42.5     0.2%     0.2%     ---
Commerzbank AG               -44.0     0.2%     0.1%      440
Credit Agricole CIB          -44.5     0.1%     0.1%     ---
Credit Suisse                -47.0    -0.1%     0.1%      440
Daiwa Securities America     -41.5     0.1%     0.1%     ---
DekaBank                     -45.0     0.0%     0.1%     ---
Desjardins Group             -43.5     0.3%     0.1%      445
Deutsche Bank Securities     -44.5     0.2%     0.2%      445
Deutsche Postbank AG         -44.0     0.2%     0.1%     ---
DZ Bank                      -43.2     0.2%     0.1%     ---
First Trust Advisors         -44.3     0.1%     0.1%      443
FTN Financial                -43.0     0.2%     0.1%     ---
Goldman, Sachs & Co.         -42.0     0.2%     0.1%     ---
Helaba                       -44.0     0.2%     0.1%      450
High Frequency Economics     -40.0    -0.3%     0.2%     ---
HSBC Markets                 -45.0     0.1%     0.1%      450
Ibersecurities               -43.0     ---      ---      ---
IDEAglobal                   -45.0     0.2%     0.2%      440
IHS Global Insight           -40.8     0.0%     0.1%     ---
Informa Global Markets       -46.5     0.2%     0.2%      450
ING Financial Markets        -44.7     0.1%     0.0%     ---
Insight Economics            -45.0    -0.1%     0.1%      455
Intesa-SanPaulo              -46.0     0.1%     0.2%     ---
J.P. Morgan Chase            -42.1     0.3%     0.1%      440
Janney Montgomery Scott L    -45.0     0.1%     0.2%     ---
Jefferies & Co.              -44.5     0.4%     0.2%      443
Landesbank Berlin            -47.0     0.3%     0.3%      450
Landesbank BW                -43.5     0.3%     ---      ---
Maria Fiorini Ramirez Inc     ---      0.1%     0.1%      450
MF Global                    -44.5     0.1%     0.3%      450
MFC Global Investment Man    -45.0     0.0%     0.0%      440
Moody's Analytics            -43.4     0.2%     0.1%      450
Morgan Keegan & Co.          -41.2     0.1%     0.1%     ---
Morgan Stanley & Co.         -42.8     0.1%     0.1%      440
National Bank Financial      -42.0     0.2%     0.1%     ---
Natixis                      -42.1    -0.1%     0.1%     ---
Newedge                       ---      0.1%     0.1%     ---
Nomura Securities Intl.      -40.9     0.1%     0.1%     ---
Nord/LB                      -44.0     0.1%     0.1%      440
Pierpont Securities LLC      -46.2     0.0%     0.1%      440
PineBridge Investments       -41.6     0.3%     0.2%      450
PNC Bank                     -44.0     0.2%     0.1%     ---
Raiffeisen Zentralbank       -42.0     0.0%     0.0%     ---
Raymond James                -44.8     0.3%     0.1%      450
RBC Capital Markets          -41.7     0.3%     0.2%      440
RBS Securities Inc.          -45.5     0.2%     0.2%      455
Scotia Capital               -45.0     0.2%     0.1%      438
Societe Generale             -47.5    -0.4%    -0.1%      425
State Street Global Marke    -43.7     0.1%     0.1%      446
Stone & McCarthy Research    -45.1     0.1%     0.1%      445
TD Securities                -42.0     0.1%     0.1%      450
Thomson Reuters/IFR          -43.5     0.6%     0.1%      440
UBS                          -43.8     0.0%     0.1%      445
UniCredit Research           -44.5     ---      ---      ---
University of Maryland       -44.5     0.5%     0.1%      450
Wells Fargo & Co.            -46.1     0.2%     0.1%     ---
WestLB AG                    -44.5     0.1%     0.1%      450
Westpac Banking Co.          -46.0    -0.1%     0.1%      455
Woodley Park Research        -44.1     0.4%     0.1%     ---
Wrightson ICAP               -45.0     0.0%     0.2%      440
================================================================

To contact the reporter on this story: Robert Willis in Washington at bwillis@bloomberg.net
To contact the editor responsible for this story: Christopher Wellisz at cwellisz@bloomberg.net