U.K. Merges Competition Commission, OFT, Axes Agencies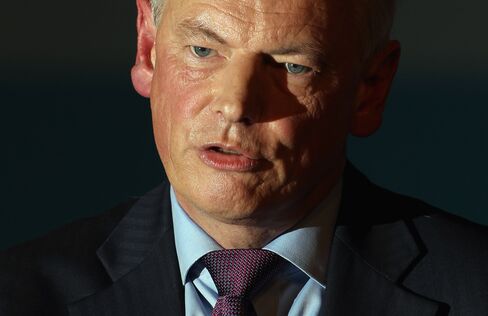 The U.K. Office of Fair Trading and the Competition Commission will merge in a restructuring of government agencies in which 192 bodies will be abolished, Cabinet Office Minister Francis Maude said.
Maude reviewed 901 bodies, known as quangos -- quasi-autonomous nongovernmental organizations -- that take decisions on everything from arts funding to setting the minimum wage, in a bid to save money and tighten government control. He said in a statement published in London today that 481 face "substantial reforms" and 118 will be merged into 57 new agencies. At the end of the process 648 will be left.
"The main purpose here is to increase accountability," Maude, a member of the main ruling Conservative Party, told BBC News television, adding there will be "significant" savings.
The government will hold consultations next year on the merger of the OFT and the Competition Commission, with the OFT's consumer and enforcement functions transferred elsewhere. The Department for Business said the new body will be responsible for merger regulation, market investigations, cartel and antitrust cases, and some aspects of the regulated utilities.
The Confederation of British Industry, a lobby group representing the country's largest employers, welcomed the merger, which it had called for.
'Benefit Businesses'
"The planned merger would improve the efficiency of the competition regime by cutting duplication," Matthew Fell, the CBI's director for competitive markets, said in an e-mailed statement. "It would also benefit businesses by speeding up merger reviews and market investigations, reducing the time firms are left in limbo."
"A marriage between the OFT and CC to streamline the organizations and hopefully make them more efficient would appear to be sound," Lesley Ainsworth, competition partner at law firm Hogan Lovells LLP in London, said in an e-mailed statement. "Given that their combined budget is below 100 million pounds ($160 million), the scope for major cost savings is unlikely to be great."
Other changes include local governments taking over the responsibilities of development corporations. The Child Maintenance and Enforcement Commission, the Renewable Fuels Agency and the Appointments Commission will be brought under direct ministerial control. The National Endowment for Science, Technology and the Arts and the Design Council will become charities.
'Cost of Closing'
"Labour had a plan for steadily saving 500 million pounds by carefully closing 25 percent of quangos over the next few years," the opposition Labour Party's Cabinet Office spokesman, Liam Byrne, said in an e-mailed statement. "The Tories now need to tell us whether their desperation for headlines and faster cuts means the cost of closing quangos is actually bigger than the savings."
The general secretary of the Trades Union Congress, Brendan Barber, also attacked the plan.
"Ministers seem very vague about the finances, despite the job losses involved," Barber said in an e-mailed statement. "When independent bodies give public advice to ministers, they have to explain why if they reject it. With no independence or transparency, corporate lobbyists will be cracking open the champagne today."
"We have to get away from the slightly tragic view that says that in order to show we care about something, we have to have a quango," Maude told Sky News television. "If something is important then let's have ministers to take responsibility."