China Currency Bill Could Pass Senate, Baucus Says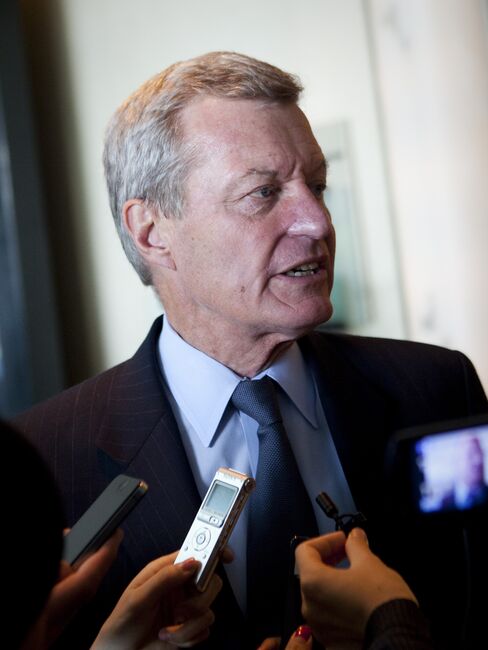 Oct. 13 (Bloomberg) -- A bill punishing China over the value of the yuan may well pass in the U.S. Senate, with Congress submitting it to President Barack Obama for his signature, Senate Finance Committee Chairman Max Baucus said.
"I think it is a very real possibility that a currency bill would pass and be sent to the president," Baucus told reporters today in Beijing, where he is meeting with government leaders on the issue. "A lot of people think an undervalued renminbi costs jobs, and I conveyed that to the Chinese leadership."
Baucus' panel has jurisdiction over trade and is due to consider a measure after the November congressional elections that would let U.S. companies petition for duties on imports from China to compensate for the effect of a weak yuan. The U.S. House of Representatives passed a similar measure on Sept. 29. China says the legislation will do nothing to ease the U.S. trade deficit and would hurt global growth.
Baucus has met with officials including Vice President Xi Jinping, Vice Premier Wang Qishan, Commerce Minister Chen Deming and Yi Gang, head of China's State Administration of Foreign Exchange, which oversees the country's $2.65 trillion of foreign exchange reserves. China's leaders "understood" the U.S. position, he said.
"They took it in the spirit in which the information was given; constructively, respectfully and soberly," Baucus said.
China's yuan, also called the renminbi, has gained 2 percent in the past six weeks following a visit to Beijing of White House officials, including Larry Summers, the departing director of the National Economic Council. The yuan was recently trading little changed in the spot market at 6.6698.
Baucus said any determination over whether tax cuts initiated by President George W. Bush would be extended would have to wait until the results of next month's elections.
"I would like to see the middle income tax cuts extended permanently," Baucus said.
To contact the reporter on this story: Michael Forsythe in Beijing at mforsythe@bloomberg.net
To contact the editor responsible for this story: Bill Austin at billaustin@bloomberg.net