China Foreign-Exchange Reserves Jump to $2.65 Trillion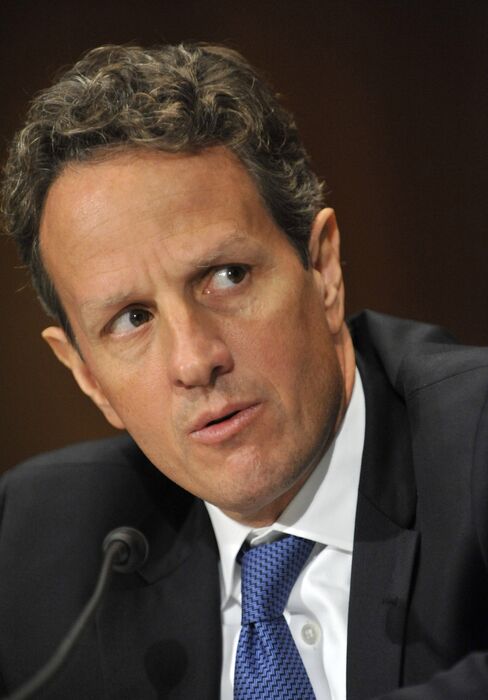 China's foreign-exchange reserves, the world's largest, surged by a record to $2.65 trillion at the end of September, adding fuel to complaints that the nation's curbs on gains in the yuan are undermining the global recovery.
Currency holdings rose about $194 billion in the third quarter, today's statement from the People's Bank of China showed. September exports were the second-highest on record at $145 billion, a separate customs bureau report showed.
"With hostilities in the currency war already declared, a record increase in FX reserves in the third quarter and a near record haul for exporters in September hangs a target around the neck of China's exchange rate regime," said Tom Orlik, a Beijing-based analyst for Stone & McCarthy Research Associates who formerly worked for the U.K. Treasury.
U.S. Treasury Secretary Timothy F. Geithner suggested yesterday that China's policy of buying dollars to hold down the yuan is distorting the global currency system by forcing other emerging-market nations to intervene. Yuan forwards traded near a two-year high today on anticipation Premier Wen Jiabao will allow greater gains and on signs the Federal Reserve may inject more U.S. stimulus, a move that could spur capital flows to Asia.
Non-deliverable yuan forwards rose 0.1 percent to 6.4529 per dollar as of 5:30 p.m. in Hong Kong, suggesting appreciation of more than 3 percent in the next year. The yuan was at 6.6641.
Currency Tensions
In the latest sign of international tension over currencies, Japanese Prime Minister Naoto Kan said today that China and South Korea should "take responsible actions" in relation to their exchange rates. Japan's intervention in currency markets last month brought criticism from policy makers in Europe and politicians in the U.S.
Exchange rates dominated an International Monetary Fund meeting in Washington last week on concern that officials are relying on cheaper currencies to aid growth, risking retaliatory devaluations and trade barriers. China was accused of undervaluing the yuan, while low interest rates in developed economies were blamed for flooding emerging markets with capital.
Weakness in the greenback, especially against the euro, probably accounted for the bulk of the third-quarter increase in the reserves by increasing the dollar value of Chinese assets held in other currencies, according to Stephen Green, a Shanghai-based economist for Standard Chartered Plc who had the closest forecast for the reserves in a Bloomberg News survey. In the second quarter, the euro slumped against the dollar.
'Hot Money'
The median forecast in the survey of eight economists was for an increase to $2.5 trillion. Exports rose a less-than-forecast 25.1 percent from a year earlier in September and imports climbed 24.1 percent, leaving a trade surplus of $16.9 billion.
The trade surplus and inflows of cash from foreign direct investment and so-called hot money betting on gains by the Chinese currency also drive up reserves, which rose 16.5 percent by the end of September from a year earlier.
"What's happening is, as China holds its currency down, their currencies are moving up," Geithner said in an interview on "Charlie Rose" aired yesterday on PBS and today on Bloomberg Television, referring to other emerging markets' exchange rates. Other nations "are having to work very hard to make sure they're not at an unfair disadvantage with China."
The yuan is strengthening at the fastest pace in five years, advancing 1.7 percent last month against the dollar after the end of an almost two-year peg in June.
China's Case
Chinese officials can also point to improvements in the trade balance. Imports rose to a record value of $128.1 billion, limiting the surplus to the smallest in five months. For January-through-September, the trade excess was $120.6 billion, down 10.5 percent from a year earlier, the customs bureau said.
Chinese banks extended a more-than-estimated 595.5 billion yuan ($89 billion) in new local-currency loans last month, the People's Bank of China said in today's statement. The median forecast in a Bloomberg News survey of 18 economists was 500 billion yuan.
Banks have now lent about 6.3 trillion yuan this year and can extend a maximum of about 400 billion yuan in each of the final three months if the government is to meet a target of limiting new lending to 7.5 trillion yuan.
M2, the broadest measure of money supply, rose 19 percent in September from a year earlier, the central bank added. That compared with economists' 18.9 percent median estimate.
U.S. Legislation
Finance ministers and central bankers at the Washington meetings last week pledged to improve cooperation, yet did little to show how they would alter their ways beyond agreeing to let the IMF study the matter.
The U.S. Senate will consider legislation that would allow duties to be imposed on Chinese imports because of the nation's failure to allow bigger currency gains, according to Senator Charles Schumer of New York. Companies such as Caterpillar Inc., Wal-Mart Stores Inc. and Citigroup Inc., have warned that the measure may lead to retaliation.
"A lot of people feel an undervalued renminbi costs jobs," Senator Max Baucus, chairman of the Finance Committee and a Montana Democrat, told reporters in Beijing today, using another term for China's currency. He added that the legislation to address China's currency policy could pass the Senate.
Before it's here, it's on the Bloomberg Terminal.
LEARN MORE