Brandon Flowers, Gauguin Nudes, Schooling Rita: London Weekend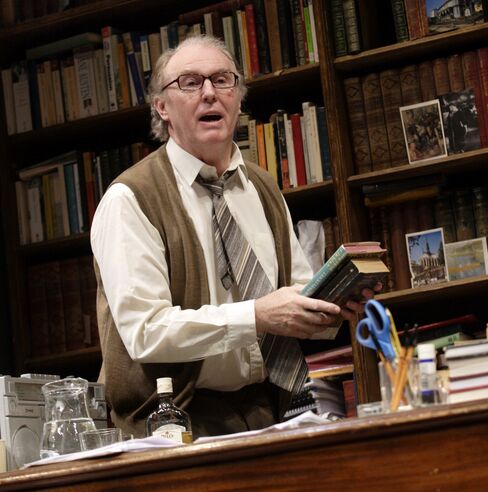 A 26-year-old hairdresser tires of her shampoo-and-blow-dry routine and decides to get educated.
She turns to a 50-something university lecturer named Frank, who tutors on the side to help pay for trips to the pub.
Together they form the pair at the heart of "Educating Rita," made famous by the 1983 movie starring Michael Caine and Julie Walters, and now back on the London stage.
Rita is played by Laura Dos Santos, and Frank, by veteran Tim Pigott-Smith, who was the greedy chairman in "Enron."
"Educating Rita," which ends Oct. 30, is at Trafalgar Studios, Whitehall, SW1A 2DY. Information: +44-844-871-7627 or http://www.trafalgar-studios.co.uk or
Saturday
Paul Gauguin is, to many, the brute whose late-night confrontation with Vincent van Gogh led the latter to slice off part of his ear. A new Tate blockbuster decouples Gauguin from the Dutch prodigy, presenting him as a talent with frailties of his own and an imagination that worked overtime.
Using his paintbrush, Gauguin reinvents himself as a brigand, as a Breton in sailor stripes, and even as Jesus Christ. He spooks up his still lifes with eerie figures, objects and backdrops. His depictions of Tahitian beauties carry inscriptions that not even the Tahitians could read.
You end up seeing Gauguin as the visionary that he was -- forerunner of Surrealism and abstraction -- and not just as the guy who drove Van Gogh to self-mutilation.
Information: http://www.tate.org.uk or +44-20-7887-8888.
Saturday Night
Cliff Richard -- who is playing the Royal Albert Hall -- started out as an "English Elvis" and drew praise from John Lennon.
In a career spanning seven decades, he morphed into a squeaky-clean figure of fun, and has now been knighted as the music industry praised his sales of more than 260 million records.
Sir Cliff is marking his 70th birthday with the London concerts (through Oct. 17) and a new album, "Bold as Brass," covering swing standards such as Cole Porter's "I've Got You Under My Skin."
Royal Albert Hall, Kensington Gore, SW7 2AP. Information: +44-845-401-5045; http://www.royalalberthall.com or http://www.cliffrichard.org/.
Sunday
The lead singer of the Killers, Brandon Flowers, is many things: workaholic, married man, father, devout Mormon -- and now solo star.
Flowers, 29, used a few months' break from the day job to record "Flamingo," and is touring in support of the album. His show combines new songs such as "Crossfire" with versions of his personal favorites such as the Kim Carnes hit "Bette Davis Eyes."
HMV Forum, 9-17 Highgate Road, Kentish Town, NW5 1JY.
Information: http://www.brandonflowersmusic.com/; http://venues.meanfiddler.com/the-forum/home.
Cocktail Options
The weekend is the best time for cocktails in a cool bar.
Callooh Callay (http://www.calloohcallaybar.com/) is a quirky Shoreditch venue where you reach the main lounge through an entrance that's disguised as a wardrobe.
Purl (http://www.purl-london.com/) is known for innovative concoctions such as Champagne & Caviar, which features tiny mango and pine balls, and orange and mandarin bubbles.
For a more classic approach, Claridge's Bar (http://www.claridges.co.uk/page.aspx?id=1788) offers a range of Champagnes and cocktails in a beautiful Art Deco setting.
(Farah Nayeri writes for Muse, the arts and leisure section of Bloomberg News. The opinions expressed are her own.)
Before it's here, it's on the Bloomberg Terminal.
LEARN MORE