Citigroup Stops Using Law Firm in Foreclosure Inquiry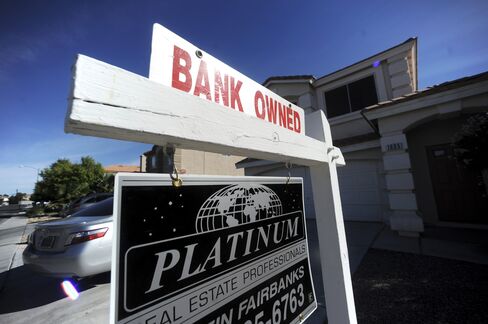 Citigroup Inc. said it stopped steering foreclosure work to a Florida law firm whose court filings to support home seizures are under investigation by the state's attorney general.
The bank, which is proceeding with seizures as some rivals stop to recheck documents, had used the Law Offices of David J. Stern PA. Florida Attorney General Bill McCollum said Aug. 10 it is examining whether Stern and two other firms filed "improper documentation" with the state's courts to speed proceedings.
"Pending the outcome of the AG's investigation, Citi is not referring new matters to this firm," the New York-based bank said in an e-mailed statement. Citigroup services loans, including for government-sponsored entities, such as Fannie Mae and Freddie Mac. Stern "was approved by the GSEs during the time in which it was retained by Citi," the bank said.
Lawmakers, attorneys general and consumer groups have pressed mortgage firms to follow Bank of America Corp., the biggest U.S. lender, which last week suspended all foreclosures to check whether faulty documents were used to confiscate homes. JPMorgan Chase & Co. and Ally Financial Inc.'s GMAC Mortgage unit froze seizures or evictions in Florida and 22 other states. Citigroup said last week it doesn't plan to join them.
McCollum's office "hasn't made any charges or allegations of fault," said Jeffrey Tew, an outside attorney for Plantation, Florida-based Stern, who declined to discuss its work for Citigroup. "I believe they're a client. I can't go into any details."
Didn't Check
A Stern employee said she signed assignments of mortgage, a document that shows the transfer of ownership, without checking that the information was correct, according to a May 2009 deposition taken by Thomas Ice of Ice Legal PA, a law firm in West Palm Beach, Florida. The employee, who described herself as an operations manager at the law firm, said she didn't "verbally swear" when signing assignments.
The employee said she signed more than 100 foreclosure documents, including affidavits and assignments, for two hours each day. Under questioning from Ice, the employee said the assignments of mortgage are checked by others at the firm and that she didn't read them.
"How much time do you spend examining each document before you sign them?," Ice asked.
"Very little," the employee answered.
"Do you read the document?"
"No," the employee said.
'Strong Training'
Citigroup, the third-largest U.S. bank by assets, said in an e-mailed statement Oct. 8 that it provides "strong training" for its employees and periodically reviews document- handling procedures within the company's foreclosure group.
"At this point, we have no reason to believe our employees haven't been following our procedures, so we do not believe a suspension is necessary," it said.
In at least one recent case, Citigroup has used an affidavit signed by the David J. Stern employee in an attempt to foreclose, according to Ice. On Oct. 4, the bank presented a February 2009 affidavit signed by the employee to get summary judgment on a Charlotte County, Florida, homeowner, Ice said. The case was postponed until next month, he said.
Attorneys general in about 40 states may announce this week a joint probe of potentially faulty foreclosures at the largest U.S. banks and mortgage firms, a person with direct knowledge of the matter said Oct. 8.
Court Affidavits
Some lenders have acknowledged that employees may have completed court affidavits without checking loan documents to confirm the statements' accuracy. In December, a GMAC employee said in a deposition in a foreclosure case filed in West Palm Beach, Florida, that his team of 13 people signed about 10,000 documents a month without verifying their accuracy.
Lenders took possession of a record 95,364 homes in August and issued foreclosure filings to 338,836 homeowners, or one of every 381 U.S. households, according to RealtyTrac Inc., an Irvine, California-based data vendor.
Citigroup, which got a $45 billion bailout in 2008 amid mounting mortgage losses, is about 12 percent-owned by U.S. taxpayers.
David Axelrod, a senior adviser to President Barack Obama, said Sunday on CBS's "Face the Nation" program that a moratorium on foreclosures would damage the housing market. He said there are valid foreclosures that should proceed, and the White House is urging the industry to get the situation "unwound very, very quickly."
Before it's here, it's on the Bloomberg Terminal.
LEARN MORE