AllianceBernstein's Oden Hones Survival Skills in Boxing Ring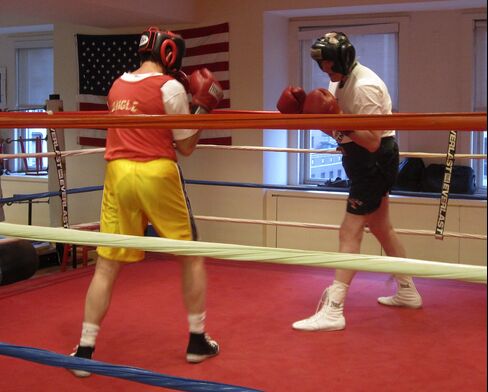 On Wednesday nights, money manager John Oden leaves his tailored suit and Hermes tie in the locker room at the New York Athletic Club and climbs into the boxing ring in red Everlast gloves and white high-top sneakers.
The dignified principal at AllianceBernstein LP turns into 6-foot-4-inch, 210-pound, sweating, jabbing pugilist for five 3-minute rounds.
"We are not trying to injure each other," says Oden, gulping water during a break. "We just do it for exercise and fun and to stay in shape." Oden and his current sparring partner, Chris Angle, a vice president for investment banking at Puritan Securities Inc. in Westport, Connecticut, have gone about 1,000 rounds.
Scores of bankers, lawyers and industrialists turn to boxing to boost adrenalin, build muscle and battle middle-age blues. At Gleason's Gym in Brooklyn, the 650 white-collar boxers make up more than half the clientele. The proportion in 1982 was 3 out of 400, according to Bruce Silverglade, Gleason's president.
Silverglade coined the term "white-collar boxing" in 1991 to create a niche for people who were too old to become amateur boxers and not talented enough to be professional boxers, he says.
"It's a very good way to relieve stress and aggravation," Silverglade says. "But it's not for everyone."
For Oden, boxing has been much more than rigorous exercise. Since he picked it up in 1992, he has competed in more than 20 matches, losing only two and avoiding knock-outs. Although he stopped competing in 2004, the sport provided the material for two books and a perspective on surviving the economic turmoil.
Awful Trip
"The ability to dig down and make a comeback in business is just the same as it is in boxing," says Oden, who describes himself as being "on the dark side of 50." His first book was "White Collar Boxing: One Man's Journey From the Office to the Ring" (2005).
While Oden was writing the second, "Life in the Ring: Lessons and Inspirations From the Sport of Boxing," during the period January-June 2009, AllianceBernstein's investors pulled $44 billion from its funds. On March 9, 2009, the Standard & Poor's 500 Index fell to 676.53, the lowest level since September 1996. The New York-based company currently manages $466 billion.
"It was an awful time," says Oden, sitting in a 36th-floor conference room overlooking Central Park. "Everyone I know suffered."
Many of the 12 boxers he was writing about, including George Foreman, Bernard Hopkins and James J. Braddock, overcame tougher challenges, he says.
"I am talking about growing up in ghettos, having no education or role models, going to prison," Oden says.
The Pinnacle
Like the business world, boxing requires "manic" preparation and 100 percent concentration, Oden says. Before his fights, he learned about his opponents and worked out 10 times a week.
"Even if people don't appreciate the sport, they appreciate and understand the discipline and preparation required to do the sport," Oden says. "Who wouldn't want someone working for him that has these qualities, who prepares this way for something?"
In 2006, white-collar boxing competitions were banned in New York State. Oden has been lobbying to overturn the prohibition. The bouts will become legal in the New York metropolitan area as part of a yearlong test by USA Boxing, a national organization that governs amateur competitions.
The pinnacle of Oden's boxing career occurred in 2004, when he won a match in London after being coached by Emanuel Steward, who had trained 41 world boxing champions, including Oscar De La Hoya, Lennox Lewis and Wladimir Klitschko.
"I had a two-page spread in BusinessWeek. I had the best trainer in the world in my corner," Oden says. "We were kings for the night."
Before it's here, it's on the Bloomberg Terminal.
LEARN MORE