Schwarzman Finds LBO 'Gold Mine,' Flees Lehman Snake Pit: Books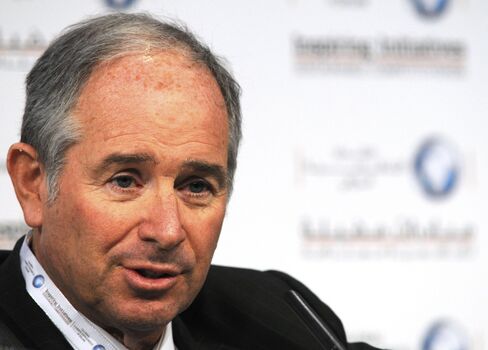 Oct. 12 (Bloomberg) -- Decades before Stephen Schwarzman became a Gordon Gekko minus the slicked-back hair, he pored over the fine print of a $380 million leveraged buyout.
The price for pump maker Houdaille Industries Inc. may look small by today's standards. The year was 1978, though, and the deal opened "a gold mine" for Schwarzman, a 31-year-old banker toiling in the snake pit of Lehman Brothers Kuhn Loeb Inc.
"It was like a Rosetta stone for how to do leveraged buyouts," he recalls during an interview in "King of Capital," a book that tells the story of private equity through the rise of Schwarzman and his juggernaut, Blackstone Group LP.
If you're unfamiliar with the pervasive power of buyout firms, this primer offers a fairly painless way to get up to speed. Authors David Carey and John E. Morris, two veterans of the Deal magazine, take the topic seriously, and then some.
They groove on LBO war stories, cast billionaire dealmakers as masters of beneficent creative destruction, and challenge the perception that buyout artists just strip and flip companies. Not so, say the authors, tiptoeing nimbly down the fine line that divides journalistic fairness from the fear of alienating good sources.
The result, I'm sorry to say, is an awkward hybrid. Part case study, part chronicle, part who's who, the book traces two stories: the arrival of LBOs as a fixture of capitalism over the past 30 years and Blackstone's embodiment of the trend starting in 1985, when Schwarzman and his former Lehman boss, Peter G. Peterson, opened an office in Manhattan's Seagram Building with, we're told, just one other employee, Peterson's secretary.
Rabbit Holes
In between, the narrative slithers down the rabbit holes of intricate deal structures, tertiary characters and lessons on capital calls, carried interest and dividend recapitalizations.
What you won't find in these pages is a satisfying biography of Schwarzman, the man serenaded by Patti LaBelle at his Park Avenue Armory birthday bash when he turned 60. Though Schwarzman granted the authors extensive access, the king of capital remains hidden among the megadeals and mansions. The morsels they drop leave us hungry for a meal that never arrives.
Fresh from Yale in 1969, for example, Schwarzman landed a job at Donaldson, Lufkin & Jenrette, complete with office and secretary. He was clueless about finance.
"I didn't even know what a common stock was before I went there," he confesses.
'Noodle Salesman'
We learn, too, of Schwarzman's reputation among close associates. They alternately describe him as self-deprecating and greedy, intelligent and tactless. Who else would have compared a failed buyout to an atomic bomb dropped on Japan?
"Trying to buy a mortgage bank in the midst of the subprime crisis was the equivalent of being a noodle salesman in Nagasaki when the atomic bomb went off," Schwarzman is quoted as telling fund investors. "Not a lot of noodles left, or even a person, and that's what happened to us on this deal."
As in a Broadway musical, the secondary characters exude more pizzazz than the leading man. Peterson, Blackstone's cofounder, comes across as an absentminded professor who showed up for meetings with Post-it note reminders stuck to his jacket. David Stockman, Ronald Reagan's budget wonk, reported for work at Blackstone in 1988 and became a chain-smoking, coffee-swilling legend. He absorbed data, drew up spreadsheets by hand and held forth as the resident doomsayer.
Jimmy Lee
James B. "Jimmy" Lee Jr., the commercial lending wizard who financed many Blackstone deals, appears here as an upstart innovator in silver-dollar suspenders. And then there's Hamilton E. "Tony" James, a Harvard man of preppie stock and former DLJ star who could, as one coworker puts it, get away with wearing a seersucker suit to work. Hired in 2002 to manage Blackstone, he would steer the firm toward its public offering in June 2007, just before the financial sky fell.
The buyout business has come a long way since the "barbarians" at Kohlberg Kravis Roberts & Co. breached the gate with their takeover of RJR Nabisco Inc. in the late 1980s. Carey and Morris deserve recognition for bringing the story up to date with this thoroughly reported, voluminous yet overly ambitious account. I only wish that the authors, like Schwarzman himself, hadn't let their reach exceed their grasp.
"King of Capital: The Remarkable Rise, Fall and Rise Again of Steve Schwarzman and Blackstone" is published by Crown Business (391 pages, $27.50). To buy this book in North America, click here.
(James Pressley writes for Muse, the arts and leisure section of Bloomberg News. The opinions expressed are his own.)
To contact the writer on the story: James Pressley in Brussels at jpressley@bloomberg.net.
To contact the editor responsible for this story: Mark Beech at mbeech@bloomberg.net.