Irish Swap Finance for Food as Economy Returns to Rural Roots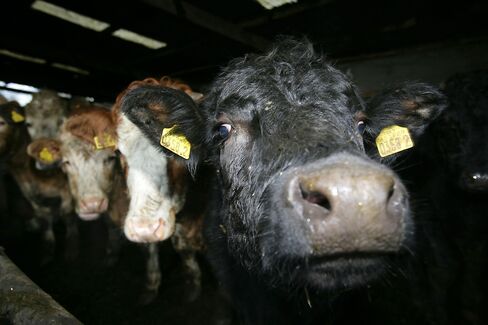 At Bank of America Corp., David Farrell spent his day taking calls from credit-card customers in Ireland. Now, he's learning to sow seeds to escape the worst recession in the country's modern history.
The 40-year-old is among a growing number of Irish workers returning to rural pursuits after the end of an economic boom that turned farmers into property developers. The group that runs Farrell's college program in Dublin's Botanic Gardens turned away 250 students seeking places in its agriculture-related courses last month because they were full.
"I always felt the economy was going to turn," Farrell said on his way into college. "Everything was so inflated at that stage, it just couldn't possibly last."
Ireland's gross domestic product doubled in size in the decade through 2007 and has since shrunk by about 15 percent as a real-estate bubble burst. The government, faced with bailing out banks and slashing public spending, is counting on food exporters, including Kerry Group Plc and Glanbia Plc, to help revive the euro region's most ailing economy.
"Farming and agrifood were totally lost during the boom, it just wasn't seen as sexy compared with property and financial services," said Jim Power, chief economist at Friends First in Dublin. "That's changing. High-value export industries like food are the future for us now."
Rural 'Lifeblood'
About 150,000 people work in farming, still the country's biggest indigenous industry after 20 years of decline. Agriculture now accounts for about 2 percent of the Irish economy compared with about 16 percent in the late 1970s.
Irish cereal prices hit a more than 20-year low as commodities sank worldwide, according to a July report from Ireland's Agriculture and Food Development Authority.
The value of food exporters, though, has increased. Shares of Kerry Group, Ireland's largest food company, have risen 47 percent in the last two years. Glanbia has risen 13 percent. Bank of Ireland Plc and Allied Irish Banks Plc, the two biggest banks, have plunged 60 percent and 90 percent as bad debts surged while property prices halved.
"Agriculture is the lifeblood of the rural economy," said Tom O'Mahony, chief executive officer of Dublin-based Origin Enterprises Plc, which supplies farms. "The focus went off agriculture during the boom, but it's going to be the bedrock of the economy and it's where we are going to create jobs."
Avoiding Cuts
Farrell started studying horticulture in Dublin's 19th century Botanic Gardens two years ago. The father of five worked for Bank of America's MBNA in Leitrim, in central Ireland, for five years before quitting for his studies. MBNA in August announced 66 job cuts at the site.
Unemployment has more than doubled to 13.8 percent since the peak of the Celtic tiger economy in 2007. The highest rate is in the rural southeast region, where it runs at 18 percent.
"This year is the first I'd say in about 14 or 15 years that you'd have people calling to the farm to see if there is any seasonal work going," said Paul Kehoe, 34, who farms about 380 acres in Country Wexford with about 120 cows and 200 sheep. "They'd be out with their own tractor or dump trailer working on a site instead of doing farm work, now those guys are going to scale up their farming because the building job is gone."
The surge in construction, which accounted for about a quarter of the economy in 2006, drew agricultural workers off the land, said John Bryan, president of the Irish Farmers' Association, Ireland's largest farmers lobby. Bryan is a beef farmer who oversees 230 acres in Kilkenny in southeast Ireland.
Return to Roots
"Farmers have become a respected profession again," said Power, the economist. He comes from a farm in Waterford in southeast Ireland and chairs Love Irish Food, a group promoting local produce. "And there's nothing else out there."
That return to roots is being smoothed by a decline in the price of land. Developers pushed up prices to more than 58,400 euros ($81,140) a hectare in 2006, the highest in Europe, according to the National Institute for Regional and Spatial Analysis, citing data from property agents Savills Plc.
Last year, land prices around Dublin declined by 57 percent. The government said last month the cost of bailing out the banks may rise to as much as 50 billion euros, the equivalent to a third of gross domestic product.
"Builders, developers, architects, solicitors, they all wanted the 30 acres with a pony," according to Bryan. "That totally inflated the price of agricultural land."
At the Botanic Gardens, Farrell said he made the right choice swapping finance for food.
Enrolment for courses at Teagasc, the Irish agriculture and food development authority, climbed 45 percent to 1,128 this year compared with 2007. The agency teaches students skills such as growing organic food at sites across Ireland.
"It's a bubble that has burst but I think it will deteriorate more over time," said Farrell, speaking in front of the Garden's vast, curvilinear glasshouses. "There's a resurgence in producing foods. It will become something people not only want to do, but may have to do."
Before it's here, it's on the Bloomberg Terminal.
LEARN MORE