Obama Promotes Donilon to Replace Jones as Security Adviser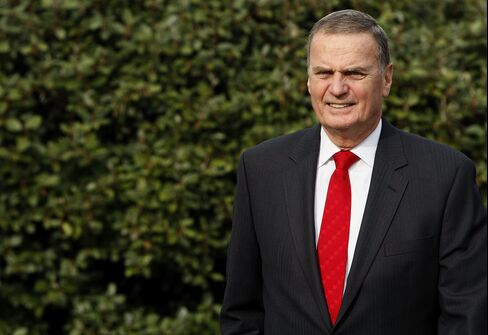 Oct. 9 (Bloomberg) -- President Barack Obama said he's elevating Tom Donilon to replace retired General James Jones as his national security adviser, marking the fifth exit of a top level adviser to leave the White House since July.
Donilon, 55, was the principal deputy to Jones at the White House and has been an adviser to Democratic officeholders for more than three decades. Jones will step aside later this month.
"Over the last two years, there is not a single critical national security issue that has not crossed Tom's desk," Obama said in making the announcement yesterday at the White House.
Donilon takes over as administration security and foreign policy is at a critical juncture on several fronts, including the Middle East, tensions with China over currency and the war in Afghanistan, which has entered its 10th year.
Donilon will "have to cut through the chaos and prioritize," said Jon Alterman, director of Middle East program at the Center for Strategic and International Studies, a Washington policy group. "There's so much bad news that it's been awfully hard for this administration to prioritize, given all the things that need urgent attention."
Long History
Donilon has long history in Democratic policy and politics. He held a White House post in the administration of President Jimmy Carter and worked on the 1984 and 1988 Democratic presidential campaigns.
He went to work in 1986 for then-Senator Joe Biden, now the vice president. In 1993 he joined President Bill Clinton's administration to work at the State Department and served as Secretary of State Warren Christopher's chief of staff.
Donilon left government in 1996 to work at the law firm O'Melveny & Myers before being hired by Fannie Mae, the nation's largest mortgage-finance company, in September 1999.
He was executive vice president for law and policy at Fannie Mae, leaving in 2005 after its regulator, the Office of Federal Housing Enterprise Oversight, found Fannie Mae broke accounting rules and improperly deferred expenses to meet an earnings target that triggered the maximum bonuses for company executives.
Donilon may have to overcome friction with the Pentagon. In the book "Obama's Wars," journalist and author Bob Woodward wrote that Jones told Donilon at one point that he had "no credibility with the military" because he'd never traveled to Iraq or Afghanistan. Donilon saw Afghanistan for the first time in March when he accompanied Obama on a six-hour trip to the country.
Friction With Gates
Donilon also clashed with Secretary of Defense Robert Gates, according to Woodward. Gates found some of Donilon's comments about a general so offensive that he nearly walked out of a meeting with him, Woodward wrote.
At a news conference yesterday Gates downplayed any differences.
"I have and have had a very productive and very good working relationship with Tom Donilon, contrary to what you may have read," Gates said.
Senator Jack Reed, a member of the Armed Services Committee and graduate of the U.S. Military Academy at West Point, said Donilon's lack of military experience wouldn't harm the White House relationship with the Pentagon.
"Tom Donilon is one of the most thoughtful and capable strategic thinkers that I know," the Rhode Island Democrat said in an interview yesterday on Bloomberg Television's "Political Capital with Al Hunt."
Wise Choice
Republican Senator Lindsey Graham of South Carolina, also a member of the Armed Services Committee, said Obama "has chosen wisely" in naming Donilon as Jones's replacement.
"I have found him to be very professional, open to suggestions, and fully committed to America's national security," Graham said in an e-mailed statement.
In his own remarks, Jones said of Donilon that he had been the man who "kept the trains running on time, and your energy and your dedication is without equal."
Alterman said that is Donilon's strength.
While Jones "didn't muddle in trivia," Alterman said, "Donilon excelled in that arena. He ran internal meetings, he had his hands all over all aspects of the process."
Obama said Jones, 66, a retired Marine Corps general and former North Atlantic Treaty Organization commander and Marine Corps commandant, had agreed to stay in the job "for about two years" when he asked to him join the administration.
"Jim has always been a steady voice in Situation Room sessions, daily briefings and with meetings with foreign leaders," Obama said yesterday. "Through it all, Jim -- like the Marine he has always been -- has been a dedicated public servant and a friend to me."
Credibility
Jones "brought a lot of credibility to an unseasoned national security staff," Alterman said. "He had contacts, he had authority and could and did speak for the president."
Still, he sometimes clashed with Obama's political advisers who had closer links with the president, according to Woodward's book. He also had critics in the military. In a Rolling Stone profile of retired General Stanley McChrystal, who was commander of U.S. and allied forces in Afghanistan, a McChrystal aide is quoted anonymously as calling Jones "a clown" who is "stuck in 1985."
Obama stripped McChrystal of his command after the article was published and replaced him with General David Petraeus.
In addition to Emanuel, top-level Obama advisers who've left the administration include budget director Peter Orszag and Christina Romer, head of Council of Economic Advisers and Rahm Emanuel, Obama's chief of staff. National Economic Council Director Lawrence Summers announced he'll leave at the end of the year.
To contact the reporter on this story: Nicole Gaouette in Washington at ngaouette@bloomberg.net; Hans Nichols in Washington at Hnichols2@bloomberg.net;
To contact the editor responsible for this story: Robin Meszoly at rmeszoly@bloomberg.net