HP, Oracle Lead Acquisition Spree Tearing Down Tech Barriers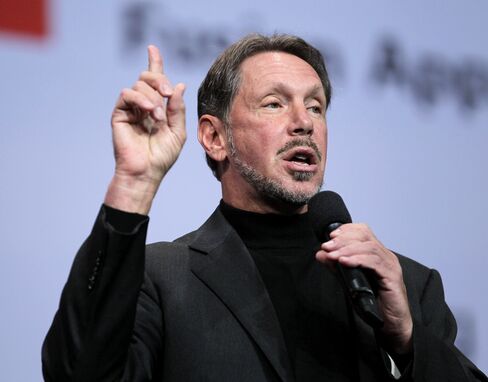 Hewlett-Packard Co., Oracle Corp. and International Business Machines Corp. are leading an acquisition spree that has propelled the value of U.S. technology deals 24 percent to more than $50 billion this year and broken down decades-old barriers between industries.
The companies are using purchases to become one-stop providers of products from computers to software to networking gear, rather than focusing on a niche. A plunge in computing- industry stocks earlier this week, spurred by concerns that demand is slowing, makes some targets more affordable.
HP, Oracle, IBM, Cisco Systems Inc. and Dell Inc., with a collective $100 billion in cash, have said they plan to keep making acquisitions. Buyers will probably scoop up targets in areas such as storage, software and security, helping them cater to corporate customers building data centers to handle a Web-traffic boom, said Charles King, principal analyst at research firm Pund-IT in Hayward, California.
"A lot of tech leaders are repositioning themselves," said Drago Rajkovic, head of technology mergers at Barclays Capital in Menlo Park, California. "Tech merger and acquisition activity is going to remain very strong this year and going into next year."
Companies have announced $51.9 billion worth of technology and Internet takeovers in the U.S. this year, up from $41.8 billion in that period of 2009, according to data compiled by Bloomberg. The buyers are pursuing a vision of cloud computing, which lets customers store their software in massive data centers, rather than in the computer room down the hall. Record- low borrowing costs have helped spur the deals.
3Par Showdown
To build up its data-center technology, Hewlett-Packard agreed to spend $2.35 billion last month for the money-losing storage maker 3Par Inc., after an 18-day bidding war with Dell more than tripled 3Par's share price. Shares of other potential targets, such as Riverbed Technology Inc., Isilon Systems Inc. and Fortinet Inc., have each climbed more than 25 percent since the bidding for 3Par was made public.
Cisco's expansion into computing hardware has put pressure on HP, IBM and Dell, the leaders in that industry, to respond. Cisco, the world's biggest maker of networking equipment, introduced its own line of servers in March 2009. The effort, originally code-named Project California, is beginning to gain traction with big customers, says Dominic Orr, chief executive officer of one of Cisco's networking rivals, Aruba Networks Inc.
"That's creating a lot of nervousness," Orr said. "Nobody wants to be Californicated by Cisco."
Investment Banks
The acquisitions are a boon to the largest investment banks. Goldman Sachs Group Inc. has advised companies in more than 30 percent of U.S. technology deals this year, according to data compiled by Bloomberg. Morgan Stanley and Barclays Plc's Barclays Capital ranked second and third.
The price HP paid for 3Par was about 10 times the company's revenue over the past four quarters. The premium reflected a growing urgency to use acquisitions to fuel growth and underscores the dearth of affordable runners-up.
"The public markets are pricing in premiums that, frankly, are going to prevent some deals from happening," Cisco Senior Vice President Ned Hooper, who handles corporate business development, said in an interview. "The companies that are winning in the market are responsible players."
Oracle, the world's second-largest software company, snapped up almost 70 companies in the past five years. In January, it bought Sun Microsystems Inc., marking a foray into computer hardware. Last month, it used the acquisition to introduce high-end servers designed to run Oracle programs faster than competing machines.
Mainframe Model
Oracle CEO Larry Ellison has pledged to acquire more hardware companies, especially in the chip area. While HP and Dell use processors from Intel Corp. in their servers, Oracle plans to build out Sun's proprietary chip technology.
The race to add businesses hearkens back to the early days of corporate computing, when IBM's dominant mainframes included home-grown chips, software, storage and networking technology. With the advent of the PC, these technology areas split up into their own industries.
As companies seek to recapture a mainframe-like model, they have gaps to fill. Cisco is a leader in cyber-security technology. Oracle, HP and Dell may want to play catch up, said Erik Suppiger, an analyst at Signal Hill Capital Group LLC in San Francisco.
Security Needs
That could make Fortinet, Check Point Software Technologies Ltd. and Symantec Corp. takeover candidates. Shares of Fortinet, a maker of all-in-one network-security systems, have almost doubled since the company went public last year. Check Point sells firewalls and other safeguards, while Symantec is the top maker of security software.
Intel already snared McAfee Inc., the second-largest developer of security software, agreeing to pay $7.68 billion in August, a premium of more than 60 percent.
The need to find more efficient ways to store ever-increasing volumes of Internet traffic also is fueling acquisitions. Dell, which lost the 3Par bidding war to HP, may consider buying Seattle-based Isilon, Suppiger said. Dot Hill Systems Corp. in Longmont, Colorado, also develops storage- management technology.
Silicon Valley investment banker Frank Quattrone, the head of Qatalyst Partners, has been contacting potential buyers for Isilon, said a person familiar with the situation, who didn't want to be named because the talks aren't public.
Right Place
"If you're in the right spot at the right time, the sky is the limit," said David Spitz, head of Pacific Crest Securities' software and security investment banking group in San Francisco.
Mounting competition with Cisco is prompting computer companies to look at networking technology as well. IBM, which left the networking business in 1999, bought Blade Network Technologies Inc. last month. That company makes switches that connect servers. Other candidates include Radware Ltd., Riverbed and Brocade Communications Systems Inc., as well as privately held Arista Networks Inc.
F5 Networks Inc., which makes equipment that routes Internet traffic through the data center, also would be a worthy acquisition, though it would likely cost more than $10 billion, said Rajesh Ghai, an analyst with ThinkEquity LLC in San Francisco.
"They're way ahead of Cisco," Ghai said. "So if someone wants to compete with Cisco, such as HP, they would be a very attractive pickup."
Software is key to the intensifying cloud-computing wars. That's one reason HP chose Leo Apotheker, the former head of German software maker SAP AG, as its new CEO last month.
Pricey Software Targets
Likely software targets would be expensive. Red Hat Inc., which makes a popular version of the Linux operating system that's used in most big cloud-computing projects, has a market value of $7.2 billion. Citrix Systems Inc., a developer of software that lets companies run corporate applications from a single data center, rather than from thousands of desktop computers, is valued at $11.3 billion.
VMware Inc., whose virtualization software helps customers operate hundreds or even thousands of servers and other gear as if they're a single entity, has a $31.9 billion market value. Most of the company is owned by EMC Corp., making it harder to acquire.
"We're seeing the beginning of what could be a coming wave of M&A activity," said Andy West, who oversees McKinsey & Co.'s high tech M&A practice. "The case for strategic buyers has become more compelling."