Finance Chiefs Warn Currency 'War' Is Risk to Growth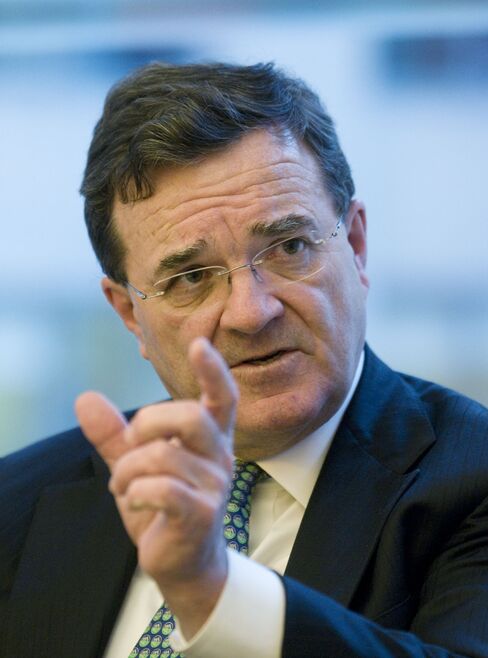 Global finance chiefs struggled to find a solution to differences over exchange rates as they warned a currency "war" could hobble the world economy.
As the International Monetary Fund's annual meeting began in Washington, policy makers warned that efforts to boost exports by embracing weaker currencies threatened to provoke protectionism and trade imbalances at a time when economic growth is already slowing. China was again the target of criticism as foreign officials called the yuan undervalued and pushed for its appreciation to be accelerated.
"We want peace not war," French Finance Minister Christine Lagarde told reporters. Bank of France Governor Christian Noyer said colleagues need to "foster confidence, not war" on currencies and that excess volatility harms expansion.
Currency intervention by nations from Japan to Brazil and the prospect of easier monetary policy by the Federal Reserve are roiling foreign-exchange markets. The dollar yesterday fell below 82 yen for the first time since 1995 on a report that employers cut more jobs last month than economists forecast, raising speculation the Federal Reserve will soon enact more stimulus.
"This is a crucial time that we need to address the commitment of our leaders to free trade, that we avoid protectionist measures," Canadian Finance Minister Jim Flaherty told reporters. U.S. Treasury Secretary Timothy F. Geithner said "global rebalancing is not progressing as well as needed to avoid threats to the global economic recovery."
Bad Situations
Cautioning that using currencies as a tool of economic policy can "lead to very bad situations," IMF Managing Director Dominique Strauss-Kahn said the lender is looking to better expose how the actions of one economy affect others. It "makes sense" for the IMF to be a forum for currency debate, said the fund's chief economist Olivier Blanchard.
Group of Seven officials met late yesterday and maintained their traditional position on currencies, Japanese Finance Minister Yoshihiko Noda told reporters.
"We confirmed that excessive and disorderly currency movements are undesirable for economic and financial stability," he said. "Currencies should reflect economic fundamentals. We also reaffirmed to monitor markets closely and cooperate appropriately."
Plaza Accord
Lagarde said France wanted better coordination and more diversification when it came to currencies, without offering specific steps. Brazilian Finance Minister Guido Mantega suggested the Group of 20 strike a deal akin to 1985's Plaza Accord, which successfully weakened the dollar.
Officials have a "genuine desire" to resolve disputes over exchange rates, U.K. Chancellor of the Exchequer George Osborne said. "We do need to move toward market orientated rates that reflect fundamentals."
Most ministers nevertheless declined to offer concrete solutions other than for China, preferring instead to complain about recent trading. Luxembourg Prime Minister Jean-Claude Juncker, who heads a panel of euro-area finance ministers, said the euro is "too strong" and labeled the yuan "more than undervalued."
Brazilian Central Bank President Henrique Meirelles said a currency agreement is unlikely in the short term and blamed recent gyrations on an excess of dollars generated by loose monetary policy in the U.S. and other industrial nations. That's fuelling capital flows into emerging markets such as his.
Balancing Brazil
"Brazil cannot pay an excessive price for the fact it's doing well while others are doing badly," he said. "Brazil needs to take its measures to protect itself from these imbalances."
Japan also remains ready to act on the yen when needed, Noda said, although it doesn't intend to return to the long-term, large yen selling of the past after intervening for the first time in six years last month. Thai Prime Minister Abhisit Vejjajiva said yesterday his Cabinet will meet next week to consider ways to help exporters cope with the baht's climb to a 13-year high.
Chinese officials are pushing back against calls for a weaker yuan.
People's Bank of China Governor Zhou Xiaochuan said in Washington that his country aims to avoid any "shock therapy" in its currency reform and that is rise should be "gradual." While the yuan yesterday rose to the highest level against the dollar since 1993, it is still only about 2 percent higher than it was when China said in June it would make it more flexible.
U.S. vs China
China faces U.S. legislation aimed at prodding to raise the value of the yuan, with Rhode Island Senator Jack Reed telling Bloomberg Television's "Political Capital with Al Hunt" that the U.S. Senate may consider it in a lame-duck session. China yesterday faced U.S. criticism for ignoring pledges made under last year's global-warming accord and calls to release jailed dissident Liu Xiaobo after he won the Nobel Peace Prize.
On exchange rates, Russian Deputy Finance Minister Dmitry Pankin added to the tension by saying Brazil, Russia, India and China have united to show "rather strong resistance" to attempts to make "any harsh appraisal" of currency controls.
Investors and economists say further exchange-rate volatility could hurt the world economy.
In an article in the Financial Times, billionaire investor George Soros said he shares "the growing concern about the misalignment of currencies" and that talk of a currency war "is not far off the mark."
New York University Professor Nouriel Roubini, who predicted the 2008 credit crisis, said in Washington that the euro at $1.40 is "painful" for the euro area, and that it may relapse into a recession.