Pershing Becomes Top Investor in J.C. Penney, Fortune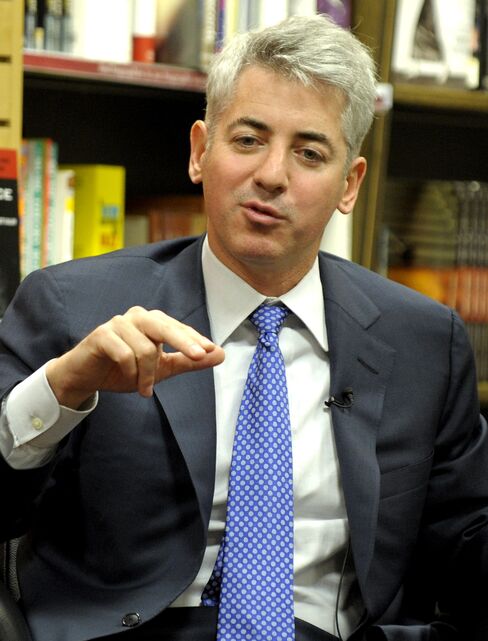 Pershing Square Capital Management LP, the New York hedge-fund firm led by William Ackman, disclosed stakes in J.C. Penney Co. and Fortune Brands Inc. that made it the largest investor in both companies.
Pershing Square took a 16.5 percent stake in J.C. Penney equaling 39 million common shares, including about 4.15 million options, according to a regulatory filing today. The firm plans to engage in talks with J.C. Penney's board and managers regarding the company's performance, according to the filing. Pershing Square also disclosed a stake in Fortune Brands Inc., maker of Moen faucets and Jim Beam bourbon.
Ackman buys stock in companies he deems undervalued, particularly in the retail, restaurant and real estate industries, and urges changes he says will boost shareholder returns. J.C. Penney, whose sales have shrunk 45 percent in the past decade, has dropped by more than half since 2007.
"There is a lot of real estate and historically he's been a real estate-focused activist," said Leah Hartman, senior vice president and retail analyst at CRT Capital Group LLC, in Stamford, Connecticut. "It certainly is a company that we see value in."
J.C. Penney owned 416 of the 1,108 stores it operated at the end of January, according to a company filing.
Real Estate Investment
Vornado Realty Trust, Steven Roth's real estate investment trust, said in a separate statement that it filed a Schedule 13D with the Securities and Exchange Commission disclosing a stake of about 9.9 percent in J.C. Penney.
Investors in a publicly traded company are required to file a Schedule 13D once they reach a 5 percent stake and plan to take an active role at the company.
Pershing Square and Vornado "intend to consult with each other in connection with their respective investments in the common stock," Ackman's firm said in its filing. Pershing Square has no control over Vornado's stake, it said.
Joseph Macnow, Vornado's chief financial officer, declined to comment.
In addition to real estate, J.C. Penney had $2 billion in cash and cash equivalents in the quarter ended July 31. The third-biggest department-store chain in the U.S. said yesterday that comparable-store sales climbed 5.1 percent, exceeding analysts' projections.
$2 Billion Cash
"Ackman may be after share distributions," Hartman said. "They're too conservative on their cash" and should use some to pay down debt, Hartman said of the company's management.
J.C. Penney, based in Plano, Texas, rose 85 cents, or 2.7 percent, to $32.49 in New York Stock Exchange composite trading. The stock has gained 63 percent since the start of last month.
The company last year adopted a severance plan that provides top officers with payments should they lose their job after an outside investor or investment group acquires shares with 20 percent or more of the company's voting power. Myron Ullman, the chief executive officer, would be eligible to receive 2.99 times his annual salary and target bonus upon being dismissed following a "change in control," according to a copy of the severance plan filed with the SEC in 2009.
Tim Lyons, a spokesman for J.C. Penney, declined to comment.
Fortune Stake
Pershing Square also has an 11 percent stake in Fortune Brands Inc., according to a spokeswoman for the firm. The company operates labels including Sauza tequila and Maker's Mark bourbon, as well as golf brand Titleist.
Deerfield, Illinois-based Fortune climbed 7.4 percent to $55.85 in New York trading, the most since September 2009.
Fortune may be worth $60-$70 a share in a takeout deal because the company's spirits business is undervalued, Douglas Lane, an analyst for Jefferies & Co. in New York, wrote in a note to clients.
Clarkson Hine, a Fortune spokesman, declined to comment. CNBC reported the Fortune stake earlier.
Pershing Square reported $5.84 billion in assets under management in its most recent investment adviser registration with the SEC. The firm also is the second-largest investor in Ann Arbor, Michigan-based Borders Group Inc.
Ackman led an unsuccessful effort last year to place as many as five board members, including himself, on Minneapolis- based Target's board. Ackman disclosed a 9.6 percent stake in Target in July 2007, seeking the sale of its credit-card unit.
Ackman started his first hedge fund at the age of 26, three months out of Harvard Business School in Boston. He and his classmate David Berkowitz raised $3 million for their fund, even though neither had any professional experience. Their clients included the billionaire Ziff family, former owners of Ziff-Davis Publishing Co., and Martin Peretz, editor-in-chief of the New Republic and Ackman's former Social Studies professor at Harvard, where he also got an undergraduate degree.
He started Pershing Square in 2004.
Before it's here, it's on the Bloomberg Terminal.
LEARN MORE