Obama May Try to Woo Business as P&G, Blackstone Blister Moves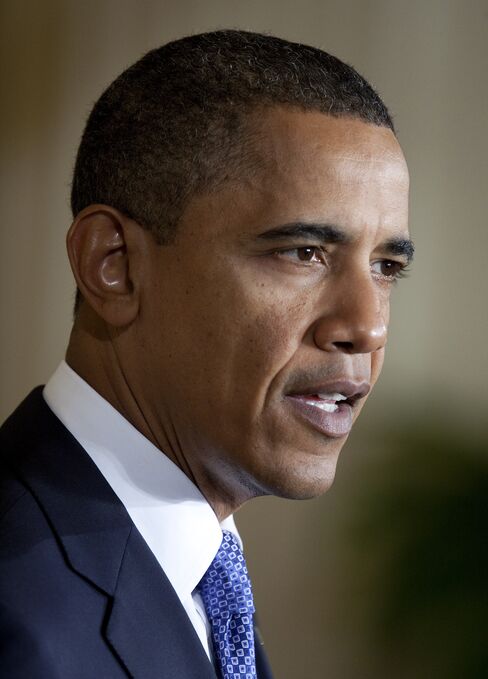 Last fall, JPMorgan Chase & Co. Chief Executive Officer Jamie Dimon showed White House staff a chart comparing the percentage of cabinet secretaries and top aides with business experience under administrations going back to Teddy Roosevelt. President Barack Obama had the fewest by far.
The president's relationship with business wasn't helped with the departures of Chief of Staff Rahm Emanuel and National Economic Council Chairman Lawrence H. Summers. Executives often consulted the two aides, even if at times the lines of communication weren't clear.
"The fundamental problem is the sense the president doesn't consider business a noble profession," said Steve Reinemund, former PepsiCo Inc. CEO and now dean of the Wake Forest University School of Business.
Democrats close to the administration say the White House wants to make amends, Bloomberg Businessweek reports in its Oct. 11 issue. "I have every expectation as we go through the next several months that we are going to see a greater involvement with business than we have seen in some time," said Tom Daschle, the former Senate Democratic leader and an Obama ally.
The changes may include Obama's backing of proposals to temporarily cut payroll taxes, which may save companies billions, according to company executives, economic advisers, and White House aides. If his deficit commission in December recommends a debt-shrinking package of spending cuts and tax code changes, including corporate tax reform, Obama may support it, the people say. The White House may also consider naming a CEO to a Cabinet job if one opens up or may give someone whom business finds credible the role of counselor with a wide-ranging portfolio, they say.
P&G to Caterpillar
Companies from Procter & Gamble Co., the world's largest consumer-products producer, to Caterpillar Inc., the largest maker of construction and mining equipment, have gone public with their criticisms of the administration. Stephen Schwarzman, CEO of Blackstone Group LP, likened the administration's efforts to double taxes on the income of private equity firms such as his to "when Hitler invaded Poland in 1939," according to a New York Post account of a private meeting. Schwarzman apologized for the comparison while maintaining his criticism of the tax proposal.
"The business community is about as alienated from a government as I have ever seen it," Mort Zuckerman, the 73-year-old chief executive officer of Boston Properties Inc., said in an interview with Bloomberg Television on Sept. 10.
The Bloomberg Global Poll last month found 77 percent of U.S.-based Bloomberg subscribers say Obama is too anti-business, and his favorability among the 1,408 investors worldwide is down to 49 percent from 73 percent in July 2009.
'Suffocating' Entrepreneurs
The U.S. Chamber of Commerce, the biggest business lobbying group, issued a list of regulations imposed by Obama on health care, energy, the environment and labor that it says are curbing hope for an economic recovery.
"The regulatory impact on the business community is pervasive, insidious, and needs to be exposed," Chamber President Tom Donohue said in a speech in Des Moines, Iowa. "It is suffocating the entrepreneurial spirit."
Companies' main complaints center on Obama's efforts to overhaul rules for Wall Street, raise taxes on overseas income, tighten environmental reviews and rework pending free-trade agreements. It's a breadth of hard feelings not seen since Franklin Delano Roosevelt presided over the New Deal in the 1930s, said Bruce Buchanan, a professor of government at the University of Texas in Austin.
"It was similar for FDR, which was the period of the last great re-regulation of the economy," said Buchanan, who is writing a book on presidential accountability. "And there is an element of hurt feelings to it as well, which surprises me."
Rouse Accessibility
Peter M. Rouse, Obama's new chief of staff, who has few business connections after spending most of his career managing the staffs of Democratic lawmakers, plans to be more accessible to corporate executives, Daschle says.
"I don't think there's any question that he's aware of that criticism and aware of the need to be more interactive and engaged with the business community," said Daschle, Rouse's former boss. "I would not be surprised at all if you saw evidence of that quite soon."
Despite numerous meals with business leaders, the president seems to approach the relationship in a detached fashion, as if he were checking off a box, say executives who requested anonymity in order to speak freely. Austan Goolsbee, the president's top economist, will try patching up relations in an Oct. 13 meeting in New York with business leaders.
Unemployment, Profits
By some measures business has been thriving. While August U.S. unemployment was 9.6 percent, corporate profits rose to a record $1.37 trillion from April through June, according to the Federal Reserve Bank of St. Louis. Banks posted their biggest profit in almost three years in that same period, according to the Federal Deposit Insurance Corp. The Dow Jones Industrial Average is up more than 37 percent since Obama took office.
"There is a venerable tradition of business being antagonistic to Democrats, even in instances when the policies are advantageous to them," said Fred Greenstein, a professor emeritus at Princeton University and author of books on presidential leadership. "You never get everything you want."
That might describe Obama's proposals last month to give companies tax breaks for research and capital investments, an idea that the White House pointed out has been supported in the past by Republican economists and the Chamber.
In this instance, the Chamber and the Business Roundtable, a group of senior executives, disavowed Obama's plan within hours. The tax cuts would be offset by increases in overseas taxes and cuts in mining subsidies, they complained.
IBM, Caterpillar
International Business Machines Corp., Caterpillar and P&G are among the companies opposing Obama's proposals to raise taxes on profits from outside the U.S. A bill that Obama signed in August to close a loophole would cost companies $10 billion. Other proposed changes might cost companies billions of dollars more.
"The administration is basically advocating an increase in foreign earnings taxes for U.S. multinationals that we think is absolutely counter to what we should be pursuing as a country," Honeywell International Inc. Chief Financial Officer David Anderson said in an interview with Bloomberg's Tom Keene.
Exxon Mobil Corp., the biggest U.S. oil company, is fighting a provision in the financial overhaul bill Obama signed this year to require that oil and gas producers disclose payments they make to governments.
Obama praised the measure in a speech in New York Sept. 22. While it supports the goal, Exxon says the rule would put U.S. companies at a disadvantage to their foreign counterparts.
'Less Competitive'
"We think it makes us less competitive with non-U.S. companies who aren't subject to the same requirements," said Alan Jeffers, an Exxon spokesman.
In some cases business leaders say they have been more ignored than harmed. IBM said it would analyze health-care spending, at no cost to the government, to hunt out fraud, Sam Palmisano, the company's CEO, said at a conference in New York on Sept. 14. The White House wouldn't sign on to the plan.
"We offered to do it for free to prove a point, and they turned us down," Palmisano said. "Our recommendations weren't aligned with the priorities of the administration. Their priority was not to reduce fraud and improve productivity. It was to increase coverage."
The Obama administration also has cut off access for Mexican trucks to the U.S., which violated the North American Free Trade Agreement and prompted Mexico to retaliate with duties on $2.5 billion of American-made imports.
The result? P&G stopped making Crest toothpaste for the Mexican market at a plant in Iowa, shifting production south of the border, Robert McDonald, the chief executive officer of P&G, said in an interview.
"Congratulations, Mr. President," McDonald said.