Manhattan Apartment Rentals Triple as Tenants Relocate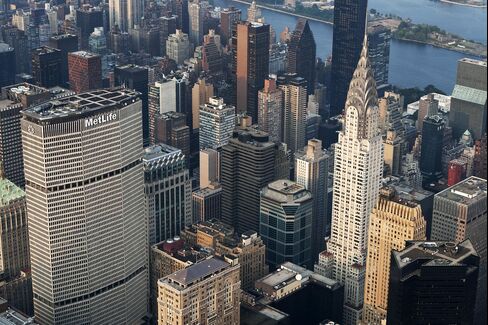 Oct. 7 (Bloomberg) -- New apartment rentals in Manhattan more than tripled in the third quarter, as landlords offered fewer concessions and tenants sought better deals by moving out.
New leases signed surged to 8,593 from 2,549 a year earlier, according to a report today by appraiser Miller Samuel Inc. and property broker Prudential Douglas Elliman Real Estate.
"It's not that the body of rental activity expanded, it's that it shifted," said Jonathan Miller, president of New York-based Miller Samuel. "We saw concessions nearly evaporate over the summer. People who didn't get concessions went out and looked at a new space."
A year ago, landlords were offering deal sweeteners such as two or three months of free rent, gift cards and payment of broker fees. Tenants are now seeing small increases on their lease renewal and no free rent, which effectively raises their payments by 16 percent to 24 percent, Miller said.
"We saw people that went from previous apartments with concessions to newer apartments that were maybe a little bit lower in rent," said Stephen Kotler, executive vice president and director of rentals at Prudential Douglas Elliman in New York.
Twenty-three percent of the more than 4,200 new rental deals brokered by Citi Habitats in the quarter carried some form of landlord-sponsored sweetener, the New York-based firm said today in a separate report. A year ago, 52 percent of the firm's new deals came with incentives.
Unemployment Holds Steady
New York City's jobless rate was 9.4 percent in August, unchanged from July, the state Department of Labor said Sept. 16. The city's financial companies, which employed 433,200 in August, showed a net gain of 500 jobs in the previous 12 months. It was the first such increase in 2010 for the industry.
Apartment vacancies nationwide dropped for the first time in almost three years in the third quarter, falling to 7.2 percent from 7.9 percent a year earlier, New York-based research firm Reis Inc. said in a report yesterday. It was the first year-over-year decline since late 2007.
The median price of a new apartment lease in Manhattan rose 1.7 percent in the quarter over a year ago to $3,000, according to Miller Samuel and Prudential. The average rental price fell 8 percent to $3,460 and the price per square foot declined 1.3 percent.
"It's better than it was a year ago but it does not appear to be continuing with momentum," Miller said.
Average Discount Falls
The average listing discount, or the amount landlords deducted from originally advertised asking rents, was 1.7 percent, compared with 7 percent a year earlier, according to Miller Samuel and Prudential. Their data don't account for the value of other concessions such as free rent.
Inge Van Hecke, who relocated from Belgium last month, began her apartment search with the expectation that most landlords would negotiate on rent, given what she and colleagues had heard about the Manhattan market in the past year.
"Perception is different than reality," said Van Hecke, 40, who is the North America sales manager for Van De Velde NV, a Belgium-based maker of lingerie. "Some wanted to negotiate, but very little."
With the assistance of a Citi Habitats broker, Van Hecke viewed 32 downtown apartments in one week, lost a few to rival renters and finally moved in last weekend to a one-bedroom apartment in a "modern building" in Battery Park City for $3,200. The price reflects a landlord reduction of $150 off the original asking rent, she said.
Studios Lead Increases
"The volume was pretty substantial in Manhattan despite the economy not being perfect," said Gary Malin, president of Citi Habitats. "The landlords have been in a very good position to stand firm with their pricing."
Malin said concessions may increase in the current quarter, which traditionally marks a cooling in rental demand.
Studio and one-bedroom renters led the overall increase in signed leases in the third quarter. The median rent for a Manhattan studio climbed 9.8 percent to $2,195 a month, according to Miller Samuel and Prudential. One-bedroom apartments rose 1.9 percent to $2,950. Two-bedrooms declined 9.6 percent to $4,250, and three-bedrooms fell 23 percent to $5,233.
Citi Habitats' report also suggested that renters of smaller units drove the market, with average prices for studios climbing 3.9 percent to $1,828 a month. The average price for one-bedroom apartments rose 3.2 percent to $2,501. Citi Habitats doesn't calculate median prices.
The SoHo and TriBeCa neighborhood in lower Manhattan had the highest rents for apartments of all sizes, with studios averaging $2,211 a month and one-bedrooms at $3,447, according to Citi Habitats. Two bedrooms in that neighborhood leased at an average rent of $5,013 monthly. On the Upper East Side, studios averaged $1,731 a month in the quarter, while one-bedrooms were at $2,318.
The broker estimated the current Manhattan apartment vacancy rate at 1.19 percent. It climbed in August for the first time in nine months, according to Citi Habitats.
To contact the reporter on this story: Oshrat Carmiel in New York at ocarmiel1@bloomberg.net.
To contact the editor responsible for this story: Kara Wetzel at kwetzel@bloomberg.net