Retail Sales Beat Estimates as Teen Chains Thrive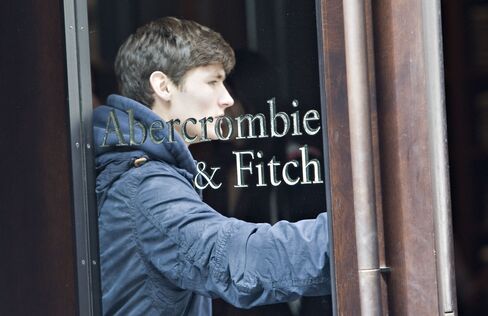 Sales at U.S. retailers grew for a 13th straight month in September, beating analysts' estimates as consumers facing a sluggish economy snapped up discounts at teen apparel chains during the back-to-school shopping season.
Sales at Abercrombie & Fitch Co. stores open at least a year rose 13 percent, beating the 3.6 percent average of analysts' estimates compiled by Retail Metrics Inc. American Eagle Outfitters Inc. posted a rise of 4 percent compared with projections for a 0.1 percent decline. Limited Brands Inc. also surpassed estimates.
Retail sales rebounded in the past year as the U.S. emerged from the recession. So-called same-store sales grew 2.7 percent, surpassing a 2.3 percent aggregate of analysts' estimates for 30 chains, Retail Metrics said. With the highest unemployment in 30 years weighing on consumer confidence, stores used promotions to move the merchandise.
"An upside surprise bodes well for the holiday season," said Ken Perkins, president of Retail Metrics, based in Swampscott, Massachusetts. "Back-to-school has a pretty strong correlation to holiday."
Abercrombie, based in New Albany, Ohio, surged $3.44, or 8.9 percent, to $42.03 at 4:01 p.m. in New York Stock Exchange composite trading. American Eagle, with headquarters in Pittsburgh, rose $1.22, or 8.1 percent, to $16.23. Columbus, Ohio-based Limited rose $1.05, or 3.8 percent, to $28.64.
The figures reported by the companies are same-store sales, a key indicator of a retailer's growth because they exclude results from new and closed locations.
Gap Falls
Some retailers fell on concerns that discounting would be prevalent throughout the rest of the year. Gap Inc., based in San Francisco, declined after sales unexpectedly dropped 2 percent, below estimates for an increase of 0.2 percent. Revenue from Gap's Old Navy brand sank 5 percent after a gain of 13 percent a year ago.
The sales decline will put pressure on Gap to discount in October to clear out inventory, Mark Webb, vice president of investor relations, said in a recorded statement.
Retailers faced a tough comparison last month, Retail Metrics said. After a year of declines during the recession, the industry posted its first gain last September, a 1.1 percent rise. Retail sales jumped 8.7 percent in March and slowed to an average 2.5 percent in the next five months, the firm said.
The first two weeks of September drove much of the growth in the month as shoppers waited longer to do their back-to-school shopping to take advantage of discounts, Brian Sozzi, an analyst for Wall Street Strategies in New York, wrote in a note to clients.
Heat Wave
Sales in the second half of the month may have been curbed by weather as retailers in the western U.S. tried to sell items for colder temperatures to consumers facing heat waves, Sozzi said. Late last month, the temperature reached 113 degrees Fahrenheit in Los Angeles and tropical storm Nicole brought heavy rains to the East Coast.
Purveyors of teen apparel were expected to lag behind other retailers, said Retail Metrics, with analysts it surveys projecting a sales drop of 1.4 percent. Instead, the group's sales rose 3.7 percent as New York-based Aeropostale Inc. joined its peers in beating estimates with a gain of 3 percent, compared with a projected fall of 2.3 percent.
"They blew it out, it's really surprising," Perkins said of the teen retailers. High levels of discounting drew sales away from discount chains such as Target Corp., which missed estimates, he said. "The promotional aspect of this is really driving it."