Great 'Gatz' Has $140 Ticket, All 47,000 Words: Jeremy Gerard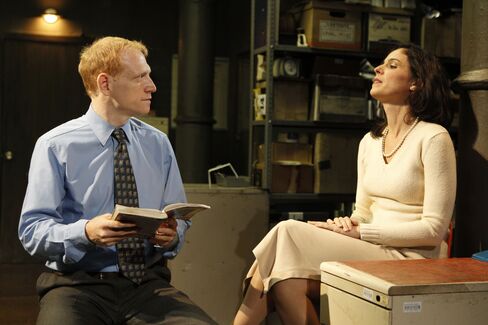 The setting for the extraordinary 'Gatz' is a ratty office, its steel shelving, gray desks and swivel chairs bathed in a fluorescent pallor.
It's a far cry from Jay Gatsby's West Egg mansion overlooking Long Island Sound.
Over eight hours at the Public Theater, however, a memorable event unfolds: A performance of F. Scott Fitzgerald's 1925 novel that begins when a young man picks up a paperback copy of "The Great Gatsby" and starts reading out loud, eventually assuming the role of Nick Carraway, the story's gimlet-eyed narrator.
The other office denizens soon join in telling the tale of a mystery man who has everything but the woman he loves. Nick negotiates life between Gatsby, living on one side of his tiny cottage, and on the other, Tom Buchanan and his wife, Daisy -- the object of Gatsby's desire.
Just as inexorably, we too are drawn into the story when narration and action coalesce into as powerful a piece of stagecraft as you may ever see. The show includes two intermissions and a 75-minute dinner break, and the day I saw it, no one left. We were all transfixed.
Casting Spells
The source of this remarkable work is the Elevator Repair Service and its artistic director, John Collins. The spell-casting is by Scott Shepherd, who plays Nick with a perfectly hewn combination of innocence in coming to the story fresh, and charm when he occasionally shares with us a knowing wink about the various intrigues that spring up.
Shepherd has committed all 47,000 words of the book to memory; the only other words spoken from the stage announce the intermissions. Some of Nick's extended monologues, when Fitzgerald stops the action to expound on American culture or politics, are tossed off with such casual grace we feel removed from the theater to an intimate conversation.
At those moments, and there are many of them, "Gatz" can seem more like a brilliant radio play -- the sound design by Ben Williams casts its own spell -- than a story we're watching. I mean that as a compliment: Collins leaves plenty to the imagination, respecting the images we may have in our own minds of these familiar characters.
Still, you won't be disappointed by the swagger in Jim Fletcher's Gatsby, the bravado in Gary Wilmes's Tom, the determination in Victoria Vazquez's Daisy or the steel in Susie Sokol's Jordan.
Bring a cushion, the seats are hard. Head across the street to Indochine at the dinner break. Be prepared to stay. You won't want to miss a word.
Through Nov. 28 at 425 Lafayette St. Information: +1-212-967-7555; http://www.publictheater.org. Rating: ****
What the Stars Mean:
****       Do Not Miss
***        Excellent
**         Average
*          Poor
(No stars) Worthless
(Jeremy Gerard is an editor and critic for Muse, the arts and leisure section of Bloomberg News. The opinions expressed are his own.)