Flag-Wrapped Wrestler Cejudo Values Citizenship Over Gold Medal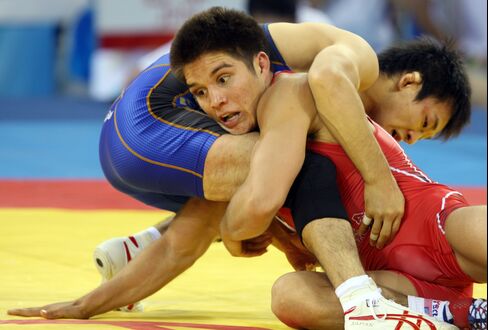 For Henry Cejudo, nothing holds more value than his U.S. citizenship, not even the Olympic gold medal he won for his country two years ago in Beijing.
"For me not to be able to call myself American would be like a death in the family," said Cejudo, 23, who was born in South Central Los Angeles to illegal Mexican immigrants.
That makes Cejudo, who became the youngest American wrestler to win gold, a U.S. citizen by birthright and a symbol in a simmering political dispute over illegal immigration. He also has something in common with former U.S. Attorney General Alberto Gonzales and astronaut Jose Hernandez: ancestry that was either undocumented or questionable in citizenship, and achievements unhindered by that legacy.
Some Republican lawmakers are challenging a tenet dating back more than a century that a person born within U.S. borders is automatically a citizen. They question whether babies born to illegal immigrants should be granted citizenship.
Senate Republican leader Mitch McConnell has joined a group of his colleagues calling for congressional hearings. Senator Lindsey Graham of South Carolina has said he may introduce a proposal to change the 14th Amendment to the Constitution to do away with that right.
Supporters of ending birthright citizenship say the practice isn't appropriate in an age of easy travel. A Pew Hispanic Center study found that as many as 340,000 of the 4.3 million babies born in the U.S. in 2008 had at least one illegal immigrant parent.
Giving Away Citizenship
"You can't give away your citizenship so cavalierly," said Roy Beck, executive director of NumbersUSA, an Arlington, Virginia-based group that advocates lowering immigration rates. Beck said he doubts birthright citizenship encourages immigrants to come to the U.S. illegally. Most come to work and have babies while they're here, enticing them to stay, he said.
The 14th Amendment was enacted after the Civil War to protect the rights of freed slaves. It confers citizenship on anyone born in the U.S. and "subject to the jurisdiction thereof." The Supreme Court in 1898 said those words excluded only children of American Indians, diplomats and invading armies.
Cejudo said that while he understands the frustration over people entering the U.S. illegally, he doesn't think children who come from roots like his should be denied opportunities.
"The U.S. has given me and my family the greatest opportunity imaginable, he said. "It has given us freedom. Everyone is completely equal here in this country."
'Human Cockfight'
Cejudo and his six siblings were raised by their mother in some of the poorest neighborhoods of Los Angeles, Las Cruces, New Mexico, and Phoenix. He slept on the floor of rundown studios and one-bedroom apartments and was paid by older men to fight neighborhood children, once saying he was "learning how to wrestle in a human cockfight."
His mother worked several jobs, including at a Chinese restaurant and in fields picking chilies and fruit, while her youngest son immersed himself in sports. Until Cejudo arrived at the Olympic Training Center in Colorado Springs at age 16, he said he'd never eaten three meals in one day or had his own bed and a pillow.
"After the win I just grabbed that American flag and I ran with it," Cejudo said, recalling his 2008 gold medal victory in freestyle wrestling. "It was like my wings. I just wanted to fly and represent my country."
'A Better Life'
Former Attorney General Gonzales, the nation's top prosecutor under Republican President George W. Bush, has concerns about changing the Constitution, saying it won't solve the illegal immigration problem.
"I don't think that many people coming into this country and crossing without documentation do so to become citizens," he said in an interview. "They come to this country to provide for themselves and their families a better life."
That's what three of his grandparents did, traveling back and forth from Mexico to the U.S. to work in fields and dairy farms. They settled in Texas, and it's unclear whether they had legal documentation, he said.
"What the circumstances were, I just don't know," said Gonzales, 55.
His parents met in the fields of Texas picking crops, and work cut short their education. Gonzales's mother dropped out in the sixth grade and his father had a second-grade education.
Harvard Law
Gonzales, who along with seven siblings grew up in a two-bedroom house, graduated from Harvard Law School and became the nation's first Hispanic attorney general. He resigned in 2007 amid accusations he misled Congress about the firing of nine U.S. attorneys and the handling of an anti-terrorist eavesdropping program.
"I've been blessed with the opportunities that I've been given, and part of that is because I was born in the United States," he said.
Lawmakers should focus instead on passing a comprehensive immigration overhaul, he said. Asked whether the U.S. should continue birthright citizenship for children of undocumented immigrants, Gonzales said he's "in favor of opportunity because of what it's meant in my life and for my family."
"Clearly, children who have no choice in the matter, I can make a powerful policy argument why we should keep that policy," he said. Gonzales said his position doesn't mean he's advocating being "soft" on those entering the country illegally.
Radio Message
Defenders of birthright citizenship cite astronaut Hernandez, 48, who was born to Mexican migrant farm workers in California and didn't learn to speak English until he was 12. Hernandez spent much of his childhood traveling with his family between Mexico and California to work the fields.
He was hoeing a row of sugar beets as a teenager when he heard on his transistor radio that the first Hispanic-American had been chosen to fly into space, and decided then he wanted to be an astronaut, according to the NASA website. He declined through a spokeswoman to be interviewed.
Hernandez earned a master's degree in engineering and worked for the Lawrence Livermore National Laboratory in California, where his work led to the development of the first full-field digital mammography imaging system, a tool used to detect early stage breast cancer.
Hernandez flew into space on the Discovery space shuttle last year. He's created the Reaching for the Stars Foundation, a group that helps kids overcome obstacles to reach goals.
Critics of changing the Constitution have said Republican Bobby Jindal, Louisiana's first nonwhite governor since Reconstruction, may not have been a citizen if such rules were in place. Jindal's parents came to the U.S. from India when his mother was pregnant with him.
Doesn't Apply
A spokesman for his office, Kyle Plotkin, said Jindal's mother was in the U.S. as a permanent resident so any debate linking him to the issue is "not just ridiculous but irrelevant."
Eliminating birthright citizenship would mean everyone, not just immigrants, would have to prove their status and would require a federal bureaucracy to determine who is a citizen, said Michele Waslin, a policy analyst at the Immigration Policy Center, a Washington-based nonpartisan research group.
As for Cejudo, he's bought his own condominium in Phoenix, where he's a full-time student at Grand Canyon University and is training five hours a day for the 2012 Olympics in London. He also volunteers as a mentor for underprivileged children.
He co-wrote a book, "American Victory," and there are negotiations on a movie about his life, according to his agent, William McFarlane.
"I'm living the American Dream," Cejudo said.