Eurostar Adds Trains, Routes to Fend Off Deutsche Bahn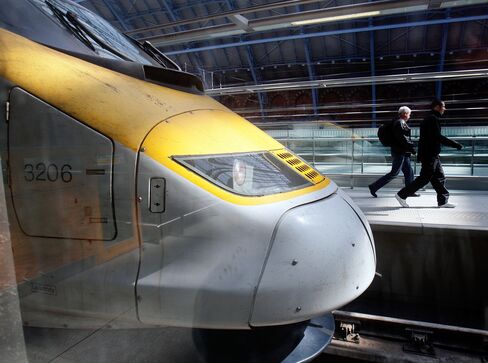 Eurostar Group Ltd., the operator of high-speed trains through the Channel Tunnel, will spend 700 million pounds ($1.1 billion) to buy 10 new expresses and add routes in a bid to fend off competition from Deutsche Bahn AG.
Eurostar, which currently runs trains from London to Paris and Brussels, will begin an overhaul of its fleet next year and purchase the 10 new 900-seat units from Siemens AG that can reach speeds of 320 kilometers an hour (198 mph), it said today.
The revamp was announced 12 days before Deutsche Bahn runs a test train to London as a prelude to beginning services in
2013. Eurostar said its new stock will be delivered from 2014, allowing it to offer destinations including Amsterdam, Cologne and Frankfurt, cities Deutsche Bahn has also said it may serve.
"We're looking at which routes to do first, at the big markets where we can make money," Chief Executive Officer Nicolas Petrovic said in an interview. "If Deutsche Bahn does a fantastic job we might reconsider our options. But we're used to competition -- we've been competing with airlines for 16 years."
The Siemens trains will have 20 percent more capacity than existing Eurostar units and journey times between London and Paris will be cut to "just over two hours," the company said.
Eurostar is bracing for competition on routes through the Channel Tunnel to London's St. Pancras station after the European Union introduced rules requiring track owners to grant access to new operators for cross-border, high-speed trains.
Deutsche Bahn Test
Deutsche Bahn said Sept. 22 that it aims to begin a service linking the U.K. capital with cities in western Germany. To do so it must win authorization from Britain and France to operate non-standard trains via the 30-mile subsea link, and a test run to demonstrate the safety case will be performed on Oct. 19.
Eurostar's main aim is to win a bigger slice of the market for travel between southeast England and the near continent, in which 10 million people currently opt to fly, Petrovic said. It might also run trains to the south of France and Switzerland, with a trip to Geneva taking around five hours, he said.
The e320 trains ordered from Siemens will be a variant of the German manufacturer's Velaro D and similar to the ICE or InterCityExpress mark 4 model that Deutsche Bahn aims to operate through the tunnel. The Velaro is also able to operate across the whole of Europe's high-speed network, regardless of signaling differences and other anomalies.
Safety Issue
Unlike the DB trains, the e320s will be long enough at 400 meters to meet rules on evacuation procedures in the tunnel, though the French government said today that with a motor under each carriage, they aren't compliant with other regulations. So-called multiple units may present an increased fire risk, while passenger trains using the route must also be able to split in two and exit in opposite directions.
U.K. Transport Secretary Stephen Hammond, speaking at a Eurostar press conference in London, said he expected French safety concerns to be resolved.
"I don't believe that there are any substantive concerns over safety issues," Hammond said. "But I do understand that there are proper processes that have to be gone through and it's quite right that the safety commission should want to be fully satisfied and have all the 'i's dotted and 't's crossed."
Alstom Blow
The decision to buy trains from Siemens is a blow for Alstom SA of Paris, which built the existing Eurostar fleet based on its TGV or Train a Grande Vitesse. Petrovic said the order followed an open tender and that he faced no government lobbying, even though his company is controlled by France's state-owned Societe Nationale des Chemins de fer Français.
Alstom also said today in a statement that the Siemens trains don't conform with security rules for the tunnel, while declining to comment on commercial discussions around the deal.
The current Eurostar fleet, which is about midway through its 30-year lifespan, will be upgraded by Italian design house Pininfarina SpA, which has been commissioned to provide an interior "like the best cars, planes and hotels, the CEO said.
The outlook for travel on Eurostar's routes is ''generally positive,'' Petrovic said, with demand in the business market picking up since May. There's still some concern about the likely impact of government austerity measures, he said.
Britain is likely to retain its 40 percent stake in Eurostar, according to Hammond. ''Our view is that this is a 'hold','' he said. ''But of course, like any prudent investor, we will look at our holdings in years to come.''
The former Labour government had indicated that the British stake, controlled by Eurostar UK Ltd., might be sold. Following the reorganization of Eurostar into a single company, SNCF has a 55 percent holding and Belgian railway SNCB owns 5 percent.
Before it's here, it's on the Bloomberg Terminal.
LEARN MORE