Cuomo Widens Lead Over Paladino for N.Y. Governor, Poll Says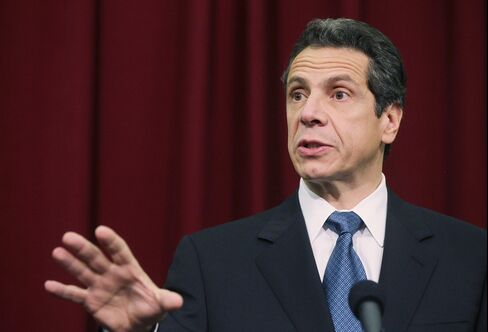 New York state Attorney General Andrew Cuomo has opened an 18 percentage-point lead over Republican Carl Paladino in the race for governor, according to a Quinnipiac University poll of likely voters.
If the election were held today, Cuomo, a Democrat, would get 55 percent of the vote and Paladino 37 percent, the survey released today said. That's a 12-point gain over a Sept. 22 survey, when Cuomo led Paladino 49 percent to 43 percent.
The findings from interviews this month follow a period in which Paladino made headlines by angrily confronting a New York Post reporter, captured in a video, and by characterizing Assembly Speaker Sheldon Silver, a Manhattan Democrat, as a "criminal" for opposing changes to tort and insurance laws and not disclosing his income as a trial lawyer.
"Since Quinnipiac University's last poll two weeks ago, it's been a loony-tunes time for Paladino in the news media -- one time in a face-to-face fight with a reporter -- and it shows," said Maurice Carroll, director of the Quinnipiac University Polling Institute in Hamden, Connecticut.
Paladino, 64, a Buffalo real-estate developer, prevailed over the Republican Party's endorsed candidate, former U.S. Representative Rick Lazio, in last month's primary election. Running with a "Mad as Hell" slogan and Tea Party support, he spent $3 million of his own money, beating Lazio 62 percent to 38 percent in the Sept. 14 preliminary contest.
Similar Surveys
The latest measure of voter sentiment was consistent with recent surveys showing Cuomo widening his lead over Paladino. A Siena Research Institute poll of likely voters released Oct. 5 gave the attorney general a 24-percentage point margin over the developer, 56 percent to 32 percent. Four polls in September's second half gave Cuomo a lead of at least 16 percentage points.
Paladino leads Cuomo among self-described angry voters, 50 percent to 41 percent, Quinnipiac said. It said 45 percent of survey respondents described themselves as angry about state government.
"Those who say they are angry go for Carl Paladino -- but not by all that much," Carroll said in a statement about the survey results.
Voters said 54 percent to 30 percent that Paladino doesn't have the right personality for a governor, in contrast to Cuomo, 52, who does, according to 67 percent of respondents.
Cuomo, of Mount Kisco in Westchester County, leads among Democrats, 86 percent to 11 percent, and among independents, 47 percent to 42 percent. In the Sept. 22 Quinnipiac survey, Paladino led among independents, 49 percent to 43 percent.
Republicans back Paladino 69 percent to 23 percent, and voters who identify with the Tea Party movement support him, 79 percent to 15 percent, Quinnipiac said. Respondents who said they are part of the Tea Party comprised 15 percent of the total.
The telephone survey contacted 1,141 likely voters from Oct. 1-5 and has a margin of error of plus or minus 2.9 percentage points, the institute said.