Cooper May Be U.K. Labour Finance Spokeswoman as She Tops Poll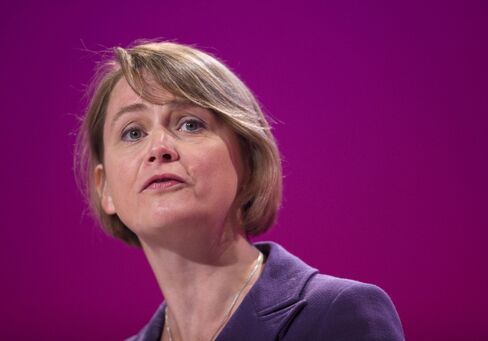 Yvette Cooper may be on course to beat her husband Ed Balls to the post of the U.K. Labour Party's Treasury spokeswoman opposite Chancellor of the Exchequer George Osborne after coming top in a poll of lawmakers.
When the Labour Party is in opposition, its members of Parliament pick a team of spokesmen from among their number to form what is known as the Shadow Cabinet. Ed Miliband, elected party leader on Sept. 25, will choose which job to give each person.
Cooper, 41, the work and pensions secretary in the Labour government that lost power in May, came first in the poll, with 232 out of 256 lawmakers backing her, the party announced in London last night. Balls, who was schools secretary, came third, with 179 votes, behind former Housing Minister John Healey.
Betting exchange smarkets.com gave Cooper a 60 percent chance of getting the Treasury portfolio after the result, against 30 percent for her husband. In 1992, Gordon Brown became shadow chancellor after topping the poll. He went on to serve a decade as chancellor and then three years as prime minister after Labour took power in 1997.
Balls, 43, who was economic adviser to Brown for more than 10 years, also came third in the Labour leadership race, in which Cooper did not run. He focused his leadership campaign on the economy, arguing against attempting to reduce the deficit until the country is clear of recession. Smarkets.com gave him a 50 percent chance of being named shadow home secretary.
Fraternal Rivalry
It's the second potential family conflict within the Labour Party in two weeks, after the battle between Miliband and his older brother David for the leadership of the party. That culminated in David deciding to quit frontline politics after his defeat.
Echoes of that battle may live on in Miliband's new team. Five of the 19 backed him to be leader, half the number who supported his brother.
There was a more harmonious result for twin sisters Angela and Maria Eagle, who were both elected to the team, as was Andy Burnham, another defeated leadership candidate, and Alan Johnson, the former home secretary. Diane Abbott, the only woman to run to lead the party, failed to be elected to the Shadow Cabinet after finishing fifth and last in the leadership race.