Christie's Tunnel Move Agitates Commuters to New York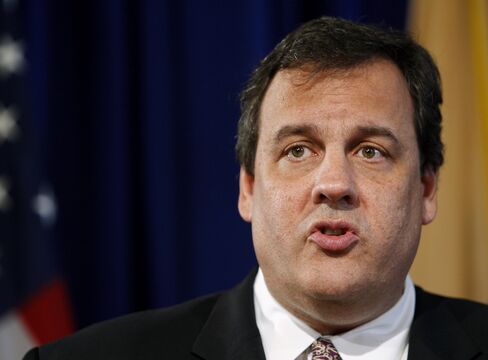 Chris Christie got Mary Ellen Daalder's vote for governor of New Jersey in November. His decision yesterday to kill a tunnel project meant to speed her 90-minute commute to Manhattan got him only her dismay.
Christie, a first-term Republican, pulled out of the so-called Access to the Region's Core project, which would have created an 8.8-mile (14.2-kilometer) conduit under the Hudson River to double the number of commuter trains to New York at peak times. Christie said the initial $8.7 billion cost might have reached $14 billion and the state couldn't afford it.
U.S. Transportation Secretary Ray LaHood traveled to Trenton today for a one-hour meeting with Christie that had been scheduled before the governor canceled the tunnel project. LaHood left the capitol-building meeting at about 2:30 p.m. without commenting to reporters, and Christie's office also had no immediate comment on the meeting.
Daalder, a 45-year-old administrative assistant, travels from Middletown, New Jersey, to Midtown. Christie "generally does well," she said yesterday afternoon while waiting at New York's Penn Station.
"I agree with most of what he does, but not the tunnel," Daalder said. "That decision is horrible because the trains are so crowded and we all need more access."
The state will begin an "orderly wind-down" of the project, Christie, 48, told reporters in Trenton yesterday.
'Prudent Move'
"I will not allow taxpayers to fund projects that run over budget with no clear way of how these costs will be paid for," said Christie. "The only prudent move is to end this project."
Work began last year and was projected to create 6,000 construction jobs a year for a decade. New Jersey's share of the budgeted cost was $2.7 billion, while the Federal Transit Administration and the Port Authority of New York & New Jersey both committed $3 billion.
Christie said in September that his state might be forced to cancel the project after federal officials estimated it might cost $5 billion more than projected. The federal commitment is capped at $3 billion, and cost overruns would have to have been absorbed by New Jersey, Christie said yesterday.
Commuters Harmed
Zoe Baldwin of the Tri-State Transportation Campaign, which advocates for better mass transit in New York, New Jersey and Connecticut, said in a phone interview that the tunnel's cancellation coupled with 22 percent fare increases harm commuters.
"Changing the way we do business in New Jersey doesn't mean taking a machete to our infrastructure," she said.
Sara Weythman, waiting in Penn Station, said the pain is necessary. The 37-year-old graphic designer, who voted for Christie, said she is "tied to" her 90-minute trek from Red Bank.
"I don't like the decision but I'd rather he cancel it then spend money that isn't there," Weythman said.
Christie's decision touched off fury among the state's Democratic politicians, who control both houses of the state legislature and dominate its Washington delegation.
'Public-Policy Blunder'
U.S. Senator Frank Lautenberg called Christie's decision "one of the biggest public-policy blunders in New Jersey history."
The cancellation means the loss of $600 million of taxpayer money that has been spent. New Jersey, the most densely populated U.S. state, will have to repay the federal government about $300 million plus interest and penalties for its share of the paid funds, said Lautenberg. Assemblyman John Wisniewski, a Sayreville Democrat who chairs the transportation committee, filed a public-records request demanding to see all documents related to Christie's decision to kill the project. The lawmaker also said his panel will hold an Oct. 14 hearing on the move.
"Christie's decision will go down as one of the worst a governor has ever made," the Democrat said in a statement today. "Yet the only information we have describing how he came to it is a 3-page memo by his hand-picked committee."
Terrence Dopp in Trenton at tdopp@bloomberg.net; Dunstan McNichol in Trenton, New Jersey, at dmcnichol@bloomberg.net
Before it's here, it's on the Bloomberg Terminal.
LEARN MORE