China Sold the Most Japanese Debt on Record in August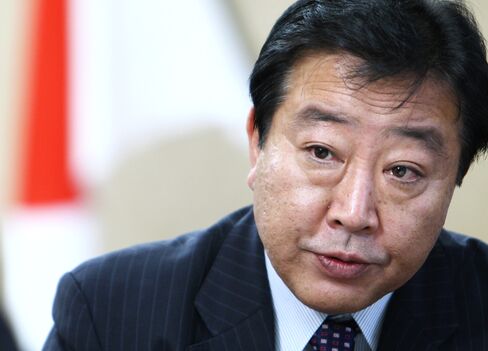 China sold a record amount of Japanese debt in August, snapping a seventh-straight month of purchases.
China cut Japanese debt holdings by a net 2.02 trillion yen ($24.5 billion), the Ministry of Finance said today in Tokyo, the biggest monthly sale in data going back to 2005. The larger nation bought a record 735.2 billion yen of Japanese debt in May and 1.04 trillion yen of the securities the following two months.
"Today's ministry report suggests China had purchased yen-denominated assets not to diversify their foreign reserves but to temporarily escape from the unstable financial situation in Europe," Yasunari Ueno, chief market economist at Mizuho Securities Co. in Tokyo, wrote in a report today.
A sovereign credit crisis that prompted a $1 trillion bailout for indebted European nations in May and signs of a slowdown in the U.S. have driven gains in bonds and Japan's currency as investors sought a refuge. The yen reached a 15-year high against the dollar yesterday. Yields on Japan's 10-year note were near the least in seven years, while those on U.S. two-year debt were at a record low.
Chief Cabinet Secretary Yoshito Sengoku told reporters today he will talk to the Ministry of Finance to analyze the impact from China's sale. After data last month showed China was on course for record purchases this year, Finance Minister Yoshihiko Noda suggested that it was inappropriate for China to buy Japan's bonds without a reciprocal ability for Japanese to invest there.
World's Biggest Reserve
The State Administration of Foreign Exchange, which manages China's foreign-exchange reserves, didn't immediately respond to a fax seeking comment.
China's holdings of short-term debt decreased by 2.03 trillion yen and it bought 10.3 billion yen in long-term securities, today's data showed. Previous months had shown increases in short maturity securities, and sales of bonds and notes.
"There's a chance that China is holding onto proceeds from maturing short-term debt instead of reinvesting them," said Junya Tanase, chief currency strategist in Tokyo at JPMorgan Chase Bank.
China, which passed Japan in the second quarter to become the second-biggest economy globally, almost tripled its holdings of South Korean government bonds in the first nine months of this year, a report from South Korea's Financial Supervisory Service showed on Oct. 4. China has the world's largest foreign reserves, standing at $2.45 trillion as of June 30, data compiled by Bloomberg show.
Total Debt
Japan had 904 trillion yen in outstanding government bonds and borrowings as of June, according to Ministry of Finance data collected by Bloomberg. The nation sold 2.2 trillion yen in 10-year bonds yesterday in a monthly auction, exceeding the figure for China's sales in August.
About 95 percent of Japan's debt is held domestically, which credit rating agencies have said supports the country's creditworthiness even as borrowings approach 200 percent of gross domestic product.
The U.K. was the largest buyer of Japanese bonds in August, with net purchases of 3.5 trillion yen. China was the biggest seller among countries. It is still on course to increase Japanese debt holdings by 297.6 billion yen, the most since a 255.6 billion yen increase in 2005.
"China may have taken a pause, but I don't think it changed its stance toward Japan's policy and debt," said Akito Fukunaga, chief rates strategist in Tokyo at Royal Bank of Scotland Group Plc., Britain's biggest government-owned bank. "I expect them to keep buying Japanese debt bit by bit, as its foreign reserves have expanded a lot."