Petrobras Tumbles Most in Three Weeks on Barclays Cut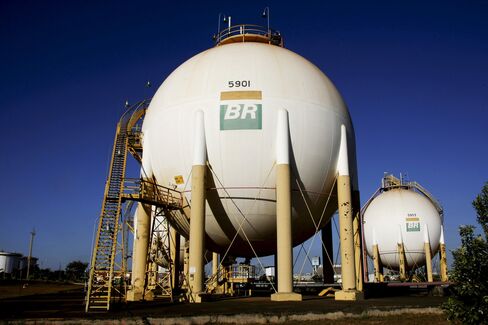 Petroleo Brasileiro SA plunged the most in three weeks in Sao Paulo after Barclays Plc cut its rating on the stock, saying low oil prices may force Brazil's state-controlled crude producer to sell more shares.
Petrobras, as the company is known, lost 4.2 percent to 25.86 reais as 4 p.m. New York time, the biggest decline since Sept. 14. The stock was lowered to "equalweight" from "overweight" at Barclays, which said Petrobras may need to sell additional equity as soon as 2013 should oil prices average below $80 a barrel. Petrobras sold a record $70 billion of shares last month.
"There are reasonable concerns that the next administration will further increase the use of Petrobras as the tool for the country's bigger economic and social development," Paul Y. Cheng, a New York-based analyst with Barclays, wrote in a report today. That will "likely lead to lower future return for Petrobras's minority shareholders over the next several years."
The stock's 26 percent tumble this year before today has failed to make its valuation "compelling," Barclays said.
Itau Unibanco Holding SA reduced its recommendation on Petrobras yesterday, saying earnings will be diluted by last month's stock sale. UBS AG suggested selling Petrobras in August for the same reason.
The government boosted its stake in Petrobras to 48 percent of the company from 40 percent before the offering.