Fund of $100 Million Set for Ground Zero Arts Center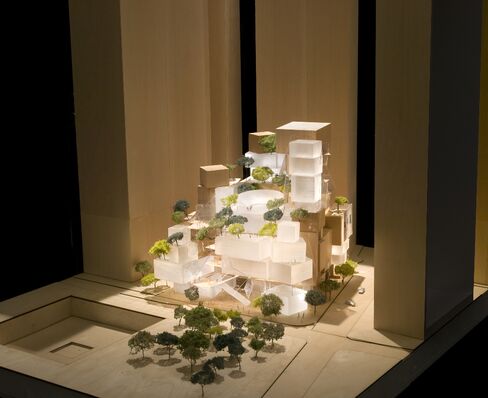 The Performing Arts Center planned for the World Trade Center site will be supported by a $100 million fund drawn from federal money, according to an announcement by New York Mayor Michael R. Bloomberg, Governor David A. Paterson and New York State Assembly Speaker Sheldon Silver.
"Our collective desire to put $100 million towards the development of the Performing Arts Center at the World Trade Center site makes clear that the cultural venue is a critical part of the ongoing revitalization of Lower Manhattan," Mayor Bloomberg said in an e-mailed statement.
Architect Frank Gehry's firm will design the center. The Joyce Theater, primarily a venue for modern dance, will be its main resident. The space will contain a 1,000-seat theater, a secondary theater, rehearsal spaces, classrooms, a public cafe, outdoor plazas and administrative space.
The money for the center is part of the post-9/11 federal allocation for Manhattan infrastructure.
Although the foundation of the building has been started, principal construction won't begin for several years. The building is expected to take three years to complete.
Its final budget hasn't been set, but the cost may reach more than $400 million, not including the $45 million in current foundation work, said Andrew Brent, a spokesman for the mayor's office. The mayor is founder and majority owner of Bloomberg News parent Bloomberg LP.
'Naming Opportunities'
"There will be a fundraising campaign and some amazing naming opportunities," said Linda Shelton, executive director of the Joyce Theater, in a telephone interview. "It hasn't gone unnoticed that David Koch put his name on the New York State theater."
The Joyce Theater has been presenting American and international dance companies in a former movie theater in Manhattan's Chelsea district since 1981. The intimate space fits 500 people, half of its future capacity.
"There's not a bad seat in the house," said Shelton. "That's what people love about Joyce, and we have to maintain this."
The Joyce will be Gehry's first dance venue, though he designed the 2,265-seat Walt Disney Concert Hall in Los Angeles and a 900-seat theater at Bard College in New York, the home of the American Symphony Orchestra, he said.
"Like with the concert halls, you are trying to create an intimacy between the audience and the performer," said Gehry in a telephone interview. "In the end it's what it looks like and how it feels and if people like going there and dancers like performing there."
The center will be on the same foundation as the $2 billion World Trade Center Transportation Hub designed by Spanish architect Santiago Calatrava and near the 1,362-foot-tall Freedom Tower.
"It's such a complicated site," said Shelton. "When I hear of what it would cost to build some of these towers, I think, we are a little speck."