Fu, Zhang Dominate Sotheby's $52 Million Chinese Ink Auction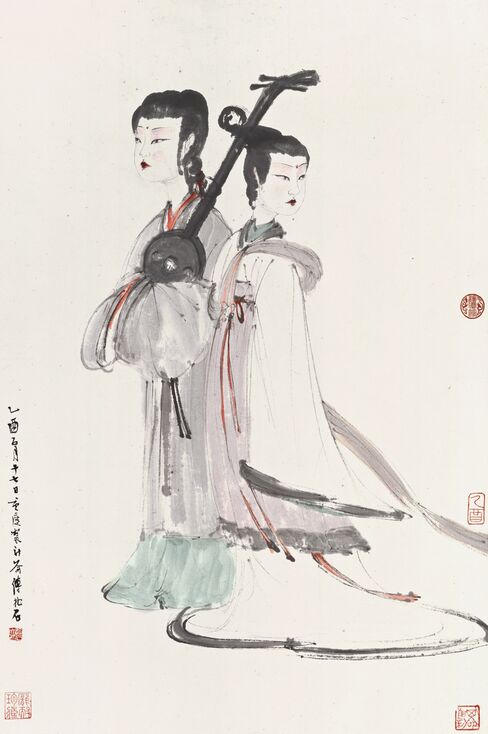 It was standing room only in Sotheby's Hong Kong saleroom as auctioneer Quek Chin Yeow brought down the hammer on Fu Baoshi's "Court Ladies," the top lot in a HK$407.3 million ($52.5 million) sale of Chinese ink paintings.
Fu's depiction of a Tang dynasty court woman and her maid sold to a young boy sitting at the front of the room who obeyed the instructions of the adult next to him to keep lifting his paddle until he won both the picture and a round of applause from the 200 or so people in the room. The final price, HK$33.1 million, was more than four times the HK$7 million high estimate.
All but three of the 270 lots offered found buyers, with most beating their top estimates. The top 10 all went to Asian private buyers, Sotheby's said.
"It was incredibly strong," said Quek, Sotheby's deputy chairman for Asia. "The market recovered in the spring auction, and now it's going from strength to strength."
The Chinese paintings auction was the fourth day of Sotheby's weeklong autumn sale comprising about 3,200 lots, that Kevin Ching, chief executive officer for Asia, said would probably exceed the auction house's Hong Kong record of HK$2 billion, set in April. The traditional ink pictures were the strongest showing so far, taking in more than double the HK$174 million high estimate.
Nine of the top 10 lots were by Fu, Zhang Daqian or Qi Baishi, including Qi's "Green Old Age," that sold to Bao Mingshan, a Suzhou, China-based businessman for HK$11.3 million, including buyer's commission. Bao bid against Sotheby's Ching who was representing a client on the telephone and who dropped out after declining to raise his offer to HK$9.4 million because the number "four" isn't auspicious in Chinese. The picture was one of five Bao bought for a total of more than HK$30 million.
'Slower Pace'
"Thirty million dollars is nothing," said Bao, wearing a lilac Kappa polo shirt and accompanied by a woman from a Beijing auction house. "I bought even more at the spring auction."
Sotheby's April sale tallied HK$418 million, the record for the auction house in this category. Fu also headlined that sale with his "Chess Playing" selling to Beijing-based dealer Wu Qun for HK$38.7 million.
"The pace seems to be slower than last time," said Hong Kong-based private collector Susan Lam, who is originally from Beijing, in an interview in the room. "It could be that some owners are holding onto their collection."
This week's sales by New York-based Sotheby's at the Hong Kong Convention and Exhibition Centre include wines, modern and contemporary art, ceramics and antiques. Today's sessions of jewelry and watches include a 6.4 carat pink diamond.
Contemporary Sale
On Monday, a Shanghai museum paid an artist record HK$52.18 million for Zhang Xiaogang's 1992 "Chapter of a New Century -- Birth of the People's Republic of China II," as the auction house took in a total of HK$471 million for modern and contemporary Asian art. Of the 485 lots on Monday, 77 percent found buyers.
Buying yesterday was again dominated by mainland Chinese.
One woman wearing a red sapphire ring and carrying a Chanel bowler handbag on her lap, bought Lin Fengmian's "Lady Holding a Lotus" for HK$2.9 million including buyer's premium, compared with its high estimate of HK$1.8 million. After she won, her iPhone, in a Louis Vuitton monogram cover, rang. She turned to the woman next to her after taking the call and jokingly said: "My husband just called. I said I didn't buy anything."