Elpida May Buy Stakes in Powerchip, ProMOS, CEO Says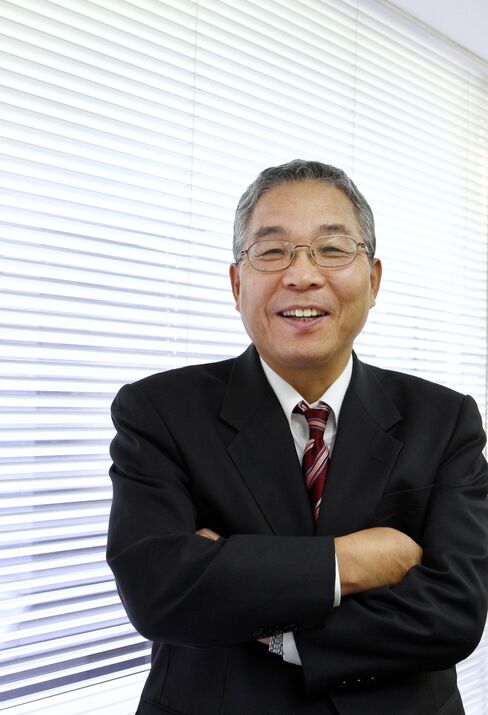 Elpida Memory Inc. is considering buying shares of Taiwanese chipmakers to counter competition from Samsung Electronics Co., a move that may trigger the industry's biggest reorganization in more than a decade.
Powerchip Technology Corp., ProMOS Technologies Inc. and Winbond Electronics Corp. are among possible targets, Elpida President Yukio Sakamoto said in interviews this week. The Tokyo-based company is looking to acquire stakes of 20 percent to 30 percent and any deals may lead to takeovers, though no negotiations are under way, he said.
"It's almost impossible for the Taiwanese to survive by themselves," Sakamoto said. "Without doing something, it will be tough for us to survive, too. We don't have the scale."
Powerchip led chip stocks higher in Taipei on speculation Elpida will combine its technology with Taiwanese manufacturing, in the industry's biggest shakeup since Japanese companies began exiting the market in the late 1990s. Chipmakers face mounting pressure to unite to keep up with the estimated $10 billion Samsung invests annually to widen its lead in chip output.
"He's casting a very wide net, but he may only catch a small fish -- or maybe no fish at all," said Yuuki Sakurai, chief executive officer of Tokyo-based Fukoku Capital Management Inc. "Sakamoto-san is very outspoken but what he says and what the company achieves aren't always the same."
Other Options
For Elpida, the world's third-largest maker of computer memory chips, other options include cross-shareholdings and forming a holding company, Sakamoto said. The 63-year-old executive said he's also open to tie-ups with Nanya Technology Corp. and subsidiary Inotera Memories Inc., two other Taiwanese makers of the dynamic random access memory chips that help computers run multiple programs simultaneously.
Powerchip, Taiwan's largest chipmaker, rose 2.2 percent, while the island's benchmark Taiex index was little changed. Nanya, Inotera and Winbond also advanced in Taipei, while Elpida fell 3.9 percent to 892 yen in Tokyo, the lowest since July 2009.
ProMOS would consider any proposal from Elpida, said Ben Tseng, a spokesman. Winbond Chief Financial Officer James Wen said his company would be open to a deal. Pai Pei-lin, a Nanya spokesman, said a tie-up would be difficult because of Nanya's partnership with Boise, Idaho-based Micron Technology Inc.
Powerchip hasn't discussed any such deals with Elpida, said Eric Tang, a spokesman.
Taiwan Listing
Elpida is planning to list its shares on the Taiwan Stock Exchange in early 2011 as the "next step" in the larger strategy, Sakamoto said. The listing would help the company raise money in Taiwan when the time comes to do deals, he said.
The vision sketched out by Sakamoto may lead to the first industrywide consolidation since 1999, when NEC Corp. and Hitachi Ltd. merged their chip units to form Elpida. Fujitsu Ltd. also abandoned the business that year and Toshiba Corp. announced its withdrawal in 2001.
It's not the first time Sakamoto has considered mergers with Taiwanese chipmakers. Elpida said in 2008 it was in talks with Powerchip and ProMOS. Those discussions ended last year after the Taiwanese government proposed an alternative revival plan that ultimately collapsed.
"What's different this time is that the motivation to do a deal is much bigger," said Masahiro Mitsui, a Tokyo-based analyst at Federated Advisory Services Co. "The cost of the next generation technology is going to be too expensive to shoulder alone."
'Maxed Out'
Elpida began outsourcing production to Hsinchu-based Powerchip in 2003. The two companies formed Rexchip in 2007 to jointly produce computer memory. Elpida last year also signed outsourcing contracts with ProMOS and Winbond.
The Rexchip factory has been retooled and will start producing some chips for smartphones as early as January, Sakamoto said. Elpida's plant in Hiroshima will be "maxed out" and the upgrade at the Taiwan plant reflects a change in policy about keeping high-end intellectual property in Japan, he said.
Taiwan's top four DRAM makers saw their combined market share slip to about 10 percent in 2009 from 17 percent in 2006, according to research firm iSuppli Corp. All of the island's DRAM makers have posted three years of losses, forcing them to scale back investments, while Samsung pushed ahead, said George Chang, a Taipei-based analyst at Yuanta Securities Co.
"The previous down cycle really killed the Taiwanese," Chang said. "They literally lost all the capability for future investment. That's why if you look at the current technology, they're so behind."
'Kill Everybody'
Elpida increased its market share to about 17 percent last year, helped by the Rexchip venture, according to iSuppli. Still, that's only half the size of Samsung. The Suwon, South Korea- based company plans to invest 11 trillion won ($9.8 billion) this year to expand chip production, seven times Elpida's budget.
"Samsung is trying to kill everybody," said David Rubenstein, a Tokyo-based analyst at MF Global Ltd.
The DRAM industry is littered with companies driven out of the business by low-cost competitors and violent cycles of boom-and-bust, said Rubenstein. The last recession pushed German memory-chip maker Qimonda AG into bankruptcy.
Elpida is trying to avoid the same fate. Sakamoto's company last year got a 30 billion yen ($362 million) bailout from the state-run Development Bank of Japan following a record loss in the 12 months ended March 2009.
Abandoning Japan
Sakamoto said expanding in Japan isn't an option, partly because of the stronger yen. Manufacturers including Elpida have contended with a 40 percent gain in the yen versus the dollar in the last three years. During the period, Samsung benefited from a 19 percent drop in the value of the Korean won.
"Samsung has this enormous cost advantage," said MF Global's Rubenstein "Everything is cheaper in Korea and getting cheaper as we speak because of the currency."
Japanese companies including Murata Manufacturing Co. have announced plans to push production offshore this year after the yen surged to a 15-year high against the dollar. Murata, Japan's biggest maker of ceramic capacitors used in chips, said last month it plans to cut 3,000 domestic jobs and move machinery to factories in China and Thailand.
"Continuing to make big investments in this country would be suicide," Sakamoto said.
Before it's here, it's on the Bloomberg Terminal.
LEARN MORE