Cisco Unveils $599 Videoconferencing for Consumers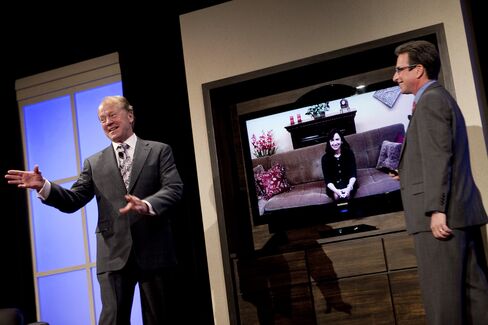 Cisco Systems Inc. introduced a videoconferencing system aimed at boosting the company's appeal to consumers and stepping up competition with Skype Technologies SA.
The system, called Cisco umi, will let consumers carry out video chats from high-definition, Internet-connected televisions. Unveiled at a news conference today in San Francisco, the device will cost $599 with a monthly fee of $24.99 for unlimited calling and video messaging and storage.
Cisco, the biggest maker of corporate routers and switches, has tried to lure consumers by acquiring companies including set-top box maker Scientific-Atlanta Inc. and Pure Digital Technologies Inc., maker of the Flip video recorder. While the deals have added revenue, they haven't gone far to raise Cisco's brand awareness among households, said Jonathan Gaw, an analyst at research firm IDC.
"It's difficult for an enterprise company to master the skills of consumer marketing," said Gaw, who is based in Minneapolis. "Even if they come up with a great product, oftentimes it's difficult to pivot into a consumer mode."
Consumer products are part of a division that accounted for less than a quarter of Cisco's $40 billion in sales in the quarter that ended in July. Switches and routers made up more than half.
Cisco, based in San Jose, California, rose 18 cents to $22.17 at 1:31 p.m. in Nasdaq Stock Market trading. The shares had dropped 8.2 percent this year before today.
Skype, Logitech Competition
The video product introduced today is likely to pit Cisco against Skype, the largest provider of international calls. Skype's 560 million users download the free software and make calls to other users' computers, mobile phones and televisions.
Skype customers have grown accustomed to placing low-cost video calls, said Jonathan Christensen, a general manager at Skype. About 40 percent of calls placed over Skype are video chats and new rivals may not easily amass a large number of users, he said.
"The question you have to ask yourself when you go out to buy a $600 device and hook it up to your living room system is, 'Who are you going to call?'" Christensen said.
Cisco will also face a rival in Logitech International SA, which today plans to announce that its Google Inc. TV set-top box will feature videoconferencing for users who own a specially designed webcam.
Cisco entered the consumer market with its 2003 purchase of Linksys Group Inc., a maker of home-networking equipment. The company added more products for the home in 2006 with the acquisition of Scientific Atlanta.
'Heck of a Challenge'
Cisco plans to use Pure Digital's video software as a platform for home networking, camcorders and video applications. That market will grow 50 percent to $60 billion by 2013, Cisco said this year.
Surging use of video benefits Cisco's main business since it creates more Internet traffic, fueling demand for routers and switches. Global data traffic may more than double every year through 2013, according to the company.
Cisco sees video as a new area of growth. It sells high-end videoconferencing to businesses that cost hundreds of thousands of dollars. This year, it bought Tandberg ASA of Norway to target the mid-market.
Making the transition from a corporate brand to a consumer one is "one heck of a challenge," said Mark McKechnie, an analyst at Gleacher & Co. in San Francisco. Still, Cisco will benefit even if the home videoconferencing system isn't widely embraced by consumers, he said.
"Cisco wins either way," said McKechnie, who recommends buying the shares and doesn't own any. "Ultimately Cisco is about supporting the network both at the enterprise and carrier level. They win bigger if they control the product too."
Before it's here, it's on the Bloomberg Terminal.
LEARN MORE