Abhisit May Do More for Thai Exporters as Baht Gains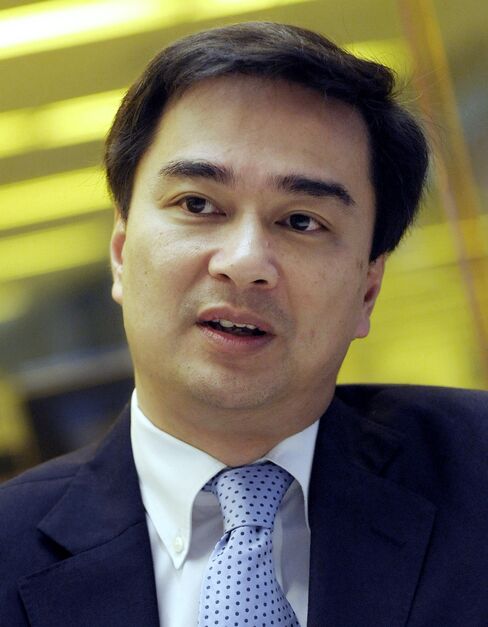 Thailand may relax limits on money outflows and boost support for exporters struggling after the baht rose to the strongest level in more than 13 years, Prime Minister Abhisit Vejjajiva said.
"We should target the people most affected, namely the exporters," Abhisit said in an interview at Bloomberg's headquarters in New York. "Some measures we can adopt and we have adopted and might do more, such as more facilitation of outflows of capital."
The baht's 11 percent gain this year, the largest among Asia's 10 most-traded currencies outside Japan, has raised concern overseas shipments that account for almost two-thirds of Thailand's economy may slow. The effect of the dollar's weakness on Asian trade also spurred Japan to intervene last month for the first time in six years to restrain the yen, while China is resisting calls to let the yuan rise faster.
The baht gained beyond 30 against the dollar yesterday for the first time since July 1997, the year the local currency's devaluation triggered the Asian financial crisis. It strengthened 0.2 percent to 29.88 at 5:40 p.m. local time, according to data compiled by Bloomberg.
The Bank of Thailand last month said it only intervenes in the currency markets to smooth volatility, and doesn't attempt to control the baht's level. Asian central banks are mopping up dollars as improving risk appetite, narrowing bond spreads, and an increase in dollar liquidity attracts overseas funds to emerging-market assets.
Rising Fund Inflows
All of Asia's major currencies, excluding the Hong Kong dollar which is pegged to the greenback, have strengthened this year as overseas investors pumped money into the world's fastest-growing region. Global funds have bought $1.5 billion more of Thai equities than they've sold this year, and spent a net $39 billion purchasing stocks in India, Indonesia, South Korea and Taiwan during the period, according to exchange data.
Finance Minister Korn Chatikavanij said last month that Thailand's rising currency reserves show that the central bank has already been buying dollars to curb volatility in the baht.
Thailand's foreign reserves grew by $18.72 billion to $157.12 billion in the year through Sept. 3, according to data compiled by Bloomberg. The nation's trade surplus in the first eight months was $6.08 billion, according to customs data.
"If there are no measures to counter inflows, the baht will soon test the 28 level," Thanit Sorat, vice chairman of the Federation of Thai Industries, said in a telephone interview from Bangkok. "Thailand's economy is strong, but not strong enough to attract such a huge amount of inflows."
Export Growth Slows
Thailand's government has set up a committee to suggest measures to reduce the impact of the strong baht, Thanit said.
The central bank should introduce more aggressive measures to immediately combat the currency's strength, Commerce Minister Porntiva Nakasai said today.
"The baht is strengthening abnormally faster than neighboring countries," she said. "If the baht continues to strengthen, our export target next year may be affected."
The baht's gain over the past week has curbed export revenue by 6 billion baht ($201 million), Porntiva said. Without help, 20 percent of Thailand's small and medium-sized businesses may face liquidity problems, she said
Korn will discuss the baht's appreciation with Thailand's new central bank Governor, Prasarn Trairatvorakul, in Washington this week, he said in a posting on his official Facebook page.
General Motors, Banpu
Exports increased 23.9 percent to $16.5 billion in August from a year earlier, after rising 20.6 percent in July and 46.3 percent in June, according to customs data. Exports are expected to climb as much as 15 percent next year, Porntiva said Aug. 20.
General Motors Co., Ford Motor Co. and Banpu Pcl are among companies that have blamed the currency for hurting overseas sales from Thailand.
Thailand will deregulate currency transactions starting Oct. 12 to enable businesses to more effectively manage foreign- exchange risk. Abhisit didn't rule out additional measures to curb gains in the currency and aid the nation's exporters.
"We've had some discussions, but we haven't committed ourselves one way or the other," he said late yesterday. "We've learned the lesson also from the capital controls. We were in the opposition then and we didn't agree with it."
Thai Capital Controls
Thailand last imposed limits on fund inflows in December 2006 to slow baht gains and protect exporters, a measure that led to a divergence between the onshore traded value of the currency and the offshore rate. The move also spurred the benchmark stock index's biggest slide in 16 years.
"The authorities may introduce some measures specifically for exporters, something more targeted for exporters rather than capital controls," said Emmanuel Ng, a currency strategist at Oversea-Chinese Banking Corp. in Singapore. "The baht is very strong relative to its fundamentals, so we expect them to continue to be uncomfortable with further fast gains."
Brazil this week doubled the tax on foreign purchases of fixed-income securities to 4 percent to stem the real's two-year, 30 percent rally against the dollar. The baht has climbed 15 percent in the same period.
Brazil's Finance Minister Guido Mantega, a delegate to the International Monetary Fund annual meetings in Washington this week, said Sept. 27 there's already a worldwide "currency war".
Pressure on China
The race for cheaper currencies will be discussed by Group of 20 finance deputies when they meet today in the U.S. and at a meeting of G-7 ministers tomorrow.
Canadian Finance Minister Jim Flaherty, who chairs the G-7 meeting, said yesterday that "there are concerns about interventions in currency markets" and that he's "sure" the issue would be discussed in Washington.
China's Premier Wen Jiabao said yesterday the country will stick to its policy of gradually increasing the currency's flexibility, and European Union leaders "shouldn't join the choir" clamoring for a stronger yuan.
Abhisit said Thailand's central bank is also wary of "excessive speculation" in the baht, and has tightened its monitoring procedures.
"If there is disruptive, destructive speculation, well then that's something for the Bank of Thailand to decide," he said. "We do monitor the movements and if we feel that there is excessive speculation it's for the Bank of Thailand to decide what the appropriate action would be."
Before it's here, it's on the Bloomberg Terminal.
LEARN MORE