Ireland's Rating May Be Downgraded by Moody's on Banks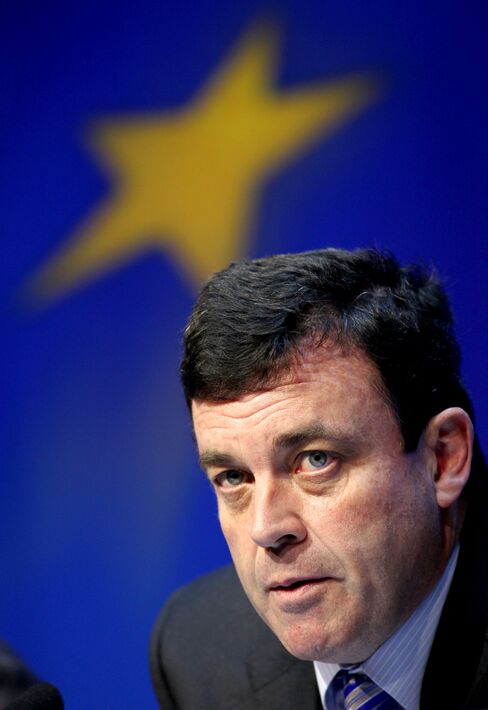 Ireland's credit rating may be cut by Moody's Investors Service after the government pledged as much as 50 billion euros ($68.6 billion) to save the country's banks.
Ireland's Aa2 rating will "most likely" be cut by one level if a downgrade goes ahead, the company said in a statement today. A downgrade by Moody's, which will finish its review within three months, will bring Ireland's rating into line with Standard & Poor's and Fitch Ratings.
"We're monitoring the banking system, which we now see has led to additional capitalization needs," Dietmar Hornung, Frankfurt-based Moody's analyst, said in a phone interview, adding the government won't need outside aid. "The focus is on Ireland's ability to recover financial strength."
Irish Finance Minister Brian Lenihan said on Sept. 30 the cost of repairing the country's financial system may ultimately rise to about a third of gross domestic product. The country's deteriorating finances have fueled investor concerns it would become the first government after Greece to tap the 750 billion- euro rescue fund set up by the European Union and International Monetary Fund to stanch the debt crisis.
"On the back of all the banking troubles, the rating agencies are trying to figure out the impact on the public finances," said Michael Leister, a fixed-income analyst at WestLB AG in Dusseldorf. "There may be some slight underperformance, but we don't expect a massive selloff."
Help Not Needed
The yield spread between Irish 10-year debt and that of Germany, Europe's benchmark, was at 406 basis points today after widening to a record 449 basis points on Sept. 28. The government last month canceled bond auctions in October and November, saying the state is fully funded through the first half of 2011.
"The liquidity situation is good," Hornung said. " There are no short-term liquidity concerns, so outside help isn't needed."
The finance ministry will publish a four-year plan next month that aims to narrow the deficit to below the European Union limit of 3 percent of gross domestic product by the end of 2014. Ireland's government deficit as a percentage of gross domestic product will likely rise to a record 32 percent this year, Lenihan said
Standard & Poor's cut Ireland's credit rating one step to AA- on Aug. 24, while Fitch has a AA- rating. Ireland's debt level will peak at 120 percent of gross domestic product in 2014 "if everything goes well," Danske Bank said Sept. 30.
Anglo Irish
Ireland has pumped 22.9 billion euros into Anglo Irish Bank Corp. since it seized the lender in January 2009 as its bad loans soared following the collapse of a real-estate bubble. The bank may need up to an extra 6.4 billion euros of capital, rising by another 5 billion euros in the event of unexpected losses. Lenihan said last week the government will take a majority stake in a second lender, Allied Irish Banks Plc.
Ireland's economy is weakening even as the government prepares to bailout the banks again. The economy will expand 0.2 percent this year instead of 0.8 percent forecast in July, the Dublin-based central bank said in its quarterly bulletin yesterday. It lowered its growth forecast for next year to 2.4 percent from 2.8 percent.
"On the one hand, it is necessary to outline additional measures to tackle the budget deficit," Hornung said. "That said, we have to monitor potential feedback on economic growth, particularly regarding domestic demand."