VimpelCom Record-Low Yields Show Support for M&A: Russia Credit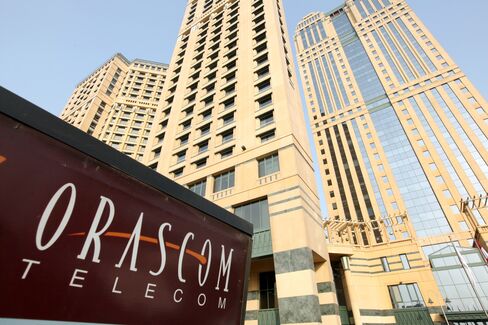 OAO VimpelCom's borrowing costs are falling to record lows, a sign investors will support higher indebtedness to fund acquisitions as the Russian mobile-phone operator buys assets from Egyptian billionaire Naguib Sawiris.
VimpelCom's $1 billion of bonds due April 2013 traded at a yield of 4.77 percent yesterday, the lowest since the notes were issued in April 2008 and down from 7.41 percent in May, according to data compiled by Bloomberg. The yield is 143 basis points, or 1.43 percentage points, higher than Russian government bonds due 2015, the smallest premium in two months.
Investor sentiment is shifting after the global credit crisis and the country's worst recession since the Soviet era drove Russian companies to cut foreign acquisitions by 73 percent this year to a five-year low, according to data compiled by Bloomberg. Foreign takeovers by Russian firms totaled $3.24 billion this year, lagging behind the biggest emerging markets as acquisitions from India surged fourfold to $56 billion and Brazilian companies spent $41 billion, the data show.
"We might see more Russian corporations coming out to snap up emerging-market assets in other, faster growing countries," said Peter Varga, who helps manage the equivalent of about $171 million of emerging-market corporate bonds at Erste Sparinvest KAG in Vienna. Varga said he increased VimpelCom bonds to 4 percent of his fund on Aug. 18, when the yield on the notes due in 2013 was 5.59 percent. "VimpelCom can take on some debt and still be in the comfort zone," he said.
Weather, Wind
VimpelCom of Moscow and Egyptian billionaire Naguib Sawiris agreed yesterday to merge their phone assets in a transaction valued at about $6.5 billion.
VimpelCom's bonds rallied as the Sawiris merger is poised to turn the Russian company into the world's fifth-largest mobile phone operator, with 174 million subscribers, according to its statement yesterday. The enlarged company will have a market capitalization of $24 billion, up from $19 billion, according to the statement.
The Russian company will own the 51 percent stake in Cairo- based Orascom Telecom Holding SAE held by Sawiris's Weather Investments SpA along with all of Italian mobile operator Wind Telecomunicazioni SpA. Weather shareholders will get 20 percent of the merged entity. The combined entities earned total revenue of $21.5 billion in 2009, according to the statement yesterday.
VimpelCom shareholders will vote on the transaction by year-end and the company expects to complete the deal in the first quarter.
'Strategic Move'
"This is really a strategic move since this would create a large mobile company that will cover a wide range of still unpenetrated markets in the Middle East, North Africa, the CIS and the eastern part of the world," Sergey Dergachev, who helps manage $6 billion at Union Investments in Frankfurt, said in a phone interview. "I do not expect a significant deterioration in VimpelCom's credit profile."
Gains in Russia's dollar bonds due in 2020 today reduced the yield ten basis points, or 0.10 percentage point, to 4.385 percent, the lowest level since they were sold in April. The yield on government ruble notes due August 2016 fell eight basis points to 7.2 percent.
Default Swaps
The extra yield investors demand to hold Russian debt rather than U.S. Treasuries fell six basis points to 225, according to JPMorgan Chase & Co.'s EMBI+ indexes. The difference compares with 153 for debt of similarly rated Mexico and 207 for Brazil, which is rated two steps lower at Baa3 by Moody's Investors Service.
The yield spread on Russian bonds is 47 basis points below the average for emerging markets, down from a 15-month high of 105 in February, according to JPMorgan indexes.
The cost of protecting Russian debt against non-payment for five years using credit-default swaps fell three basis points to 158, according to data provider CMA. The contracts pay the buyer face value in exchange for the underlying securities or the cash equivalent should a government or company fail to adhere to its debt agreements.
Credit-default swaps for Russia, rated Baa1 by Moody's, its third-lowest investment grade rating, cost the same as contracts for Turkey, which is rated four levels lower at Ba2. Russia swaps cost as much as 40 basis points less on April 20.
Ruble Gains
The ruble climbed 0.3 percent to 30.3624 per dollar by 1:18 p.m. in Moscow, its strongest intraday level since Aug. 18. Non-deliverable forwards, or NDFs, which provide a guide to expectations of currency movements and interest rate differentials and allow companies to hedge against currency movements, show the ruble at 30.5767 per dollar in three months.
President Dmitry Medvedev said in November he wants to reduce the country's "humiliating" reliance on commodities. The economy of Russia, the world's biggest energy exporter, shrank by a record 7.9 percent last year after a 54 percent slump in oil prices in 2008.
VimpelCom Chief Executive Officer Alexander Izosimov said the deal will be "transformational" for the company. "It offers our shareholders exposure to attractive growth markets in both Asia and Africa and the opportunity to diversify further our revenue base in terms of geography, currency and market characteristics," Izosimov said in a regulatory statement yesterday.
Sawiris said in a statement minority shareholders in Orascom Telecom will benefit from synergies created by the merger, "especially in the area of procurement, and by the overall strengthening and de-risking of the balance sheet."
Rising Debt
VimpelCom's debt will increase to 2.5 times earnings before interest, taxes, depreciation and amortization because of the acquisition, said Maxim Raskosnov, a banking analyst at Moscow-based investment bank Renaissance Capital. The current level is 1.45 times Ebitda, according to data compiled by Bloomberg for 2009.
Wind Italy had net debt of 8.29 billion euros ($11.4 billion) as of June 30, data compiled by Bloomberg show. Orascom Telecom owed $4.61 billion.
The deal is "risky" as it may saddle VimpelCom with an additional $12 billion of debt, taking the combined total to $17 billion, Konstantin Chernyshev, head of research at Moscow brokerage UralSib Financial Corp., said in an e-mailed report yesterday. "The upside of the potential deal is also questionable given the relatively weak position of Wind in its main Italian market, which is already saturated, as well as Orascom's problems in Algeria, where the company has been charged with back-tax claims," according to the report.
Tax Tangle
Orascom is entangled in a tax dispute in Algeria, which will be dealt with "in due course," VimpelCom's Izosimov said yesterday in a conference call with reporters. He and Russian President Dmitry Medvedev will be in Algeria this week, he said.
Mikhail Galkin, the head of fixed-income research in Moscow at VTB Capital, the investment banking arm of VTB Group, recommends investors avoid increasing VimpelCom bond holdings. Reports from ratings companies will be "negative," he said.
Carlos Winzer, a telecom analyst at Moody's in Madrid, and Michael O'Brien, a credit analyst at Standard & Poor's in London, both declined to comment.
VimpelCom's Amsterdam-based parent, VimpelCom Ltd., was formed by Russian billionaire Mikhail Fridman's Alfa Group and Norway's Telenor ASA to consolidate holdings in Russian and Ukrainian mobile-phone operators. The company is 39.6 percent-owned by Fornebu, Norway-based Telenor while Alfa's Moscow-based Altimo unit controls 39.2 percent and minority shareholders own 21.2 percent.
VimpelCom bonds plunged in August following initial reports that the company was in talks with Sawiris, pushing the yield on the company's bonds due in 2013 to their highest since July 21 at 5.93 percent.
'Market Fears'
"The market fears have been allayed somewhat," Sergey Kolesnikov, head of fixed income at Moscow brokerage Metropol IFC, said in a telephone interview. "VimpelCom realized the negative effect the deal was having on their bonds and shares and it looks like they will find a clever way to structure the deal so the debt doesn't sit on their balance sheet."
VimpelCom is rated Ba2 at Moody's, two levels below investment grade, and BB+ at S&P's, the highest non-investment grade. Wind is ranked Ba3 at Moody's, three levels below investment grade, and B+ at S&P, four levels short. Orascom Telecom Holding has a B2 rating at Moody's, five below investment grade, and B- at S&P, six levels under.